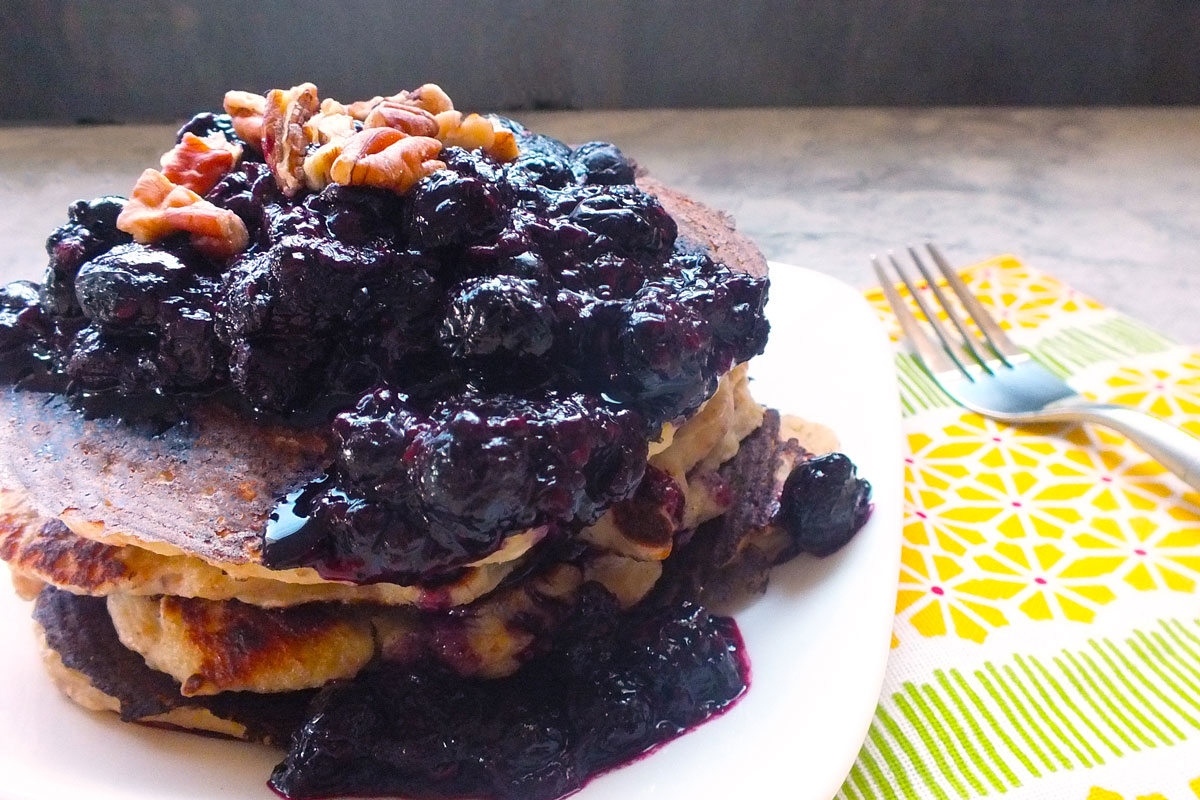 Pecan & Almond Pancakes with Fresh Berry Compote
No Sunday brunch would be complete without pancakes, but oftentimes these hotcakes are loaded with butter, oil and sugar, then topped with ooey-gooey, ultra-sweet syrup. 
Eat too many, and you'll be spending the rest of the day recovering from the eventual sugar crash you'll experience from ingesting all that fat and empty carbs. 
Instead, get out there and enjoy your well-deserved weekend by fueling yourself right with these Pecan & Almond Pancakes with Fresh Berry Compote. 
A hearty mix of whole-wheat and almond flours supply fiber and protein to keep blood-sugar levels steady for hours. 
Add on fresh berries for vitamin C and pecans for vitamin E and you've got yourself a dynamic breakfast worthy of being called "the most important meal of the day."
Pecan & Almond Pancakes with Fresh Berry Compote
Serves 4
Ingredients:
2 cups mixed fresh berries (strawberries, raspberries, blueberries, etc.)
1 tablespoon honey
1 teaspoon lemon zest, finely grated
1/2 cup almond flour
1/4 cup whole-wheat flour
1/4 cup wheat germ
2 teaspoons baking powder
1/2 teaspoon baking soda
1/4 teaspoon salt
1 cup plain fat-free Greek yogurt
1/2 cup unsweetened applesauce
1 large egg
1/2 cup pecans, coarsely chopped
Directions:
1. In a small saucepan, bring berries, honey and lemon zest to a boil. Reduce heat to a simmer and cook, stirring occasionally, until mixture thickens, about 7-8 minutes. Remove from heat and transfer to a bowl.
2. Preheat oven to 200 degrees. In a large bowl, whisk together flours, wheat germ, baking powder, baking soda and salt.
3. In another large bowl, whisk together yogurt, applesauce and egg. Slowly mix in flour mixture and pecans and whisk until just moistened. Be sure not to overmix; batter should be slightly lumpy.
4. Spray a griddle or large skillet with nonstick cooking spray and heat over medium heat. Working in batches, add 1/4 cup of batter per pancake, using the back of a spoon to spread to about 4 inches in diameter.
5. Cook until bubbles appear on the surface and start to burst, about 1-3 minutes. Flip with a thin spatula and cook for another 1-2 minutes, until lightly browned.
6. Transfer pancakes to a baking sheet and keep warm in the oven while you make remained of the pancakes. Serve warmed, topped with berry mixture. 
Nutritional information per serving:
Calories: 293; Carbohydrates: 30.5g; Protein: 12.8g; Total Fat: 14.8g; Cholesterol: 50mg; Dietary Fiber: 6g; Sodium: 348mg
Published on: April 26, 2016