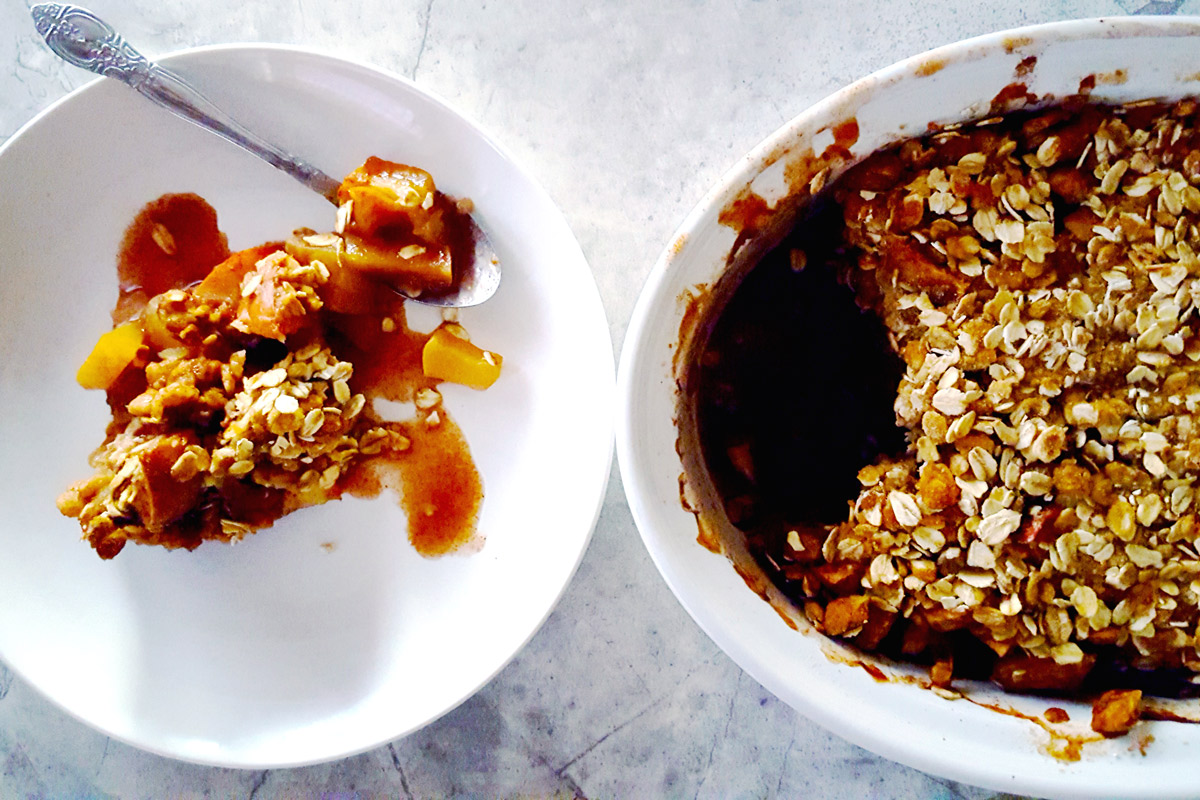 Apple Crisp
Move over PSL – you're sure to "fall" for this healthier autumn-inspired breakfast option. 
This recipe for Apple Crisp from the Straub Ornish Lifestyle Medicine Program is chock-full of fall's favorite fruit – apples. This seasonal standout provides filling fiber and mouthwatering flavor to every bite, especially if you opt to leave the skin on. 
For best results, use a mixture of sweet, mellow apples like Golden Delicious, Macintosh, Gala, Pink Lady or Honeycrisp.
Sprinkling in a handful of black or golden raisins to the filling can add an additional boost of fiber, iron and natural sweetness. 
For those not on the Ornish program, add 1/4 cup of chopped walnuts to the topping for a dose of healthy omega-3 fats, along with vitamin E, folate and antioxidants. 
Apple Crisp
Serves 8


Ingredients:
6 cups apples, peeled, cored and chopped into 3/4-inch pieces
3/4 cup unsweetened apple juice or fresh apple cider
2 teaspoons lemon juice
2 teaspoons vanilla extract
2 teaspoons cinnamon
2 teaspoons arrowroot or cornstarch
1/4 teaspoon freshly ground nutmeg
Pinch of fine sea salt
1 cup old-fashioned rolled oats
1/4 cup whole-wheat flour or gluten-free flour blend
3 tablespoons coconut sugar or turbinado sugar
2 tablespoons pure maple syrup
1/4 teaspoon fine sea salt
 
Directions:
1. Preheat oven to 350 degrees. In a large bowl, combine apples, apple juice, lemon juice, vanilla, cinnamon, arrowroot or cornstarch, nutmeg and salt. Stir until apples are well coated. Spread apple mixture evenly into an 8-by-8-inch baking pan, preferably a glass Pyrex pan.
2. In a medium-sized bowl, combine oats, flour, sugar, maple syrup and salt. Mix until syrup is fully incorporated; mixture will be dry.
3. Spread oat mixture evenly over apples. Cover baking pan with aluminum foil and bake crisp for 45 minutes. Remove foil and continue to bake for another 10-15 minutes, until apples are tender and crisp topping is lightly browned. Serve warm or at room temperature.
Nutritional information per 1/3-cup serving:
Calories: 161; Carbohydrates: 35g; Protein: 2g; Total Fat: 1g; Cholesterol: 0mg; Dietary Fiber: 4g; Sodium: 75mg
Published on: September 13, 2017