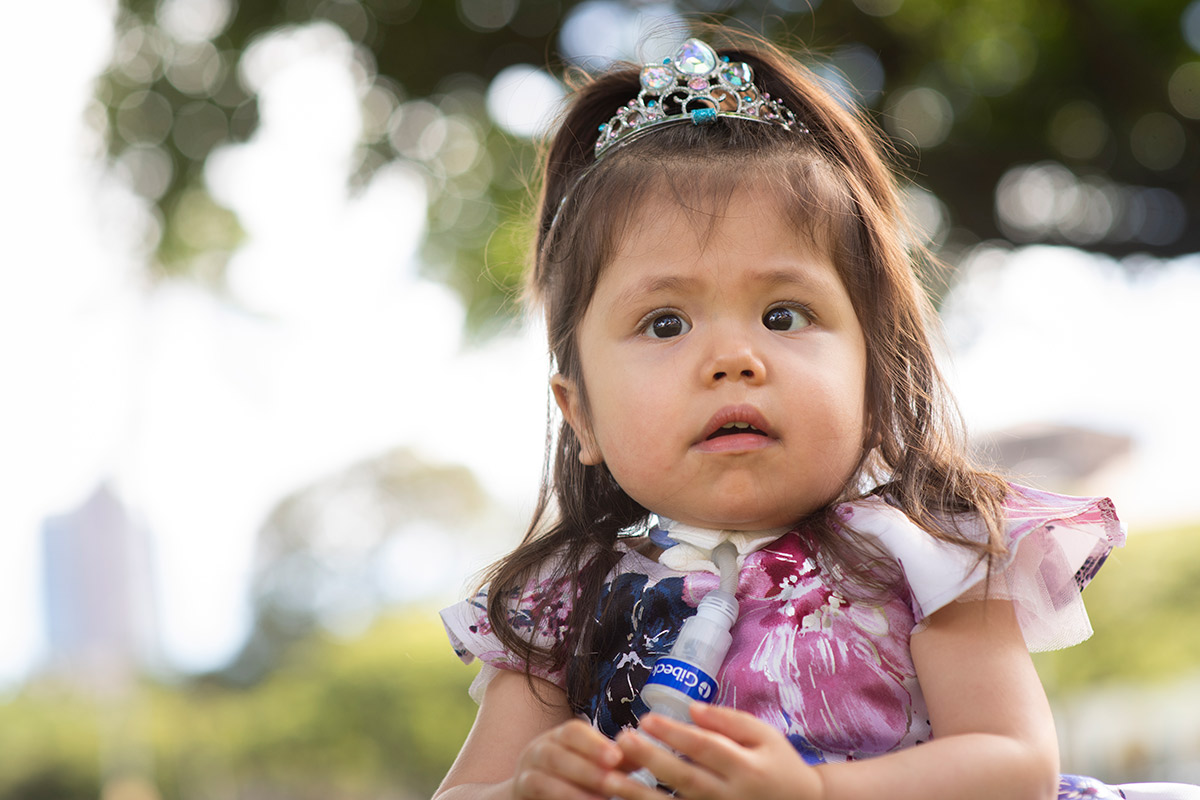 Rubi Lani Rosencrans
Wall of Hope: Stories of Courage & Inspiration
Soon after Rubi Lani Rosecrans was born, she nearly died.
The newborn was resuscitated, stabilized and medivacked from Hilo to Kapiolani Medical Center for Women & Children.
Rubi's mom, Alohilani, was unable to fly over with her daughter, and so was naturally overwhelmed with sadness and fear after being told over the phone that Rubi would need emergency heart surgery.
Rubi was diagnosed with Tetralogy of Fallot, a rare condition caused by the combination of four heart defects that are present at birth. These defects, which affect the structure of the heart, cause oxygen-poor blood to flow out of the heart and to the rest of the body.
Rubi also developed hydrocephalus, a build-up of fluid in the brain, and bronchomalacia, or diminished cartilage support of the smaller airways.
Her condition required that Rubi receive a tracheostomy at only a few days old. She spent her early days in the Kapiolani Neonatal Intensive Care Unit before being transferred to the Pediatric Intensive Care Unit for long-term recovery.
Upon Rubi's arrival at Kapiolani, Alohilani was advised on how she could play an important role in Rubi's recovery by advocating for her – which is exactly what she did.
A hairdresser for 20 years, Alohilani became a nurse aide because of Rubi's situation. As a result, she has learned how to be the best advocate and ensure her daughter receives the right care.
Alohilani also moved from Hawaii Island to Oahu to ensure Rubi continues receiving the best medical care.
Now age 2, Rubi still faces three or four more heart surgeries before she turns 5, after which she can grow into an adult-sized valve for her heart.
While Rubi maintains regular tests, including CT scans, MRIs, EKGs and blood work, she was weaned off opioid medication and is tolerating a new diet and nutrition plan through a gastric feeding tube.
"The Kapiolani team will do their best to help you and your family," Alohilani says. "I just need to ask for help and they do everything they can."
Portions of the 2023 Wall of Hope photography exhibition were photographed on the grounds of Iolani Palace. Built by King David Kalakaua, Iolani Palace is where his wife, Queen Kapiolani, first envisioned a maternity hospital to provide proper quality care for Hawaiian women and their newborns. Here, she hosted magnificent galas and luau to raise funds for the creation of the Kapiolani Maternity Home, which would eventually become Kapiolani Medical Center for Women & Children. Now, more than a century later, to see these Kapiolani patients – all of whom have overcome some medical adversity – happy and healthy on these very same grounds is, indeed, Queen Kapiolani's dream come full circle.
Published on: April 17, 2023