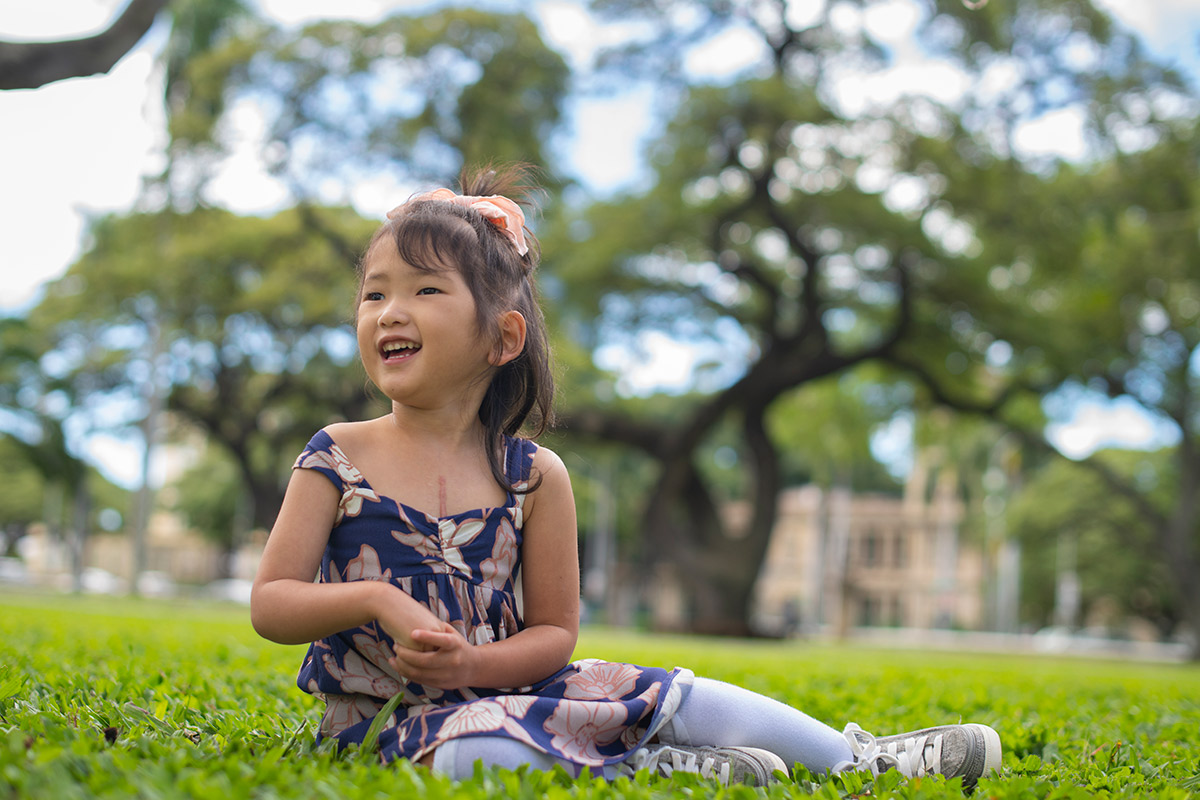 Kiryn Furumoto
Wall of Hope: Stories of Courage & Inspiration
Congenital heart defects are the most common types of birth defects, impacting approximately 40,000 babies per year in the United States.
One of those affected is Kiryn Furumoto, who was born with a double-outlet right ventricle. This diagnosis describes a condition where the aorta and pulmonary artery are not connected to their typical parts. Instead, they are connected partially or completely to the right lower heart chamber. This condition can result in a lack of oxygen to the bloodstream and lead to heart failure or poor growth.
While there are some ways to help repair this kind of heart defect, a person with double-outlet right ventricle needs regular health checkups for life.
Even with this troubling diagnosis, Kiryn and her family pushed on to make the most of life.
For two years, Kiryn's health was stable. One day, she suddenly suffered a ruptured brain aneurysm and major brain bleed. A CT scan revealed she needed an emergency craniotomy to save her life. When her parents received the news, they were terrified.
"We always knew Kiryn had a heart problem, but we never anticipated the brain," says Kiryn's mom, Lauryn. "She was only 2, and yet she would need to fight for her life."
Following surgery, Kiryn stayed at Kapiolani Medical Center for Women & Children for more than 100 days, including three months in the Pediatric Intensive Care Unit (PICU).
She received treatment from a dedicated team of doctors and nurses who cared for her as a patient and as a person. When Kiryn turned 3 in the PICU, they went out of their way to celebrate her birthday by singing and making fake candles for her cupcakes.
While these may seem like small gestures, they helped Kiryn's family remain hopeful and kept their spirits up while dealing with a challenge unimaginable to most.
The night Kiryn was rushed into surgery, doctors didn't know if she would make it through. They even told her parents that she may never be able to walk, speak or eat on her own again.
Today, she is learning to walk independently, singing her favorite songs, playing with her little sister and slowly weaning off her gastrostomy tube for feeding. She continues to receive treatment at Kapi'olani with her favorite therapy team – Aunty Anne, Aunty Debra, Aunty Lisa and Uncle Blaine.
Her parents believe the PICU team saved Kiryn's life and therapy is giving her the chance to live it well.
"Kapiolani and the people within gave Kiryn and our family a second chance," says Lauryn. "To the families, never lose hope. To the children, never give up."
Portions of the 2023 Wall of Hope photography exhibition were photographed on the grounds of Iolani Palace. Built by King David Kalakaua, Iolani Palace is where his wife, Queen Kapiolani, first envisioned a maternity hospital to provide proper quality care for Hawaiian women and their newborns. Here, she hosted magnificent galas and luau to raise funds for the creation of the Kapiolani Maternity Home, which would eventually become Kapiolani Medical Center for Women & Children. Now, more than a century later, to see these Kapiolani patients – all of whom have overcome some medical adversity – happy and healthy on these very same grounds is, indeed, Queen Kapiolani's dream come full circle.
Published on: April 17, 2023