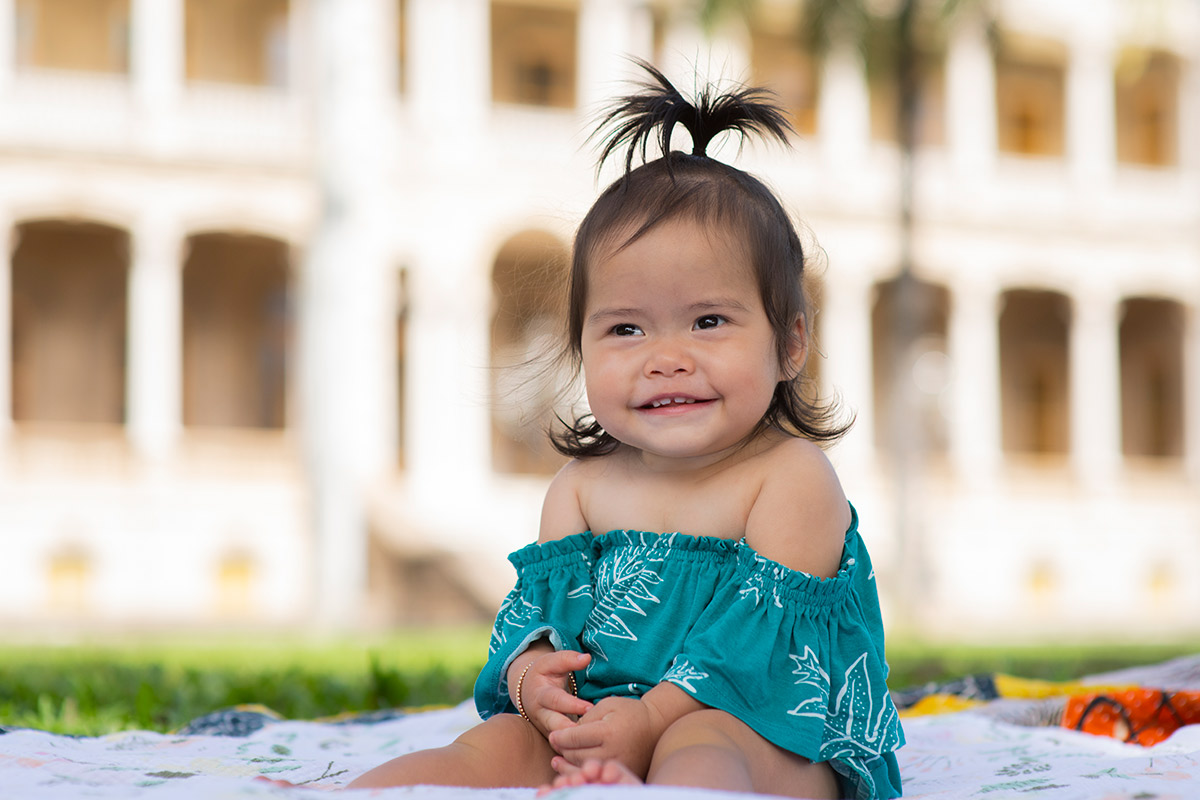 Eliana Siliado
Wall of Hope: Stories of Courage & Inspiration
One day while at her sisters' dentist appointment, 3-month-old Eliana Katsumi Kalea Siliado became unresponsive and suddenly turned blue.
The dentist immediately sprang to action. After assessing the situation, he started to give Eliana CPR. After three rounds, which felt like a lifetime for Eliana's mother, Kanani, she began to cry and regain color.
Once the paramedics arrived, they stabilized and rushed little Eliana to Kapiolani Medical Center for Women & Children. There, Eliana was diagnosed with a series of congenital heart defects (CHD) – ventricular septal defect, patent foramen ovale and patent ductus arteriosus.
Kanani couldn't understand how Eliana's condition could have been missed when she was first born.
"When I found out about her CHD, I was confused because my concerns were associated with her being born too early," she says. "As a mom of six, I knew something wasn't right because of how she was breathing and her failure to thrive."
It wasn't until she met Kapiolani pediatrician Dr. Joseph Ward and cardiologist Dr. James Sim that her feelings started to change.
"They helped restore some of my faith and trust, and I always turn to them with questions," Kanani shares. "I have a very special relationship with these two doctors, and I hope they understand how much they mean to me."
Eliana was admitted to Kapiolani on three separate occasions between December 2021 and May 2022. During her second stay, her cardiologist directly admitted Eliana to have a nasogastric tube inserted since she hadn't been gaining weight. Then, on Feb. 17, 2022, Eliana was admitted for a third time and received open-heart surgery five days later.
Less than 48 hours after Eliana's life-changing surgery, she began to experience heart, kidney and respiratory failure. Kanani faced the difficult decision of putting Eliana on extracorporeal membrane oxygenation (ECMO). Thankfully, her condition improved and ECMO was not needed.
During this time, Kanani met many amazing nurses in the Pediatric Intensive Care Unit (PICU) and Carter Unit, but it was Nurse Kristin that helped her find strength.
Nurse Kristin could empathize with what the Siliado ohana was going through because she had gone through the same thing with her daughter, Cece, who has since gained her wings.
"It was comforting knowing that a nurse caring for my daughter walked a similar path I was currently on," Kanani says.
One night, Kristin gave Eliana one of Cece's headbands.
"It was the sweetest and most heartwarming gift. I hope she always knows how much she has impacted our lives. I will never forget Kristin and Cece," Kanani says.
While in recovery, Kanani found out that Eliana had been diagnosed with DiGeorge Syndrome, a genetic disorder that can affect many parts of the body. Eliana and Kanani stayed in the medical center for 76 days before being discharged to reunite with their family, who eagerly awaited their return home.
Today, Eliana is doing well and continues to make great progress. She will need cardiac catheterization within the next two years.
Inspired by her daughter's experience, Kanani enrolled in college. Next year, she will be able to enroll in nursing school.
"I knew I had to turn this horrible experience into something beautiful," Kanani says. "Eliana continues to inspire me every day, and when school gets tough, I look at her and remember why I began this journey. I have never been this focused or determined about my education, and I owe it all to Eliana."
Portions of the 2023 Wall of Hope photography exhibition were photographed on the grounds of Iolani Palace. Built by King David Kalakaua, Iolani Palace is where his wife, Queen Kapiolani, first envisioned a maternity hospital to provide proper quality care for Hawaiian women and their newborns. Here, she hosted magnificent galas and luau to raise funds for the creation of the Kapiolani Maternity Home, which would eventually become Kapiolani Medical Center for Women & Children. Now, more than a century later, to see these Kapiolani patients – all of whom have overcome some medical adversity – happy and healthy on these very same grounds is, indeed, Queen Kapiolani's dream come full circle.
Published on: April 17, 2023