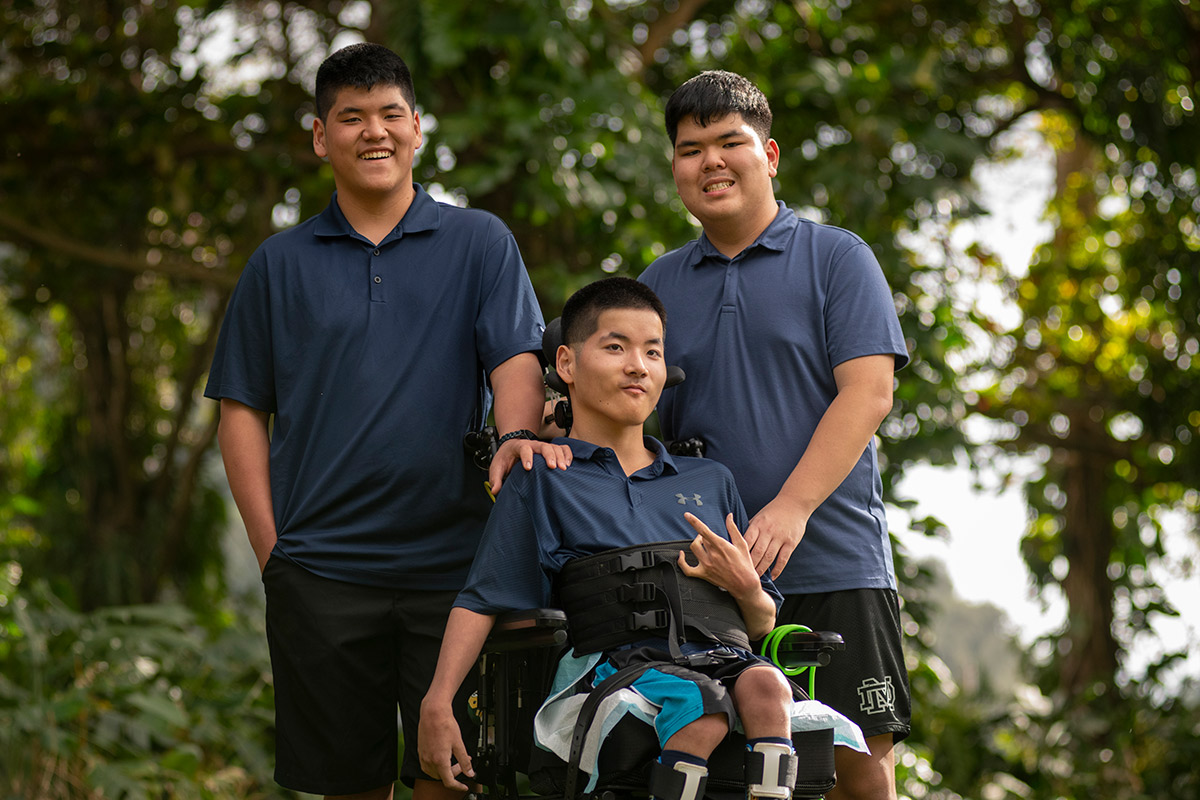 Brothers (from left) Reiden, Scyler and Ryeder have each dealt with their own unique medical journey over the past 16 years but are all doing well today.
Reiden, Scyler & Ryeder Yonesaki
Wall of Hope: Stories of Courage & Inspiration
At just 28 weeks pregnant, Reina Yonesaki's water broke. In hopes of delaying the early birth of her triplets, she was admitted to Kapiolani Medical Center for Women & Children.
One week later, triplets Reiden, Ryeder, and Scyler were born.
Each weighing under 3 pounds, Reiden and Ryeder were admitted to the Neonatal Intensive Care Unit (NICU) for four weeks. Their brother, Scyler, needed more time for his lungs to develop, and was released after six weeks in the NICU.
As time went on, the boys' pediatrician, Dr. Mae Kyono, believed Reiden was developing at a normal pace. However, she suspected that Ryeder and Scyler might have cerebral palsy.
Ryeder used his arms to get around and began walking at 2 1/2 years old. He was diagnosed with mild diplegic cerebral palsy.
Scyler did not use his arms or legs and was diagnosed with spastic quadriplegic cerebral palsy and dystonia.
"My husband and I had mixed feelings," says Reina. "We felt scared and confused but wanted the best for our boys. We wanted children and felt we were dealt these cards for a reason. For the most part, we were filled with joy."
As the boys got older, Ryeder learned to adapt and wanted to participate in activities with other children. His strong will got him around.
Scyler, on the other hand, became uncomfortable and complained a lot.
"The sleepless nights trying to keep him comfortable and preventing his loud screams from waking the rest of the neighborhood were difficult," Reina shares.
Dr. Kyono was helpful in locating the right doctor to help alleviate Scyler's pain and diagnose the root cause. It was soon discovered that Scyler's pain may have been due to both femoral heads not being in the hip joints. So, at 5 years of age, he had surgery to address the condition.
As Scyler grew, he began to feel his muscles pull to the right and was referred to Kapiolani pediatric orthopedic surgeon Dr. William Burkhalter, who recommended a repeat of his earlier surgery. The second surgery was a success. However, Scyler was later diagnosed with scoliosis and at age 12 received a spinal fusion surgery.
Today, the boys are 16 and are all doing well.
Reiden attends Damien Memorial School and is currently taking an Albegra II honors class. In his free time, he enjoys playing basketball and played for the JV and varsity basketball teams this past season.
Ryeder attends Hawaii Baptist Academy and is a member of the JV bowling team. He continues to get treatment for his cerebral palsy and feels that it helps him with his bowling.
Scyler attends Roosevelt High School and brings joy to everyone who works with him or sees him in the halls. He enjoys watching Disney Jr. and likes to sing and "boss people around," Reina says with a laugh.
Reina and her husband, Scott, are grateful to the doctors, nurses and staff at Kapiolani Medical Center.
"They are the most kind-hearted and wonderful people we know," Reina says. "They are highly skilled and committed to taking care of everyone – not just the patient, but the rest of the family too. They are dedicated to allowing everyone to feel comfortable and safe."
Published on: April 17, 2023