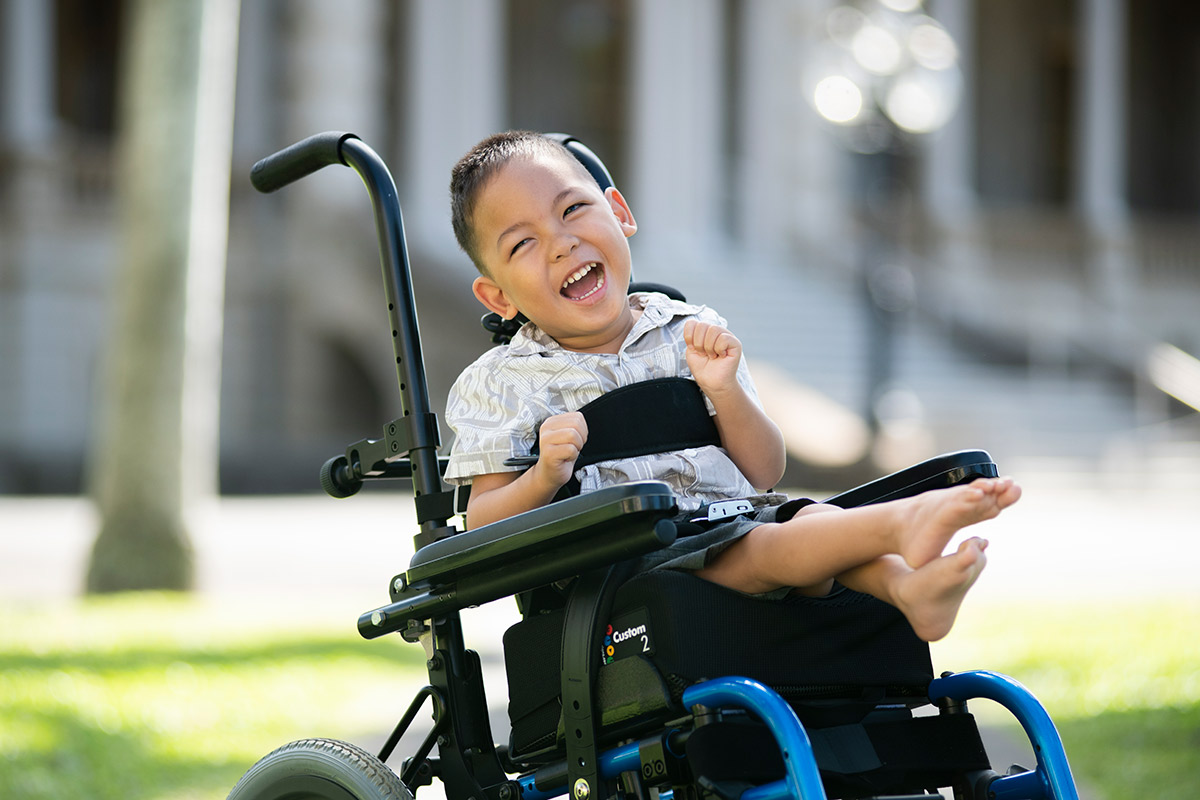 Nakoa Lee
Wall of Hope: Stories of Courage & Inspiration
When Nakoa Lee was born, he suffered an intracranial hemorrhage and hydrocephalus, which is characterized by excessive fluid in the brain. Doctors also diagnosed him with cerebral palsy.
"When we found out, we were a bundle of emotions – sad, mad and scared," says Nakoa's mom, Andrea. "I questioned why this happened to my baby and whether I was capable of caring for a special needs baby. I remember thinking it was too much for me."
Nakoa spent 2.5 months in the Neonatal Intensive Care Unit (NICU) at Kapiolani Medical Center for Women & Children. He had a temporary ventricular assist device installed before a permanent shunt was placed in his brain to drain extra fluid and prevent pressure from getting too high.
Andrea recalls getting a lot of emotional support from the doctors and nurses as well as other patients and their families while in the NICU.
"I would break down every day, and everyone was there for me. Even if they didn't know me, they checked on me," she says.
Upon being discharged from the NICU, Nakoa began outpatient rehabilitation therapy. Two of his therapists, Debra and Eydie, have been helping him every step of the way. They push him past his current limits, encourage him to keep trying, and give him time to adjust. They do everything they can to provide Nakoa what he needs, and Andrea says she now counts them among her extended ohana.
As part of his cerebral palsy diagnosis, Nakoa also has epilepsy and suffers from seizures. His first seizure occurred within his first year of life and lasted 50 minutes.
Now age 3, Nakoa attends preschool. He has come a long way, and while Nakoa has some additional procedures ahead, his mom trusts that the doctors have his best interests at heart and will give their all to provide him the best care possible.
"I wouldn't have made it through all of this without the Kapiolani therapists and medical staff," she says, adding words of inspiration she's learned through this journey:
"Although it may seem like the hardest, darkest time in your life, all of this will soon be a bad memory."
Portions of the 2023 Wall of Hope photography exhibition were photographed on the grounds of Iolani Palace. Built by King David Kalakaua, Iolani Palace is where his wife, Queen Kapiolani, first envisioned a maternity hospital to provide proper quality care for Hawaiian women and their newborns. Here, she hosted magnificent galas and luau to raise funds for the creation of the Kapiolani Maternity Home, which would eventually become Kapiolani Medical Center for Women & Children. Now, more than a century later, to see these Kapiolani patients – all of whom have overcome some medical adversity – happy and healthy on these very same grounds is, indeed, Queen Kapiolani's dream come full circle.
Published on: April 17, 2023