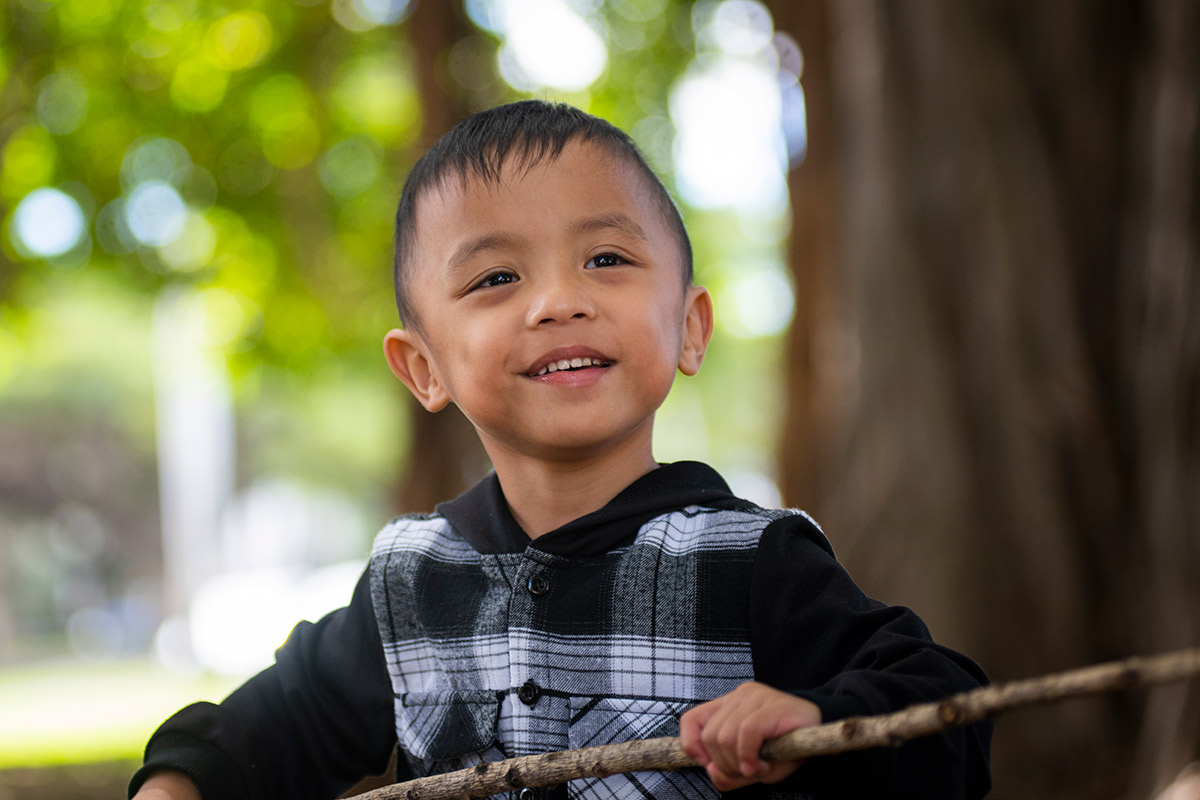 Brayden Sales
Wall of Hope: Stories of Courage & Inspiration
For three years, Melody Sales and her husband, Bryan, tried to start a family. They sought medical assistance after realizing they needed the extra help. Fortunately, they were able to get pregnant after going through in vitro fertilization, and it wasn't with just one baby – they were going to be the parents of triplets.
Their elation was short-lived, however, when Melody went into preterm labor at 22 weeks. She was flown from Maui to Kapiolani Medical Center for Women & Children, where they were able to stop her contractions for a few days.
Eventually, the contractions returned, and the three boys were delivered Nov. 8, 2019. First born was Brayden, followed by identical twin Bryson and fraternal twin Brennan. They each weighed about 1 pound; the smallest, Bryson, was only 13 ounces. They were immediately rushed to the Neonatal Intensive Care Unit (NICU).
"My husband and I were definitely scared," says Melody. "We were unsure of what was to come or what to expect. It was overwhelming."
All three boys were battling sepsis and, unfortunately, two of them passed away during their first week of life. Brayden survived and would spend 175 days in the NICU.
While there, he received various levels of oxygen support, from a ventilator to the low-flow oxygen he was discharged with. He also received regular eye exams for retinopathy of prematurity, which causes blood vessels to grow abnormally in the retina, and had heart surgery to close a patent ductus arteriosus between the two major blood vessels leading from the heart.
Melody commends the Kapiolani medical team and support staff for not only caring for Brayden but also for them as parents.
"We experienced some traumatic losses while we were in the NICU, and the nurses were the first to console us," she says. "The nurses, doctors and staff really became more than their titles to us. They would come in and 'talk story' even if they weren't assigned to us that day. They became our friends."
Randy, a nurse practitioner, would regularly visit and bring a smile to Melody's and Bryan's faces. Tiare, one of their primary nurses, looked out for and advocated for Brayden while at the same time checking on his parents' well-being. She continues to be a part of the Sales' lives to this day.
Today, Brayden is doing great. He has no long-term medical issues and is "your typical 3-year-old, maybe just on the smaller side," says Melody.
For other parents facing similar situations, Melody shares this message:
"Pray and stay positive, even when you think you can't. The NICU journey is tough. Take everything at your own pace, ask questions and take a break when you need it. We eventually learned after spending most of our days in the NICU that it's OK to take a break once in a while, especially when you're in it for the long haul. You need to do it for yourself, both physically and mentally."
Portions of the 2023 Wall of Hope photography exhibition were photographed on the grounds of Iolani Palace. Built by King David Kalakaua, Iolani Palace is where his wife, Queen Kapiolani, first envisioned a maternity hospital to provide proper quality care for Hawaiian women and their newborns. Here, she hosted magnificent galas and luau to raise funds for the creation of the Kapiolani Maternity Home, which would eventually become Kapiolani Medical Center for Women & Children. Now, more than a century later, to see these Kapiolani patients – all of whom have overcome some medical adversity – happy and healthy on these very same grounds is, indeed, Queen Kapiolani's dream come full circle.
Published on: April 17, 2023