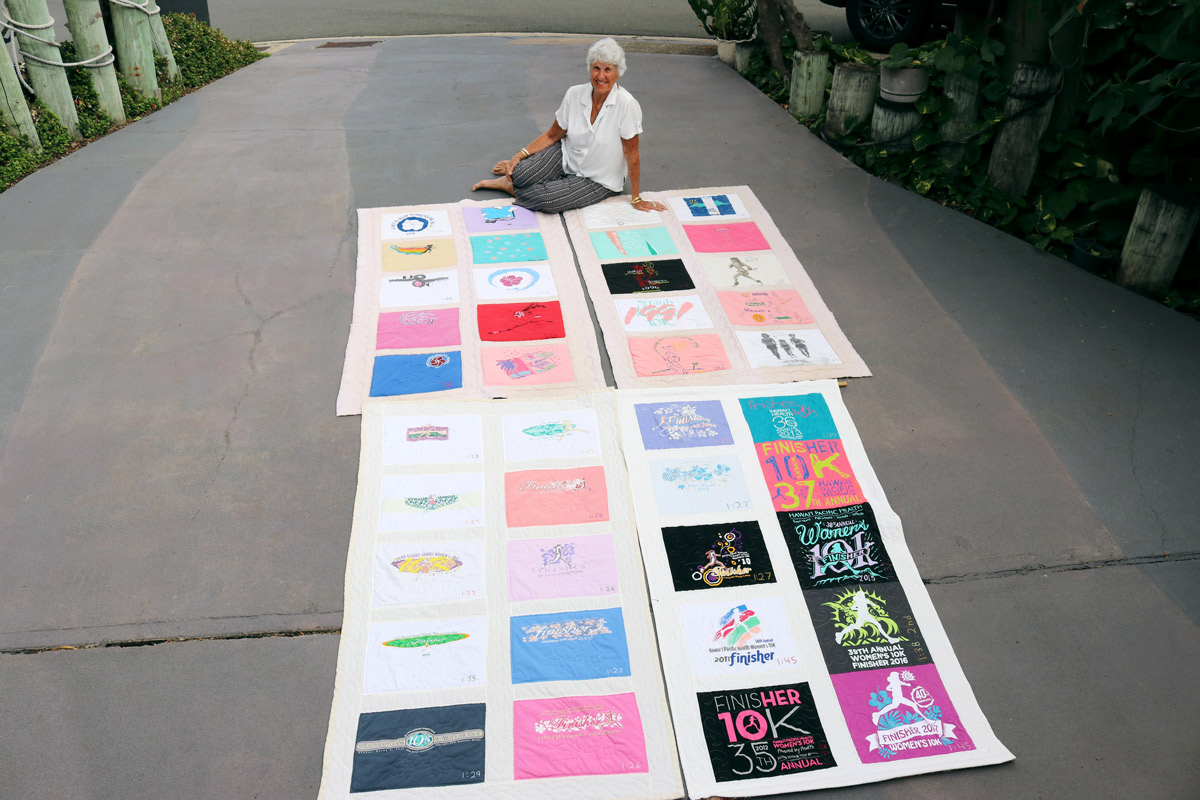 Gerry DeBenedetti has created a quilted time capsule of her running history in the Hawaii Pacific Health Women's 10K. The four quilts include finisher shirts from each year she participated in the race, starting with the inaugural run in 1978 (upper left corner).
Quilts Capture a History of Running the Hawaii Pacific Health Women's 10K
Upon your first encounter with Geraldine "Gerry" DeBenedetti's home, you're immediately struck with the impression that this woman is no fuss.
Gerry is blunt and likes to get straight to the business at hand.
"So, where do you want me?" the 80-year-old asks. "We may need to go out in the driveway to get all four in the shot, but you let me know – you're the one with the camera!"
The "four" Gerry is referring to are her quilts lovingly hand sewn out of her prized Hawaii Pacific Health Women's 10K finishers shirts.
Each quilt contains a decade's worth of shirts, starting with the inaugural finisher's shirt that was, ironically, a man's tee from race sponsor Nike.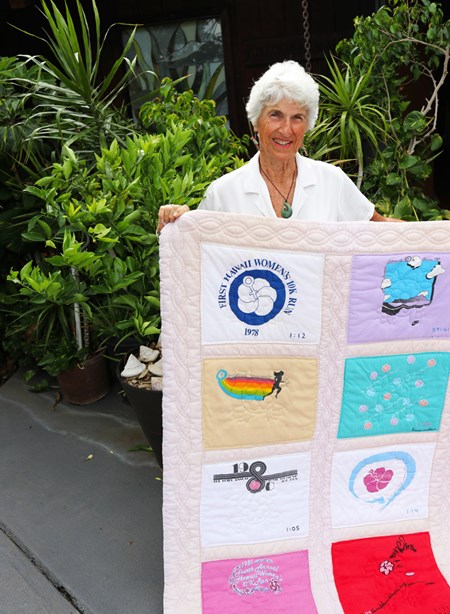 "The reason it's 10 years is because that fits nicely in the washing machine. If you make it bigger, there's no way you can wash it at home," she says of the practicality of the design.
Gerry is one of a handful of women who hold the record for competing in and completing every race since its inception in 1978.
"My daughter is responsible for me signing up," Gerry flatly states. "She was a student at Punahou and was doing track and cross-country when one day she came home and told me about this race. It was going to be a women's only race – a 10K – and it was part of the Honolulu Marathon clinic to encourage people to enter the marathon.
"I thought, why not? We didn't know how many years this race was going to be – I was about 40 then, and now I'm 80," she laughs. "Forty years later, it's taken on a life of its own."
Gerry's dedication to continuing with the race is no surprise when you learn more about her history in Hawaii's sporting community.
Shortly after Gerry moved to Oahu from her hometown of Linden, California, she joined the Outrigger Canoe Club in 1971. As a member, she competed in 25 Castle Swims – a 1 1/4-mile open ocean swim in Waikiki – as well as the Waikiki Rough Water Swim, which she competed in for 10 years before saying "I'm not having fun anymore, so I'm not doing that."
She also has been involved with other water sports, including sailing and paddling.
But it wasn't until her late 30s when she took up running.
That was the year of what was then called the Hawaii Women's 10K Run. Later that same year, she entered her first of five Honolulu Marathons.
Gerry underwent knee replacement surgery in January 2019, but has tackled the challenge like a true champion.
She remains active by walking with her neighbor and swimming laps in her neighborhood pool. She also strength trains with weights at a nearby Curves, where she works part-time several days out of the week.
"I think a healthy attitude is important. I have always been an optimist. When I started to do my physical therapy, everyone kept talking about my bad knee and my good knee. I said, I don't have a bad knee – I have a bionic knee!" she says.
As Gerry proceeds to recover a 6-foot ladder from the garage (a better vantage point to capture all four quilts in one shot), she continues to share about her experiences and memories from the Hawaii Pacific Health Women's 10K.
Here, Gerry talks-story about how she got the idea to create the quilts and why she continues to participate in the prestigious all-women's race.
Published on: May 3, 2019