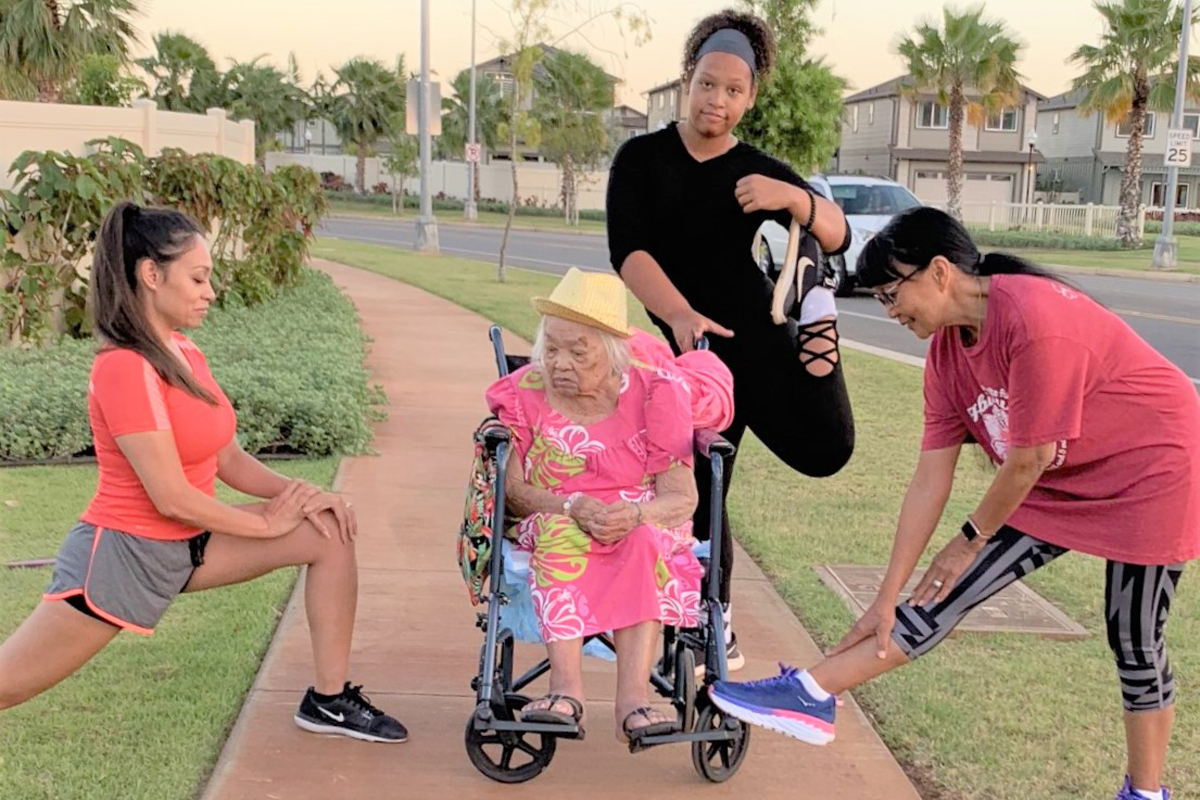 Cue the 'Rocky' theme – (from left) Relana, Carlina, Anaia and Menia have made training for the 42nd annual Hawaii Pacific Health Women's 10K and 5K Fun Run a true family affair.
Four Generations of Wahine Prepare to Cover 6.2 Miles Together in the Hawaii Pacific Health Women's 10K
Upon turning 60, Menia Teasdale of Nanakuli decided she would give herself the gift of better health.
"I thought to myself, I need to do something that is physically active. One day I happened to see an advertisement for the Hawaii Pacific Health Great Aloha Run. I tried it and really enjoyed it. I looked for more runs on the Internet and saw the Hawaii Pacific Health Women's 10K run. The 'all-women run' is what caught my attention, so I signed up for it," Menia recalls.
Menia signed up for the 41st annual Hawaii Pacific Health Women's 10K and 5K Fun Run in 2018.
When race day dawned, Menia gathered at the start line with hundreds of other wahine (women) to embark on the 6.2-mile rolling course along the Kahala coastline.
"When I saw the incline around Diamond Head, it scared me, but it wasn't bad at all," the sexagenarian says. "What I enjoyed most about (the event) is how it acknowledged the winners in the different age categories. Announcing the age groups and the time it took them to finish amazed me.
"What amazed me the most was when they announced my age group, I learned that there are a lot of women my age who are a hell of a lot more in shape than I am! But that inspired me to keep doing these runs," she shares.
After crossing the finish line, Menia took her time perusing the area surrounding the Kapiolani Park bandstand to partake in post-race snacks and activities.
There, she heard an announcement come over the loudspeaker that piqued her interest.
"The announcer on stage asked the crowd if there were any generations out there. There was a three-generation family that responded. I thought to myself how I have four generations of women in my family, and decided then that I was going to get my daughter, granddaughter and mom to do it the following year," Menia says.
Similar to how Menia began her running journey following a significant birthday, Menia's mother, Carlina, will turn 99 years old two-and-a-half weeks after the run on May 23, 2019.
"Even though my mom still can walk, we will be pushing her in her wheelchair," Menia says. "She has dementia and most likely won't have any clue about the race, but myself, my daughter and my granddaughter will treasure this for as long as we live."
To prepare for the 42nd annual Hawaii Pacific Health Women's 10K, Menia, now 63, has focused on increasing her mileage with long speed walks and doing exercises like squats and burpees to help make it up that Diamond Head hill.
She also has turned training time into bonding time with her daughter, Relana, 32, and her 11-year-old granddaughter, Anaia.
"We have been training together by going on long walks, 3 miles here and there. We have been excited trying to figure out how to outfit ourselves for the event. I'm sure that during the 10K we will bond a lot as well," says Menia, noting that her sister and niece have signed up for the event as well.
"This event has been a chance for all of us to bond together," Menia explains. "We have never done anything where all of us did anything special together. And this will definitely be special."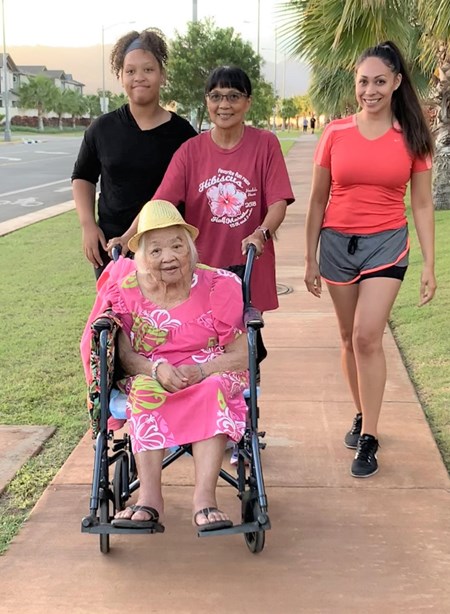 By the Numbers
The 42nd annual Hawaii Pacific Health Women's 10K and 5K Fun Run takes place on May 5, 2019 – that's 5/5/2019 if you go by the numbers.
The 10K is a 6.2-mile course, while the 5K is slightly longer than 3.1 miles.
The women's-only event is expected to draw more than 1,000 participants of all ages and athletic abilities, including Menia Teasdale and her ohana that spans four generations.
Here's a look at some stats from this family-team:
Participants: 4


Generations: 4


Youngest Runner: 11


Oldest Runner: 98


Total Age of Team: 204


Total Miles to Be Covered: 37.2
Published on: April 11, 2019