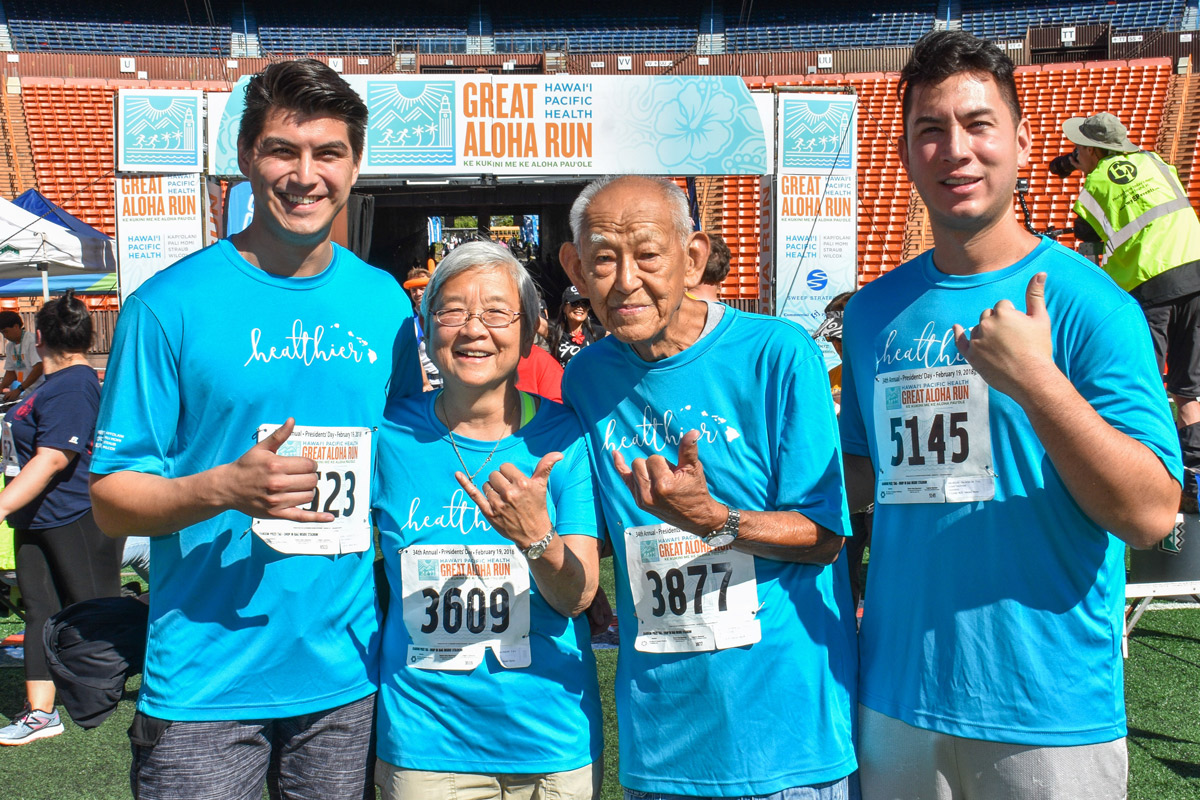 Hung Lum Young (second from right) finished the 2018 Hawaii Pacific Health Great Aloha Run with family and friends, including daughter Dr. Geri Young (second from left), by his side.
Three Generations Have Made the Great Aloha Run a Family Tradition
People Who Help Run the Hawaii Pacific Health Great Aloha Run
Running, it seems, is in Hung Lum Young's DNA.
Naturally gifted with a "runner's build," Hung Lum has been traversing trails around his native Honolulu since he was a boy.
"When he was a student at McKinley High School back in the 1930s, he and his friends would run up Tantalus mountain, and they would not use the roads. They ran 'straight up' that mountain – that is one of his favorite stories he has told me," says Hung Lum's daughter Dr. Geri Young, a pediatrician and chief medical officer of Kauai Medical Clinic.
Even as Hung Lum got older, his love of running never diminished.
In fact, he celebrated his 63rd birthday by running 8.1 miles in the inaugural Great Aloha Run in 1985.
"His birthday is always around President's Day weekend, so he traditionally has been doing this race to celebrate," Young says. "He has run in the race since it started, missing only occasional years. I started participating 10 years ago when my Dad turned 88, and I have participated yearly since that time."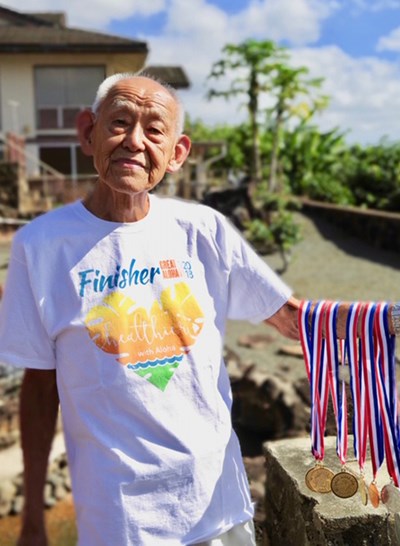 Hung Lum also has placed in his age division several times, most recently finishing:
Second place, 2011.
Second place, 2012.
First place, 2014.
First place, 2015.
First place, 2016.
First place, 2017.
Third place, 2018.
With his 98th birthday approaching in February 2019, Hung Lum decided it was time to hang up his running shoes and sit out the 35th anniversary race.
"My dad decided that now was the time to stop racing, as last year it took him about 40 minutes longer to complete the race than it normally used to (he was third place in his age group of 90- to 120-year-old men last year)," Young explains.
"Prior to that he was always first in that age group. He has a lot of medals from the GAR races in the past," she says.
Instead, Hung Lum will be traveling to Reno with his son to celebrate his birthday.
"Besides walking and yardwork, his other hobby is playing in the casinos with the slot machines!" Young laughs.
"There are probably other healthy elders in our community out there, and I am grateful to have one of them as my dad," Young adds. "He has been a wonderful role model for his kids, grandkids and great-grandkids."
Here, Young provides a glimpse into how the Great Aloha Run has become a tradition for her family over the years, and her plans for this year's race.


How has the Great Aloha Run become a tradition for you and your family?
In addition to my dad and I, my sister and her wife, my brother and his wife, as well as my two sons participated in the race. We ran basically to support our dad on his birthday weekend.
My youngest son, who had never participated before, ran the race with him in February 2018 – it was a wonderful gift, as it was probably Dad's last Great Aloha Run.
What was your experience participating in the Great Aloha Run in 2018 when Hawaii Pacific Health sponsored the race for the first time?
It was another great race day, but it was more fun for me because I saw a lot of my work friends serving as volunteer support people for the race as I looked on the sidelines during the event.
Even though your dad will be sitting out the race this year, you'll still be participating in some capacity – what does being part of the tradition of the Great Aloha Run mean to you?
I have decided to volunteer with my other Hawaii Pacific Health work group friends on the support sidelines. Being part of the tradition of the Great Aloha Run means participating in any way I can, and volunteering will be a lot of fun for me.
Do you have any advice for those gearing up for the race?
They need to make sure they do some training. If you are able to walk or run for about one-and-a-half to two hours at one time, you should be fine. However, it is important to work up to that kind of mileage, and to have the right shoes.
Anything else you'd like to add?
All my very best to all who participate, either as a runner, walker or as a volunteer in the Hawaii Pacific Health spirit of "Live Your Healthier" and "Creating a Healthier Hawaii"!!
Published on: January 10, 2019