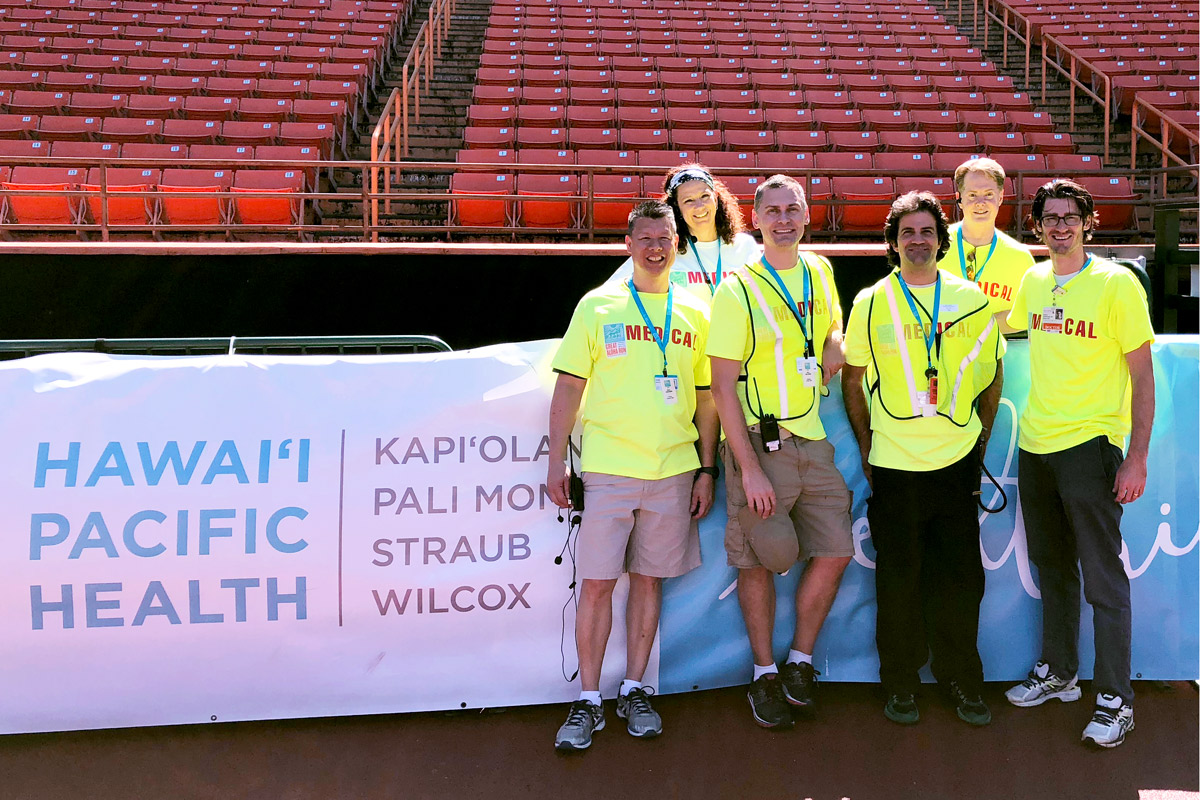 As Stadium Finish Line Aid Station medical director, Matt Wells (back row, right) works closely with other leads from Hawaii Pacific Health and other community organizations in order to provide care for those who take part in the Great Aloha Run.
From Start to Finish: A Behind-the-Scenes Look at Preparing for Race Day
People Who Help Run the Hawaii Pacific Health Great Aloha Run
Ensuring the safety of thousands of runners over the course of 8.1 miles is no small feat.
As Stadium Finish Line Aid Station medical director for the Hawaii Pacific Health Great Aloha Run, Matt Wells is responsible for coordinating the acute care area for anyone needing medical evaluation and/or treatment from anywhere along the course and within Aloha Stadium.
It is a post that requires Matt, as he is best known, to communicate closely with other event leads, including fellow Hawaii Pacific Health physicians Dr. Doug Kwock (Great Aloha Run lead medical director) and Dr. Nate Angle (stadium medical director), in order to have available the equipment and volunteers needed to care for those who traverse the race route on run day.
Preparing for the event itself is no less complex.
"This is a lengthy process starting months before run day involving a myriad of stakeholders from across the Great Aloha Run organization, including sponsors as well as numerous Hawaii Pacific Health personnel," says Matt, a registered nurse who also is the Trauma Program manager at Pali Momi Medical Center.
Volunteer recruitment rallies are staged at the various Hawaii Pacific Health campuses, while emails and other promotional activities encourage involvement from all employees, including physicians, nurses and other staff.
"We are fortunate to have strong word-of-mouth promotion – many of those who were able to participate in last year's inaugural Hawaii Pacific Health-sponsored Great Aloha Run enjoyed their experience so much that they are doing it again for the 35th anniversary event," Matt says.
Here, Matt shares what he learned from volunteering in his first Great Aloha Run, plans for the 2019 race and how people can still get involved with this year's special anniversary event.


What was your experience last year when Hawaii Pacific Health sponsored the race for the first time?
It was a great experience! I was the Stadium Aid Station lead nurse and was fortunate to be involved in the planning, executing and assessment phases of the event.
What are some common injuries or conditions you treated on race day?
We were fortunate not to have had many serious injuries, but we did provide care for a variety of run-related health care needs, such as sprains, strains, abrasions, blisters, shortness of breath, dehydration, chest pain and fainting.
How are you and your team preparing for the 35th anniversary race?
While we are preparing for the potential for a larger-than-average number of athletes, we are committed to providing an even higher level of event readiness and participant safety. We are using the experience gained each year to improve next year's Great Aloha Run.
Had you participated in the Great Aloha Run previously (as a runner, a volunteer, etc.)?
Last year's run was my first time participating in any capacity, and I'm so glad that I did!
What does being part of the tradition of the Great Aloha Run mean to you?
I am very proud to be a part of the Hawaii Pacific Health organizing team, as this event reflects our mission of "Creating a Healthier Hawaii" and ongoing commitments to fundraising activities and events that benefit our community.
The Great Aloha Run has donated millions of dollars throughout Hawaii's charities over the years, and we hope to distribute $350,000 to more than 50 charitable organizations and the military this year alone.
Do you have any advice for those gearing up for the race?

Train, but don't over train.
Hydrate and eat well the few days leading up to the run.
Ensure your running attire is ready, and invite a friend or family member to participate with you.
Remember, participants can register online at the Hawaii Pacific Health Events page or in person at the Hawaii Pacific Health Great Aloha Run Sports Health & Fitness Expo, held at the Neal S. Blaisdell Center Exhibition Hall Feb. 16 and 17, 2019.
Anything else you'd like to add?
Sure! We're still looking for clinical and nonclinical volunteers for the run day. Each volunteer will receive an assignment and instructions on their respective duties as well as a T-shirt for their participation.

Come on out and become part of the Great Aloha Run's 35th anniversary event!
Published on: January 24, 2019