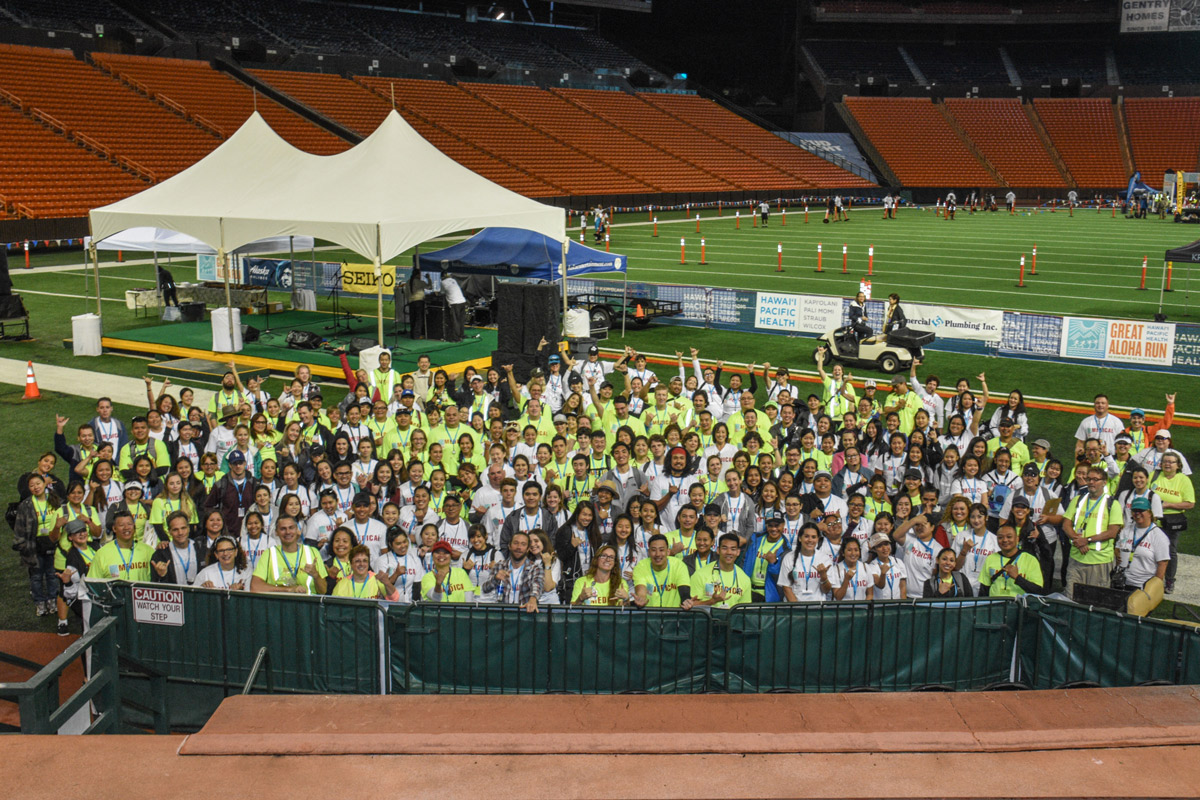 Dr. Doug Kwock (front row, left end) gathers with other volunteers at Aloha Stadium before the start of the 2018 Hawaii Pacific Health Great Aloha Run.
How This GAR Medical Director Provides Participants a Safe & Fun Race-Day Experience
People Who Help Run the Hawaii Pacific Health Great Aloha Run
Anyone who has ever run in 10K or a marathon knows the commitment involved to prepare for the big day.
There's a fair amount of dedication required to ensure you not only cross the finish line, but that you have fun and feel good along the way.
The same is true for those working behind the scenes to put on a race – most often volunteers, these men and women give a large portion of their time and energy to ensure a safe, enjoyable experience for everyone involved.
Serving as medical director for the Hawaii Pacific Health Great Aloha Run for a second term is Dr. Doug Kwock, a pediatrician and chief medical officer of Pali Momi Medical Center.
Kwock took the reins as medical director of the 8.1-mile race in 2018 after Hawaii Pacific Health became lead sponsor of the event.
"It was all new to us, yet it was an awesome opportunity for Hawaii Pacific Health to support a great event dedicated to health and giving back to our community," says Kwock.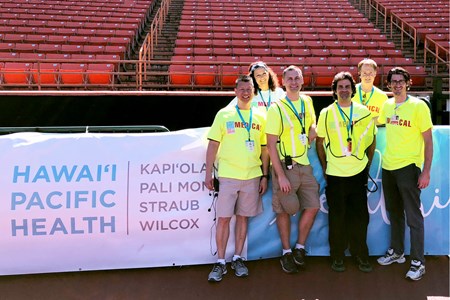 The Great Aloha Run is a Hawaii tradition for thousands of residents and visitors alike.
The 8.1-mile course begins fronting the iconic Aloha Tower in downtown Honolulu and takes runners along Nimitz Highway to the finish line in the Aloha Stadium.
With the run ready to celebrate its 35th anniversary in 2019, Kwock shares more about what goes into putting on a community race of this magnitude, race-day tips and how his team is planning to commemorate 35 years of running healthier with aloha.  
What are your responsibilities as medical director for the Hawaii Pacific Health Great Aloha Run?
Coordinate a large team of dedicated volunteers, organize supplies and logistics, and partner with other groups and organizations to provide medical support for the Great Aloha Expo & Run, Keiki Run and Silver Streaks participants and volunteers in the interest of presenting a fun and safe event while creating a healthier Hawaii.
What was your experience earlier this year when Hawaii Pacific Health sponsored the race for the first time?
The learning curve was steep, but we approached it with energy, enthusiasm and gusto.
The race was a fantastic success due to the hard work and effort of Hawaii Pacific Health and our community partners and volunteers. We learned a lot. We're committed to making it a better event each and every year.
As you and your team are gearing up for the 35th anniversary race, what are some things you learned that you hope will help make the 2019 race even better?
We're looking for more ways to increase the fun, balanced with being very serious about our responsibility to provide medical support.
We continuously review and discuss our care guidelines and practices, volunteer deployment and equipment and supply needs.
We are creatively exploring all means of improving on our last experience.
What does being part of the tradition of the Great Aloha Run mean to you?
The Great Aloha Run has been a familiar pillar in our community for three and a half decades. All of us at Hawaii Pacific Health feel a deep honor and privilege to be a part of this great event and community tradition. We are committed to partnering and supporting the Great Aloha Run in its service and contributions to our community.
Had you participated in the Great Aloha Run previously (as a runner, a volunteer, etc.)?
Actually, I had never run or volunteered in the Great Aloha Run prior to serving in the capacity of medical director last year. It made me feel like I had missed out in participating in something so special. Where had I been for the past 35 years?!
Do you have any advice for those gearing up for the race?
Prepare and hydrate. Be safe. Have fun. Dedicate yourself to creating a healthier you.
Gearing up for the race is actually the start or continuance of a healthy lifestyle.
Published on: February 15, 2019