Hawaii Pacific Health is proud to be the title sponsor of the 36th annual Great Aloha Run. Join thousands of runners from across the state and internationally in the 8.1 mile run starting at historic Aloha Tower and ending at Aloha Stadium. Show your support and register today!
Date: President's Day, Monday, February 17, 2020
Start Time: 7:00 a.m.
Race Route: Aloha Tower to Aloha Stadium
---
Volunteer Opportunities
As the title sponsor, Hawaii Pacific Health is responsible for staffing the Medical Support volunteers along the Great Aloha Run course and in Aloha Stadium. We are seeking clinical and non-clinical volunteers to join the Medical Support Team and ensure the safety of all participants.
Sign up as a volunteer today!
 HPH Employee staff & Volunteers    Student Volunteers    Community Volunteers
---
Course Map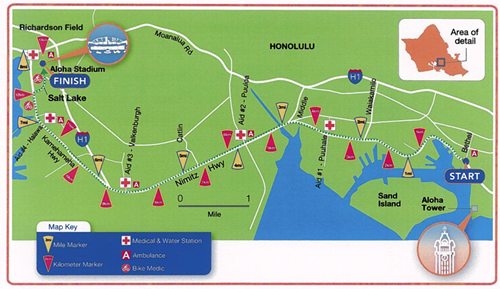 ---
 Great Aloha Run 2019 Race Images:

About the Great Aloha Run: Along with promoting fitness and healthy lifestyles, the Great Aloha Run also raises money for many of Hawaii's charitable organizations, raising more than $13 million since it began in 1985. Participants are invited to compete in a variety of divisions, including Elite Runners, Military (Active Duty, Reserve, National Guard and family members), Sounds of Freedom (troops running in formation), Competitive Wheelchairs and Handcycles, Presidents' 100 Club, Lucky 7 and Walking Strollers. For more information, visit GreatAlohaRun.com.