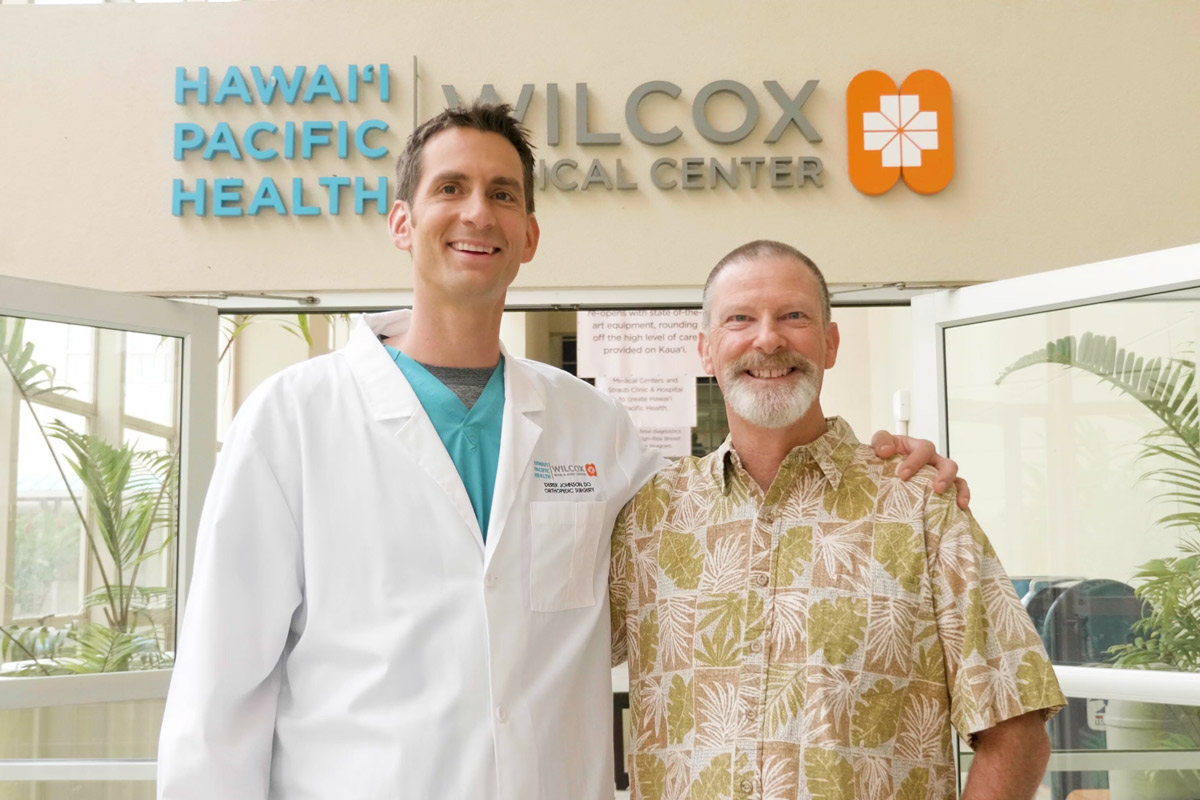 Mike Wehrly (right) attributes his amazing recovery from a life-threatening car crash to Orthopedic Surgeon Dr. Derek Johnson (left) and the rest of the team at Wilcox Medical Center.
Mike Wehrly
The Reason 2019
On Jan. 13, 2018, Mike Wehrly was driving to an early-morning charity golf tournament.
It was still dark out, and the last thing Mike remembers was seeing the bright lights of a truck shining at him from the opposite direction. The truck crossed the median strip and collided head-on into Mike's vehicle.
Mike lost consciousness after the impact, but when he came to, he knew he was severely injured.
Mike had experienced lung and heart contusions, multiple fractures in both sets of his ribs, and fractures in his spine. Additionally, his femur had been broken in two places, resulting in a pulseless leg.
Mike needed surgery right away. Luckily, the ambulance took Mike to the Wilcox Medical Center Emergency Department.
As an American College of Surgeons-verified Level III Trauma Center, the Wilcox ED was able to provide the care that Mike needed.
However, at the exact moment the trauma team was providing care for Mike, the state sent out a ballistic missile alert. Now, in addition to tending to the needs of their patients, the doctors, nurses and staff at Wilcox had to prepare for a potential disaster.
Through all the commotion, Dr. Derek Johnson, the orthopedic surgeon on call, was able to perform the emergency surgery that Mike needed.
Mike spent some time in the medical center recovering. After he was discharged, he was diligent with his follow-ups with Dr. Johnson and attended all of his physical therapy sessions.
Today, Mike is back surfing and stand-up paddleboarding.
He also was able to participate in that charity golf tournament this year, and attributes his amazing recovery to Wilcox.


Watch Mike's full story unfold in the video below.


Published on: March 15, 2019