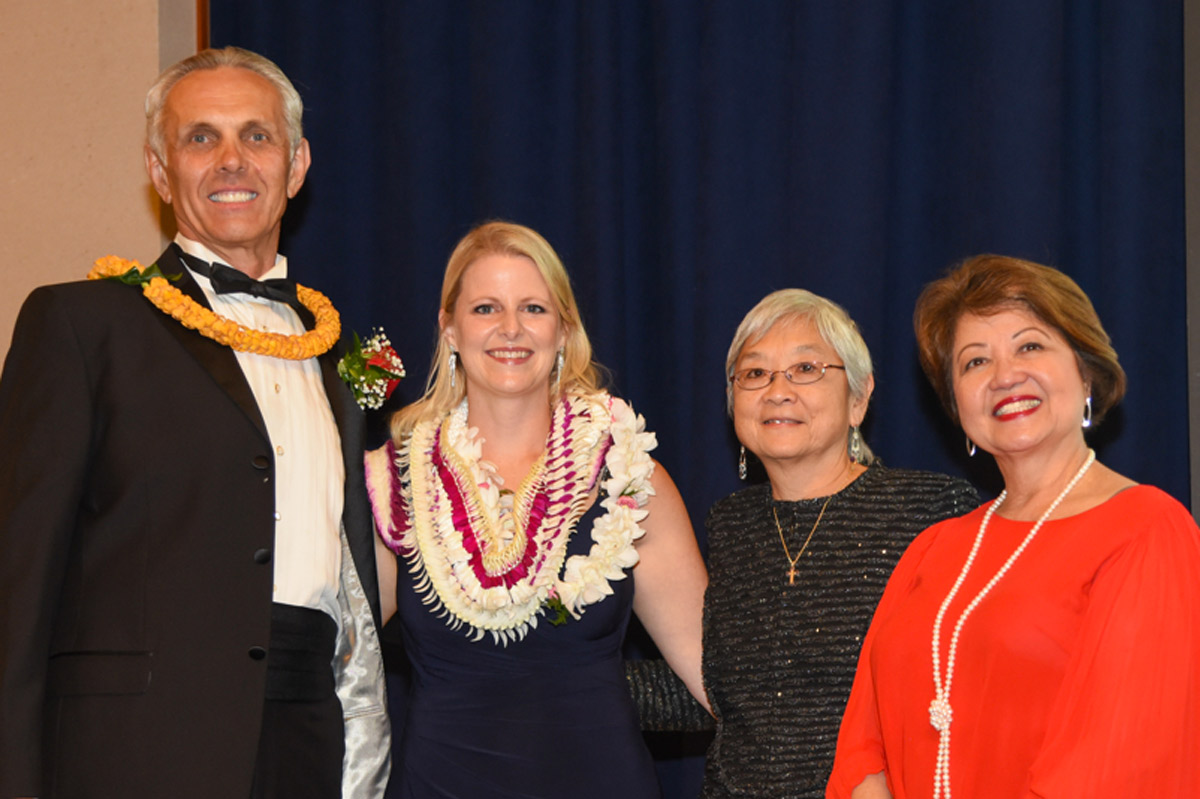 Dr. Anne Dempsey (second from left, with lei) was named among five Hawaii Healthcare Heroes during the 2017 Healthcare Association of Hawaii Awards and Scholarship Gala, held Oct. 21, 2017, at the Koolau Ballrooms. On stage with Dempsey are (from left) Hilton Raethel, HAH president and CEO; Dr. Geri Young, Kauai Medical Clinic chief medical officer; and Beth Hoban, HAH board of directors chair.
Dr. Anne Dempsey Honored for Delivering Extraordinary Patient Care
Kauai Medical Clinic Internal Medicine Physician Dr. Anne Dempsey has joined the honorable list of Hawaii Healthcare Heroes. 
Awarded annually to five health care professionals by the Healthcare Association of Hawaii (HAH), this distinction acknowledges extraordinary individuals who went above and beyond to deliver extraordinary care. 
Nominations for the award come from patients, who nominate these "heroes" for being there when they or their loved one needed them most. 
Dempsey was nominated for the Hawaii Healthcare Hero award by Darlene Yamase, whose mother, Catherine Costa, is one of Dempsey's patients.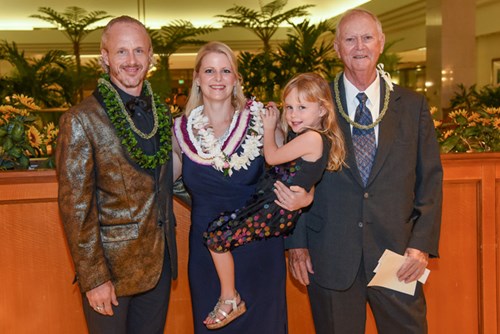 Yamase recognized Dempsey for helping her family navigate her mother's numerous health ailments, all while making them feel comfortable and cared for. 
"Somebody needed to help us make really good decisions about what came first and what came second. Dr. Dempsey ... you were there for me. When I called you, you answered every call and every text. And when I was feeling hopeless, you gave me hope. Mahalo to you and for all that you've done for my mom and my family," Yamase said. 
Dempsey joined Kauai Medical Clinic in November 2014. She enjoys meeting people from all walks of life and inspiring them to improve their health through diet, exercise and medication, if necessary. 
"Being a physician is the ultimate mix of mental challenge and heartfelt giving," Dempsey said. "Being a Hawaii Healthcare Hero means I was able to make a difference in someone's life, which is what being a doctor is all about." 
Click here to watch an interview with Hawaii News Now and learn more about why Dempsey is among the list of 2017 HAH Hawaii Healthcare Heroes.
Published on: November 3, 2017