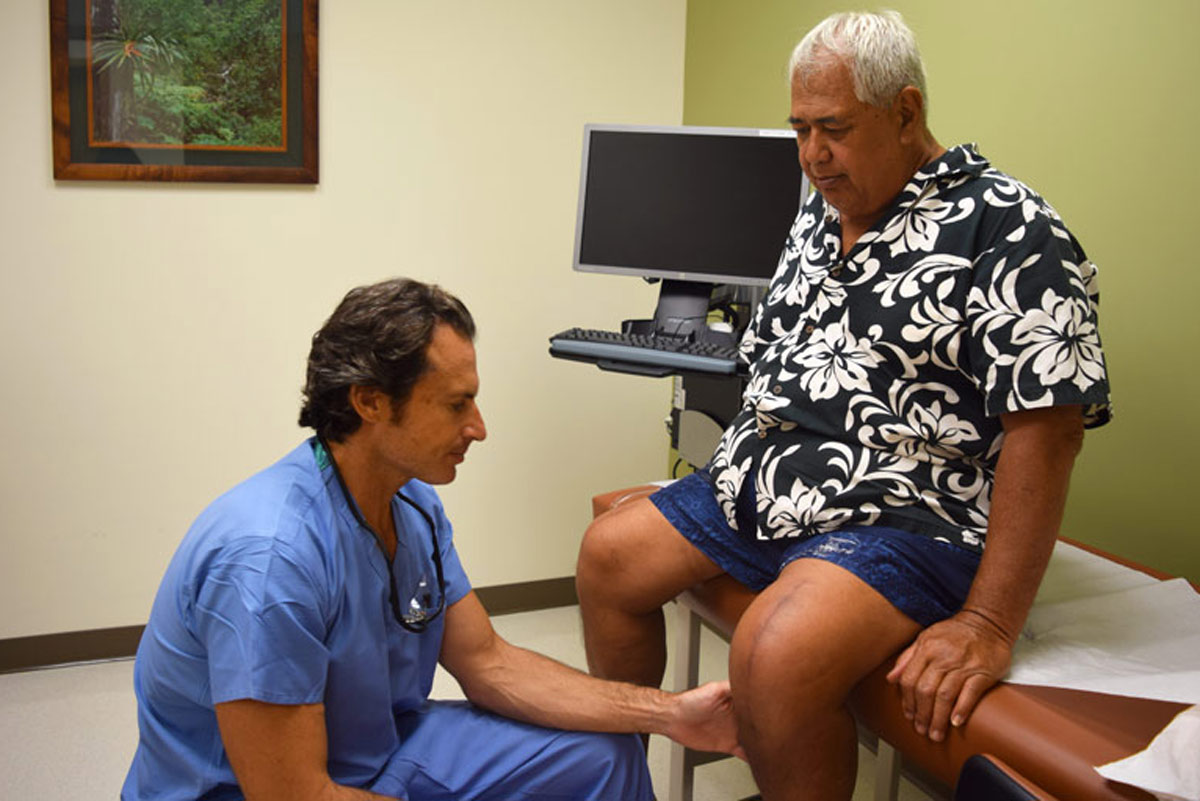 Orthopedic Surgeon Dr. David Rovinsky exams the progress of patient Jeffrey Ano almost a year after bilateral knee replacement surgery.
For KMC's Bone & Joint Team, There Is No "I" in Care
Jeffrey Ano was active his whole life – he owned his own drywall business and, as a true local boy, grew up in the ocean, be it paddling or just cruising the waves. 
When Jeffrey was in his early 50s, he began experiencing pain doing everyday tasks. 
"I was having difficulty getting out of bed, walking – it was even uncomfortable just sitting and standing for too long," the Hanapepe resident remembers. "I was just very, very uncomfortable." 
His wife told Jeffrey to see his primary care physician, who told Jeffrey he would need hip surgery and referred him to Dr. David Rovinsky, an orthopedic surgeon at Kauai Medical Clinic. 
"Mr. Ano had bilateral hip and knee replacements to treat his hip and knee osteoarthritis, the most common reason people get these procedures," says Rovinsky. 
According to Rovinsky, total hip and total knee replacements are among the most common surgeries performed in older populations. Last year in the United States, there were approximately 719,000 total knee replacements performed and 332,000 total hip replacements performed. 
"I specialize in trauma as well as total joint replacement, and the bulk of my elective practice is total hip and total knee replacements," Rovinsky says. "Last year, I performed more than 300 surgeries at Wilcox Medical Center." 
Jeffrey received his first hip replacement surgery in 2006 and returned every two-and-a-half years for additional surgeries to his hips and knees.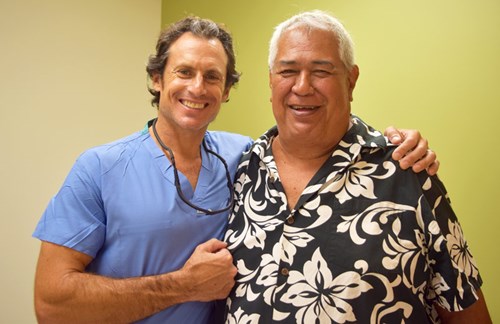 "I was really impressed by all the things they can do today – at each new surgery there seemed to be new procedures and technologies," Jeffrey says. "I was also impressed with the people at the hospital who made me feel comfortable. I never waited too long for an appointment, and everyone is sincere in their care for patients." 
"We pride ourselves on having an integrated system of care that starts from the time of surgery scheduling, to the preoperative class, to preoperative care, surgery, physiotherapy, inpatient care and aftercare," Rovinsky says. "Because of our team approach, the majority of our total knee and total hip patients get surgery in the morning, get up and walk the same day, and are discharged the following morning!" 
It's been about nine months since Jeffrey's last knee surgery, and every day he is surprising himself with what he can do. 
"It's like being reborn! I'm 69, but I'm going to be like a kid again because I'll be able to do all these things I haven't been able to do for 13 years," he says. "It's just been a really good experience for me, and I feel very fortunate to have gone through this with the people at Wilcox and that they were here to take care of me."
Published on: March 8, 2016