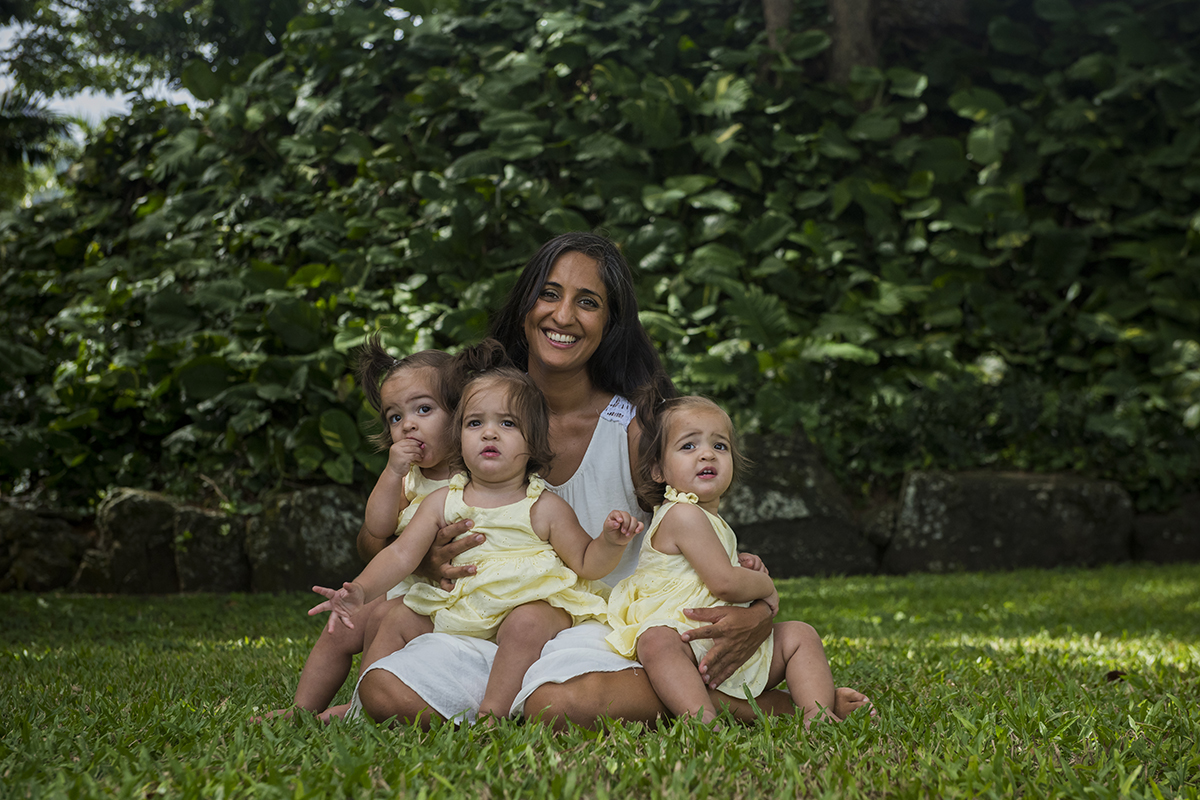 Komal Soin
Wall of Hope: Stories of Courage & Inspiration
When Komal Soin learned she was pregnant with triplets, she was surprised and overwhelmed.
"How could one have triplets the first time they became pregnant?" she asked herself.
Her first pregnancy proved to be more than she expected. Komal was closely monitored by Kapiolani Medical Center for Women & Children's Maternal Fetal Medicine (MFM) team following her first trimester due to the high-risk nature of her pregnancy. She praises the entire MFM team for their amazing care, and feels very fortunate to have had Dr. Men-Jean Lee by her side throughout the process providing constant support, even sharing her personal cell phone number and telling Komal to call or text her at any time with her questions or concerns.
"Because of the great care she provided, we remain friends and colleagues to this day!" Komal says.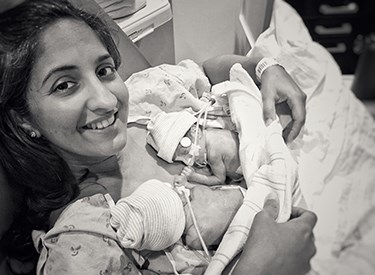 Komal was diagnosed with HELLP syndrome, a complication of high blood pressure, and preeclampsia during her pregnancy. She was hospitalized after her water broke for approximately five days before she delivered her triplets via C-section at 27 weeks.
The premature triplets spent 2 months in Kapiolani's Neonatal Intensive Care Unit (NICU), where Komal says the "Nurses, staff and doctors made us feel at home. They were an incredible community of support.
"They gave me advice not only on how to take care of the babies, but also on how to take care of myself," she reflects. "Their friendliness and willingness to go above and beyond to care for us made our NICU stay bearable."
One year later, Komal and her babies – Layla, Lilyana and Kalyani – are doing well.
"My babies are 1, in good health, and growing and developing on target. For 27 weekers, this is amazing!
"Having multiple, premature babies is really hard, but now I have so much fun with my girls and can't wait to see their happy, giggly faces every morning!"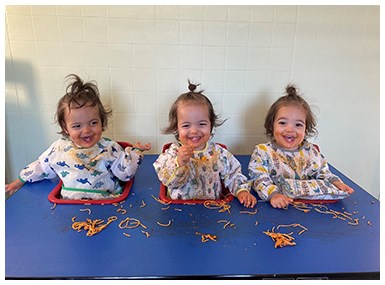 As Komal reflects back on the stressful time their family endured during the first year of her daughters' lives, she acknowledges that it takes a community to take care of children.
"I've learned through this whole ordeal that it's okay to accept help when people offer it. We wouldn't have made it to where we are today without our friends, family, and the community at Kapiʻolani who took care of me and my babies then, and still are."
Published on: December 8, 2020