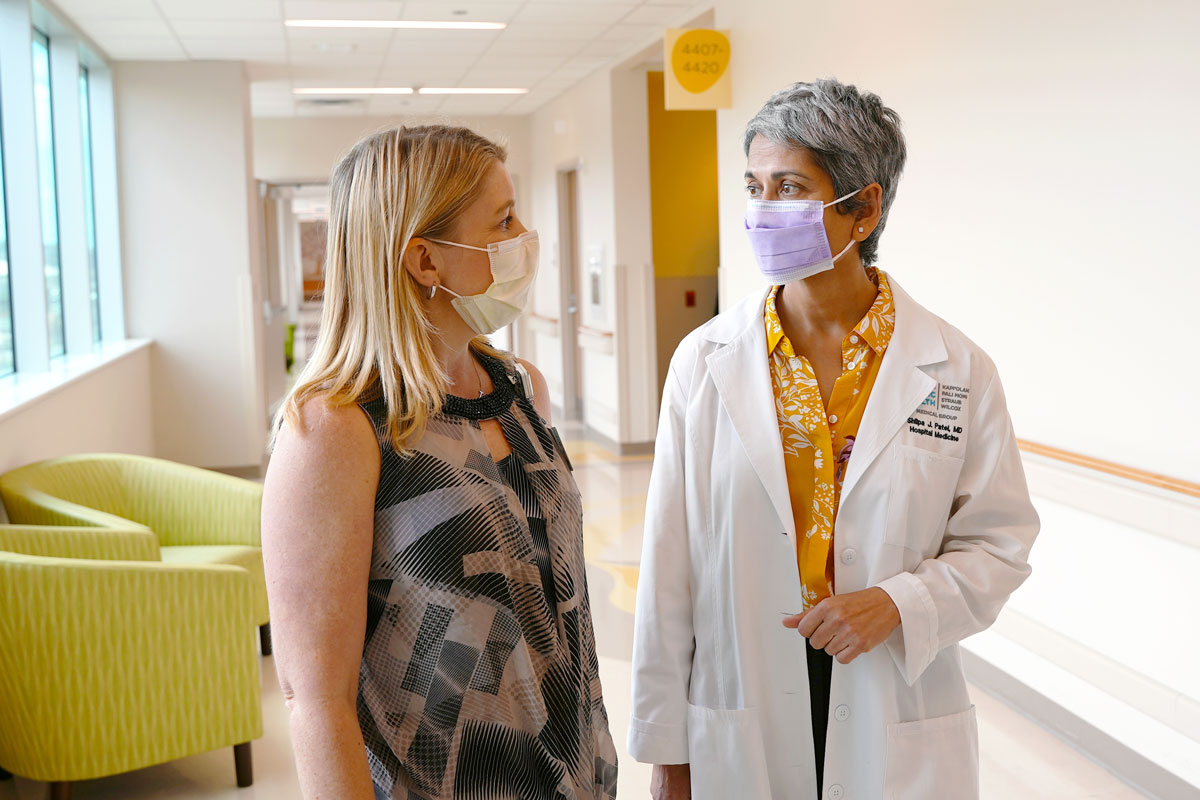 Dr. Shilpa Patel (right) discusses patient care with colleague Kirsten Pennaz, director of clinical operations at Kapiolani Medical Center for Women & Children.
A Passion for Keiki & Quality Care
On July 1, 2022, Hawaii Pacific Health named Dr. Shilpa Patel its chief quality officer. She assumed the role from Dr. Melinda Ashton, who retired June 30, 2022, after a 25-year career at HPH.
Patel brings a wealth of clinical, administrative and educational leadership experience to the position. She joined HPH in 2004, has served as physician liaison to the organization's department of safety and quality since 2015, and in 2021 became associate chief quality officer.
Patel continues to care for patients as a pediatric hospitalist at Kapiolani Medical Center for Women & Children. She will also continue to mentor the next generation of physicians as professor of pediatrics at the University of Hawaii at Manoa's John A. Burns School of Medicine, where she formerly served as director of the pediatric residency program.
Patel earned her bachelor's degree in cognitive science from Vassar College. She received her medical degree and completed her pediatric residency training at University of Vermont's Robert Larner College of Medicine.
In this article, Patel provides additional details about the deep devotion she has for her work.
What do you do in your role as a chief quality officer?
The chief quality officer (CQO) is essentially responsible for making sure patients receive the outstanding care we would like them to receive at our medical centers and clinics so people can live their healthiest lives.
CQOs help bring a systems-based way of thinking and approach to health care systems so that medical teams can function well and accomplish the important tasks of healing patients.
As the CQO, I oversee the effort that allows us to measure how we are performing – What are patients telling us about their experiences at our medical centers and clinics? How do our patient outcomes compare to other medical centers in the region and country? How can we continue to improve?
I work with an incredibly dedicated team of data analysts, process improvement experts, project managers and clinicians (nurses, doctors) to bring information to our medical center and clinic teams so that we can direct our improvement efforts to help create a healthier Hawaii.
What would you like readers to know about you?
My journey to becoming a physician has not been linear. Right out of college, I lived and worked in Thailand with the Peace Corps for two-and-a-half years. After that experience, I was determined to apply a belief that I still hold to be true: giving a person agency over their health and body allows them to practice that capacity in other parts of their lives for betterment and posterity. I felt that people who work in health care have a unique opportunity to help people when they are not just very vulnerable (i.e., from illness), but also when they are feeling well. 
I think mentorship is one of the keys to success in any field. Having experienced the power of mentorship first-hand, I now welcome opportunities to mentor others. I have the privilege of helping medical students and young doctors training to be pediatricians as well as junior faculty – doing this is a professional and personal highlight because of the multiplicative effects of positive mentorship.
What I love most about my career is that all the paths I have taken in the past have prepared me for the path I am currently on – helping lead our health care system's efforts to provide people with the power, information and resources to live healthy, safe and productive lives. It is a privilege to do what I do and to work for Hawaii Pacific Health.
What are you most passionate about regarding working in the field of pediatrics?
There are many things I love about being a pediatrician. One is the kids themselves. Children are amazingly resilient. Given enough support, time, science and love, children will often bounce back from even the most serious illness or accident.
Another thing I enjoy about being a pediatrician is working with parents and families, who will do almost anything to help the children in their lives.
Lastly, I really admire pediatricians and specialists who work with children – they are smart, fun, caring people who are willing to invest energy and time now to make a brighter future.
What should parents know to prepare their kids for the new school year?
My advice to parents this summer is to get their children fully vaccinated so that they have a better chance of having a healthy, uninterrupted school year. We know so much more about how to stay healthy despite high community prevalence of viruses (not just COVID-19) thanks to the combined efforts of science, public health and sound judgment – let's use that knowledge to make sure our children can flourish.
---
This article was first featured in the July 27, 2022, issue of MidWeek as a part of the "Dr. in the House" series. See the full publication here.
Published on: January 20, 2023