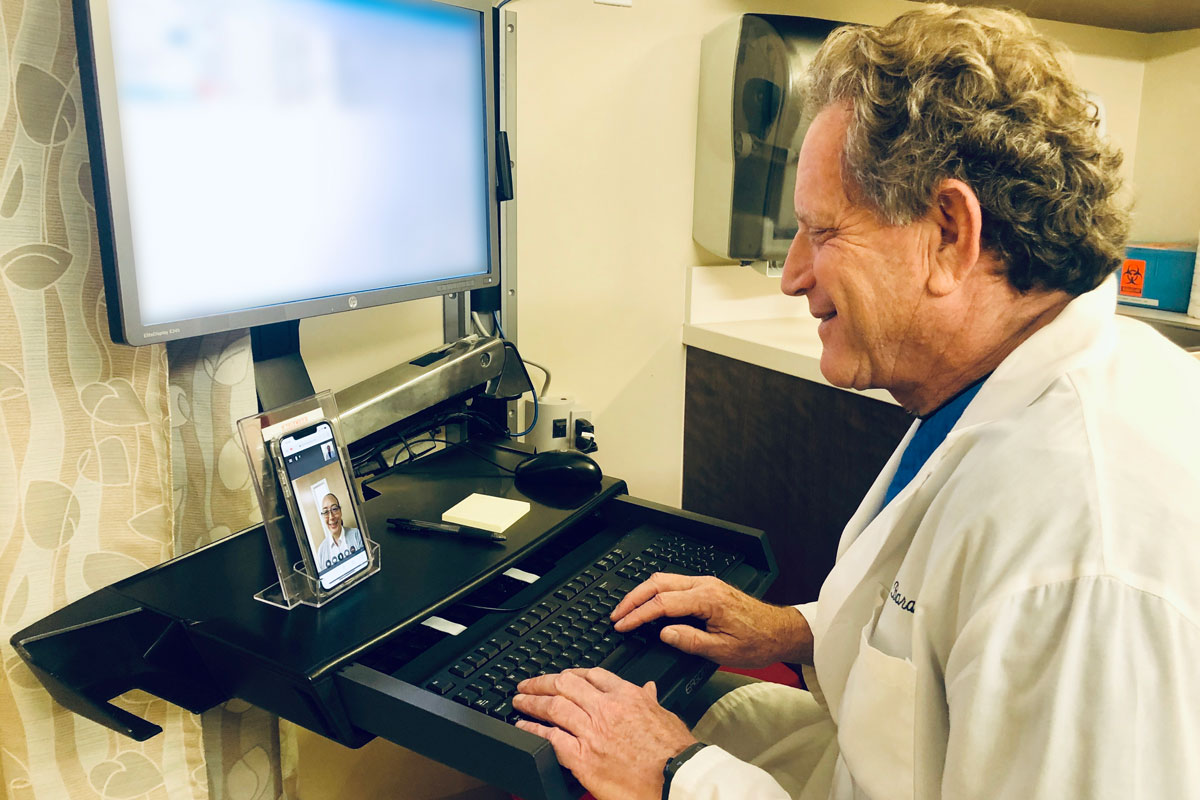 Dr. James Barahal participates in a Straub Virtual Urgent Care session.
Fulfilling an "Urgent" Medical Need
A general practice physician, Dr. James Barahal began his medical career in Hawaii making house calls all around Oahu. More than 35 years later, his depth of experience was invaluable in developing Straub's Virtual Urgent Care with Hawaii Pacific Health (HPH).
Another notable fact about him is that Barahal also serves as the president and CEO of the Honolulu Marathon, which marked its 50th anniversary earlier this month.
In this article he delves deeper into the topic of urgent care, including its virtual component.
How has urgent care changed over the years?
I started Doctors on Call in 1981 to treat people in their own homes and in a year-and-a-half, I had made approximately 8,000 house calls. We opened our first clinic in Waikiki that, I believe, was the first urgent care clinic in Hawaii, and joined Straub Medical Center in 1992.
The basic concept today is the same – to treat medical needs that occur outside of regular appointments with a primary care physician but may not require emergency room care. The way that patients interact with urgent care doctors and the services they can provide, however, has changed dramatically with technology. Thousands now have increased access to the care they want when they want it through virtual visits or telemedicine. Because of that, patients who may not have gone to a doctor for a concern can easily do so.
What types of services does urgent care provide, and why is this especially timely during the holiday season?
Our HPH primary care physicians do an extraordinary job of taking care of their patients and managing their overall health. During the holiday season, which is also the flu season, your doctor may get busier. At the same time, people who get sick want treatment immediately – even after regular business hours – so they don't need to postpone their plans. Urgent care fills that gap. We can treat a wide range of medical conditions and concerns. It is not a replacement for a visit with your primary care physician, but can help bridge your care.
Why should a person consider urgent care versus calling their primary care physician or going to the emergency department?
A person should think about urgent care when something springs up suddenly that is not an emergency but needs to be addressed right away: a sore throat, a rash, an earache, a possible sprain or possible food poisoning.
As part of Hawaii Pacific Health, Straub Urgent Care Clinics are fully integrated into the HPH network, which means that we have immediate access to your medical records and history. Often, while a patient is telling me about their medications, I will let them know that I am already seeing their medical history on their online chart. That's comforting for them and increases efficiency.
Your primary care physician has complete and total access to the records from urgent care visits. And if we refer a patient to the emergency department, the ED can pull up those records right away.
One more key point is that Straub Urgent Care Clinics accept the same insurance plans as HPH medical centers, which is different from many national telemedicine companies.
What patient injuries/illnesses do urgent care clinics typically see?
We see a mix of conditions including respiratory concerns (sore throats, coughs, some asthma), minor injuries and abdominal pain. Urgent care is excellent for minor traumas such as sprains since our urgent care facilities have full X-ray and other capabilities.
What do people not know about urgent care?
Some believe virtual urgent care is impersonal, which is not true. In many ways, HPH's virtual urgent care is very similar to the house calls I made during the start of my career. We gather the information we need by talking with patients and others who live in their households. That conversation is especially important because we are not able to take your temperature or press on your abdomen to check for discomfort virtually. So, our doctors are working quickly to get a feel for the patient, their surroundings, their support network and any information they can gather to determine the best course of action.
Our virtual urgent care also mimics the experience of an in-office visit. When you call or schedule a visit online, a receptionist in Hawaii answers and assists you with the next steps. We do not use bots.
Something we often hear from patients is "Iʻm sorry to bother you." Our urgent care team is comprised of doctors, nurses and medical staff who are dedicated to that service. We're available. We're here. It's what we do.
How does virtual urgent care differ from traditional telemedicine?
We specifically designed our virtual urgent care to be comprehensive, integrated and easy for people to access and use. You do not need to download an app. You can also call and speak with a real person here in Hawaii on the telephone. To meet with the doctor, all you need to do is click on the secure link in the message or email.
What are your tips for people who have not used virtual urgent care before?
We tried to make it simple for even those who may not be very tech savvy. All you need to do is dial a phone number and click on a text message. In general, though, make sure your camera is on and you are not muted. The system will cue you if anything else is wrong.
In every way possible, HPH has created a unique urgent care support system that has been an incredible service for the people of Hawaii, and we're proud to have been the ones to do that.
---
This article was first featured in the Dec. 28, 2022, issue of MidWeek as a part of the "Dr. in the House" series. See the full publication here.
Published on: January 4, 2023