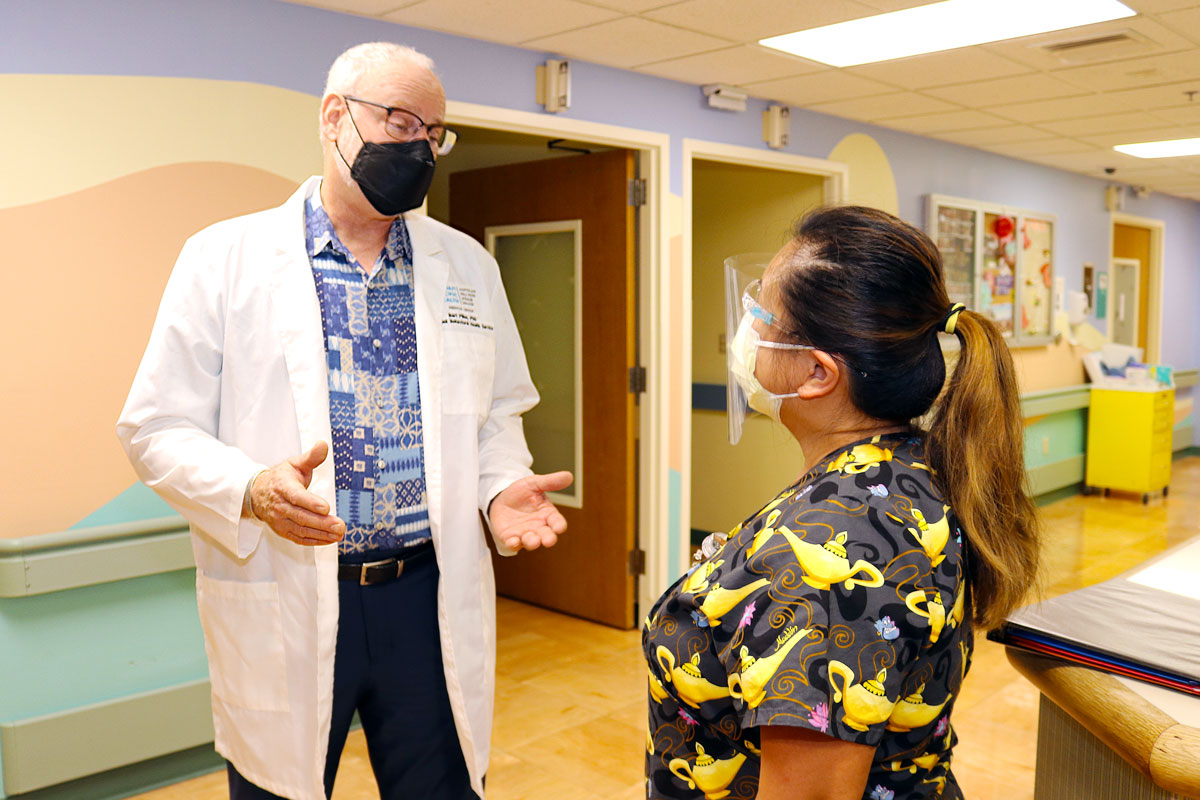 Dr. Bart Pillen discusses treatment options with a colleague at Kapiolani Medical Center.
Mental Health Coping Strategies
As a clinical psychologist at Kapiolani Medical Center for Women & Children, Bart Pillen counsels patients who have complex needs, including serious illnesses and medical decisions.
An administrator for the Behavioral Health Division at Hawaii Pacific Health, he's responsible for developing, directing and advancing behavioral health services across the health care system.
"I work alongside a dedicated and talented team of psychiatrists, psychologists, licensed clinical social workers and a psychiatric nurse practitioner to help patients and families cope with stressful situations and significant mental illness. I provide consultation and support to patients receiving care across our health care system," he explains.
In this article, Pillen shares his advice about coping and tips for better emotional well-being.
How can families and individuals maintain their mental well-being through this pandemic and respond to emotional distress?
Unfortunately, this pandemic has turned into a marathon, so most of us have had periods of significant distress, if not depression or anxiety. The key to mental well-being is consistency – regularly tuning in and responding to emotional and support needs. The most resilient people respond early to difficulties, while creating opportunities for personal well-being and positive family or social activities. It's how you fill the cup, not whether the cup is half full or empty.
People often postpone self-care because their focus is on work or family. Sometimes we tell ourselves, "It's really not that bad." If you've noticed a pattern in your life where stressful situations become harder to manage or impact your overall functioning and relationships, seek additional support. Red flags might include longer periods of worrying, insomnia, sadness, low motivation and anger.
We have seen a dramatic rise in suicidal thoughts, substance abuse and domestic violence during the pandemic, so if you have any worries about safety for yourself or others, seek help immediately.  A number to call 24/7 is the Hawaii Department of Health CARES line at 808-832-3100 (toll-free: 800-753-6879).
What tips do you have for starting the new year with a fresh start emotionally and positive perspectives?
My go-to tip is: If someone took a picture or video of you during the high points of your day, what would you be doing? What would you say about your life in these moments?
When depressed or exhausted, we often overlook our day's high points, which reflect our successes, talents and healthy relationships or activities. These moments don't happen by accident, so start to intentionally add these experiences into your day.
If you feel stuck or in a rut and can't see your high points, ask someone you admire what they use as a coping strategy. You can also search online for proven approaches to enhance your emotional health: mindfulness meditations or prayers; "self-efficacy" interventions; suggestions on playfulness, self-compassion, finding moments of "awe"; and cognitive-behavioral techniques to challenge how you think about yourself and stressful situations.
What made you decide to choose a career in behavioral health?
I've always been interested in science and wanted a career in health care. When I was a teenager, I worked with disabled children and adults. It was a true joy for me! That experience helped me to appreciate people with cognitive, physical and emotional struggles. It also influenced me to pursue an undergraduate degree in psychology at University of Nebraska, Lincoln.
Where did you receive your education/training and how has it prepared you for your job?
After earning my undergraduate degree, I entered a clinical and community psychology PhD program at DePaul University in Chicago. The program emphasized hands-on learning backed by the use of science-driven interventions. Our training included intensive class work, learning therapy skills, and leading community-based prevention programs. Graduate school endowed me with a foundational appreciation and understanding for how personal well-being is impacted not only by mental health concerns but by the family, culture, community and the quality of social support we have in our lives. 
What would you like the public to know about your personal life, family and hobbies outside of work?
I am a father and grandfather, and credit my family and loving wife of almost 35 years for our healthy and happy home.
Being in nature is grounding for me and gives my thinking brain time off. Photography and woodworking help me relax and relate with others and myself in a different way. 
---
This article was first featured in the Jan. 26, 2022, issue of MidWeek as a part of the "Dr. in the House" series. See the full publication here.
Published on: December 20, 2022