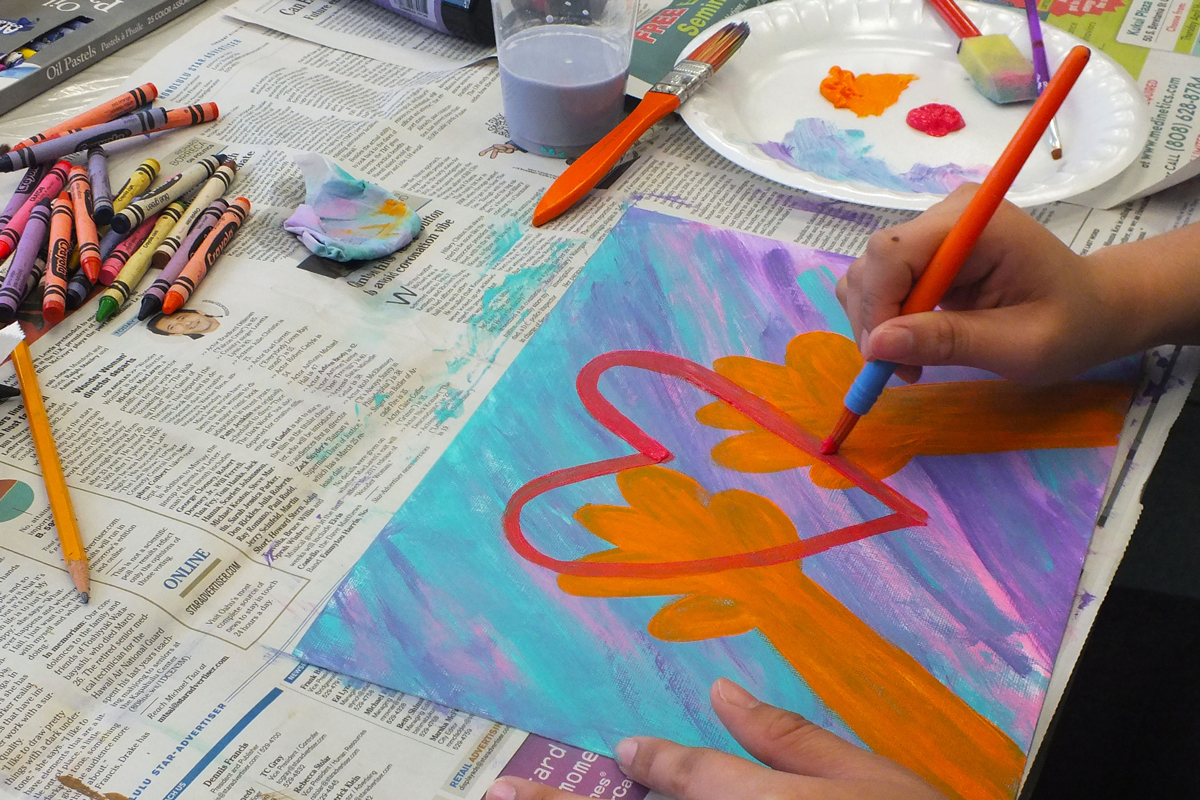 Cancer Patients Express Emotional Journeys during Oncology on Canvas Event
Art is a powerful tool that, to borrow a phrase from writer Thomas Merton, "enables us to find ourselves and lose ourselves at the same time." 
It gives us the freedom for unfiltered expression when words alone fail us, or when the gravity of a situation is too large, too scary, too ugly to say out loud. 
But, when equipped with a pen, a brush or a mound of clay, we have the ability to create beauty in the most unassuming of places.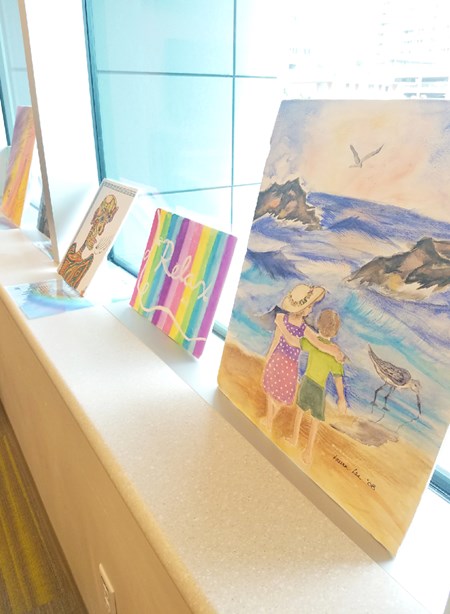 That is the idea behind Oncology on Canvas, an annual event where cancer patients are invited to express their personal journeys through art. 
"It is an emotional release for the patients, families and staff," says Joyce Wong, integrative services coordinator with Kapiolani Medical Center for Women & Children. 
Wong has been a key leader with the program since its beginnings at Kapiolani in 2004, first as a creative outlet for patients in the Women's Cancer Center, and then eventually as a facility-wide offering for oncology patients of all ages. 
"This was the stimulus, and we joined in as a community to offer this event to our patients, families and staff," says Wong. 
Other island medical centers host similar events for their patients, but Wong says Kapiolani leadership wanted to ensure the opportunity for therapeutic art was available at its medical center. 
"Art therapy provides the individual an opportunity to be creative and express possible emotions related to his or her cancer diagnosis – anger, disbelief, depression, grief, hopelessness – through art. It helps to support their individual feelings and gain some relief and comfort," explains Wong, a holistic nurse who works with Registered Nurse Francine Chang to provide family-centered care through other complementary and alternative medicine (CAM) treatments. 
"This event gives them a medium to express themselves when they may not be able to verbalize it but can explain themselves through art. They tell their journey with cancer by painting it, then tell what the painting means," she continues. "It is very powerful. Their family members, friends, staff and caregivers may never have heard this before. Now, they can offer comfort."
Financial assistance for the program comes from the local Oncology Nurses Association, Hawaii (Oahu) branch. 
Additional support comes from the Hawaii Pacific Health ohana of employees. 
"For the past two years, our Human Resources department has volunteered to assist artists on the day of the event, along with integrative services from our Child Life program and our Women's Cancer Center. We get help from our Marketing department for our posters, and the staff in Kapiolani Women's Center helps to encourage folks to come, talk-story and spread the word," Wong says. 
This event gives them a medium to express themselves when they may not be able to verbalize it but can explain themselves through art."
On a Saturday each spring, patients, families and staff are invited to the medical center to paint. All of the supplies are provided, and there is no time limit or set of expectations of what comes out of the session. 
"Patients who are admitted to the medical center come from their rooms to paint, or we can bring supplies to them," Wong says. "Some patients, like the teen and young adult group of cancer survivors, look forward to coming annually, and sometimes bring in new patients with them." 
Once a patient feels the artwork is complete, Wong or another volunteer transcribes the patient's story. 
"Staff and volunteers, including myself, have been very touched every year by the results of therapeutic art in the Oncology on Canvas event, and it encourages us to continue annually," Wong says. "The paintings are wonderful, but it is in the stories that we find the strongest expression of feelings. Many times, one would not imagine how powerful the story will be." 
The final pieces are displayed in the annual Oncology on Canvas Art Exhibit at Honolulu Hale. 
Following this installation, paintings are returned to the artists or displayed in the small art gallery on the second floor of the medical center by the cafeteria. 
This year's exhibit will be open for public viewing April 30-May 17, 2018. 
In addition to Kapiolani, all participating medical centers from throughout the state will have their art shown. 
For more information about the 2018 Oncology on Canvas Art Exhibit, click here.
Published on: April 17, 2018