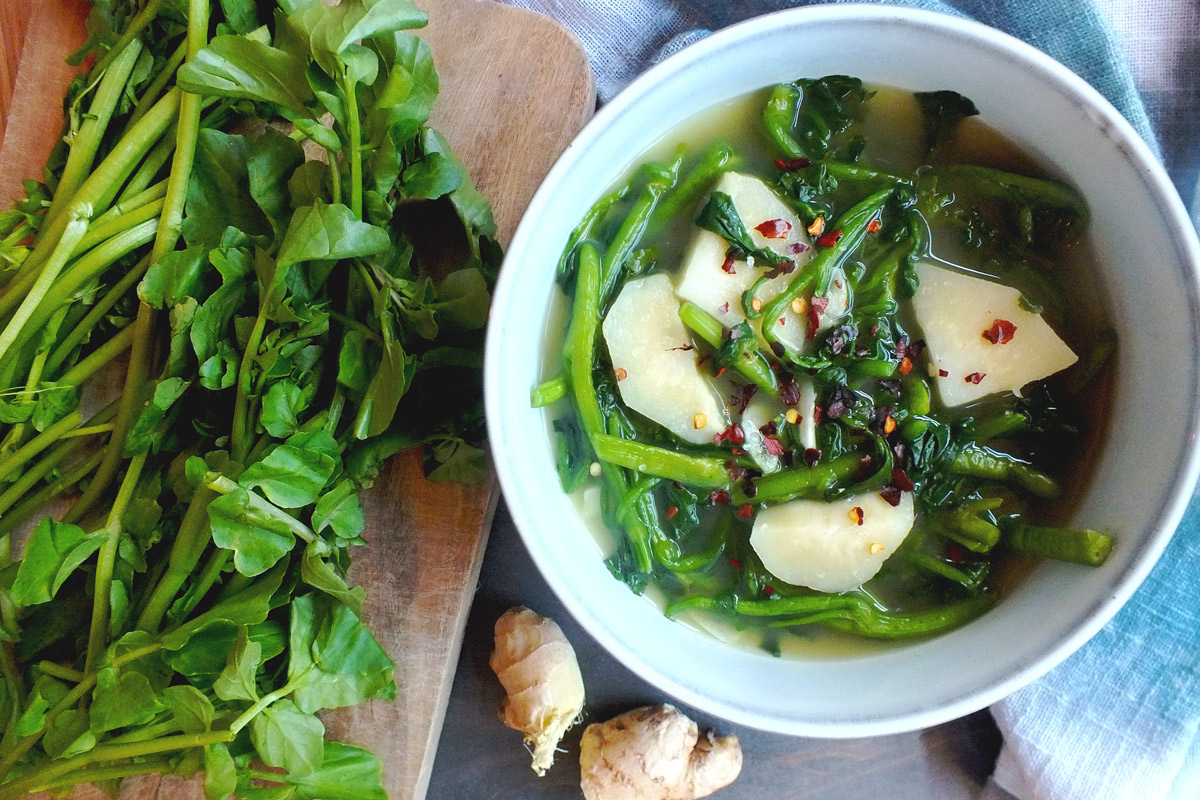 Watercress & Ginger Soup
Enjoy a new take on your favorite salad green with this comforting wintertime soup. 
Watercress is known for its crisp stems and peppery bite. However, blanching this green leafy vegetable for a few minutes slightly softens the stems so that they become almost noodle-like.
Garlic and ginger create a rich and flavorful broth that's full of flu-fighting antioxidants that fight infection and lower inflammation. 
Parsnips add a touch of sweetness and extra fiber, while red pepper flakes add a hint of heat to create a well-rounded, nourishing elixir you'll want to sip all season. 
Watercress & Ginger Soup
Serves 4
Ingredients:
1 tablespoon avocado oil
3 garlic cloves, thinly sliced
1 tablespoon fresh ginger, grated
1 large parsnip, peeled and cut into 1/2-inch pieces
1/2 teaspoon sea salt, plus more to taste
4 cups chicken bone broth (or chicken stock)
2 bundles watercress, trimmed and coarsely chopped
Red pepper flakes, to taste
Directions:
1. Heat oil in a medium saucepan over medium-high heat. Add garlic and ginger, and cook until sizzling and fragrant, about 1 minute.
2. Add parsnip and 1/2 teaspoon salt and cook for 1 minute more.
3. Add bone broth and bring to a boil. Reduce to a simmer and cook until parsnip is tender, about 5 minutes.
4. Stir in watercress and simmer until just wilted, about 3-5 minutes.
5. Season with salt and red pepper flakes to taste. Serve with a squeeze of fresh lemon.
Nutritional information per serving:
Calories: 108; Carbohydrates: 15.9g; Protein: 12.1g; Total Fat: 0.8g; Saturated Fat: 0g; Cholesterol: 0mg; Dietary Fiber: 3.7g; Total Sugars: 5.3g; Sodium: 132.5mg
Published on: January 9, 2018