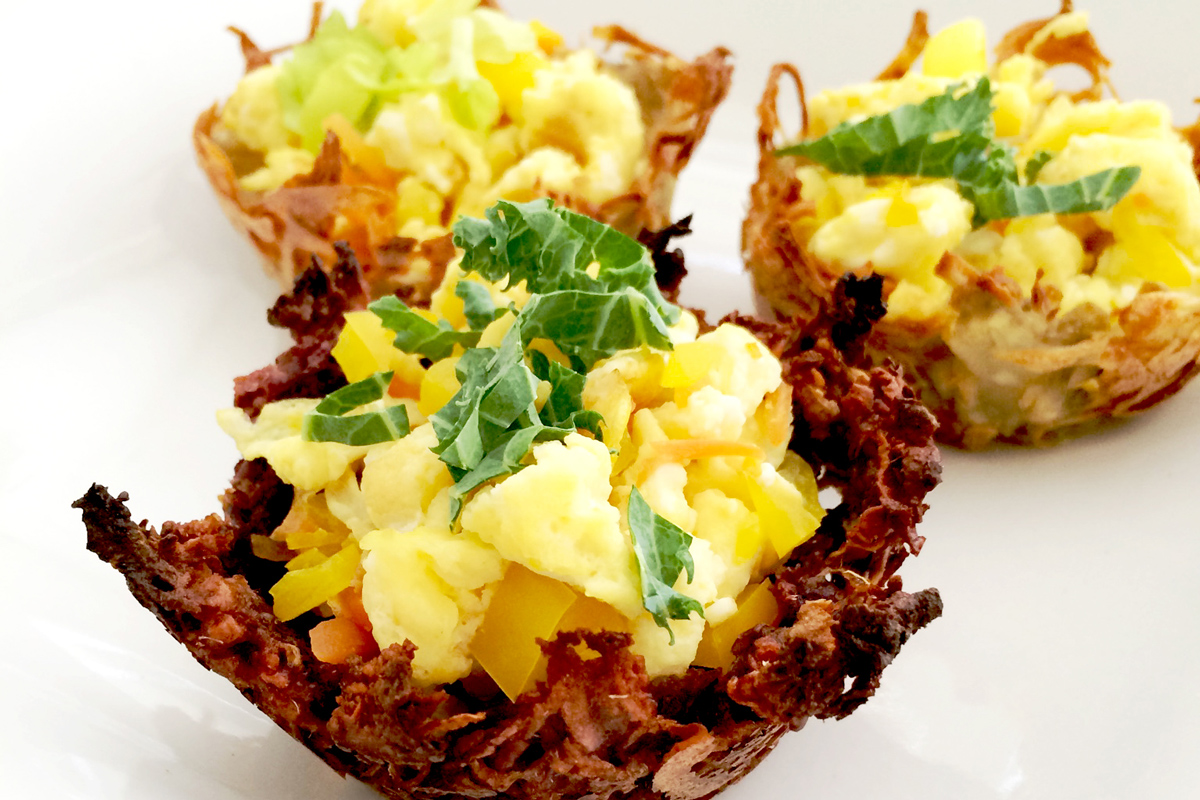 A-tisket, a-tasket, these eggs come in a pretty sweet potato basket!
Sweet Potato Brunch Baskets
Eggs are standard fare at the brunch buffet. You've probably had eggs scrambled, over-easy, hardboiled and all manner of preparation in between. But have you ever had an egg basket? 
We're not talking about the kind filled with green plastic grass and marshmallow bunnies. 
Unlike those baskets, these Sweet Potato Brunch Baskets are packed with nutritional goodies like protein, fiber, and vitamins A and C. 
"Vitamin A is essential for healthy vision, while vitamin C protects against immune system deficiencies, cardiovascular disease, prenatal health problems and eye disease," says Rebecca Izawa, a registered dietitian at Kapiolani Medical Center for Women & Children. 
Izawa, who came up with this recipe, says these cute baskets are a good way to introduce kids to new veggies, as you can substitute or add different ingredients to suit your tastes. 
"Although I used bell pepper and tomatoes, you could use other vegetables like mushrooms, zucchini or even broccoli!" Izawa says. "Just be sure to finely chop or dice the vegetables so that the mixture will fit in the potato baskets." 
Sweet Potato Brunch Baskets
Serves 10
 
Ingredients:
1 large Okinawan sweet potato
3 large eggs (may also use 1 cup egg substitute)
1/3 cup orange or red bell pepper, finely chopped
1/3 cup tomatoes, diced
Salt and pepper, to taste
Chives, kale or green onions, diced (for garnish)
 
Directions:
1. Grate potato and microwave for 2 minutes.
2. Place approximately 1/4 cup of grated potato into each cup of a muffin pan, making sure to press potatoes against the edges to form basket shape.
3. Bake at 450 degrees until brown, about 20 minutes.
4. Spray a frying pan with nonstick cooking spray. Over medium heat, scramble eggs. Add bell pepper and tomatoes and quickly warm.
5. Fill each potato basket with scrambled egg mixture. Garnish with diced chives, kale or green onions. 
Nutritional information per serving (1 basket):
Calories: 50; Protein: 2g
Published on: May 9, 2016