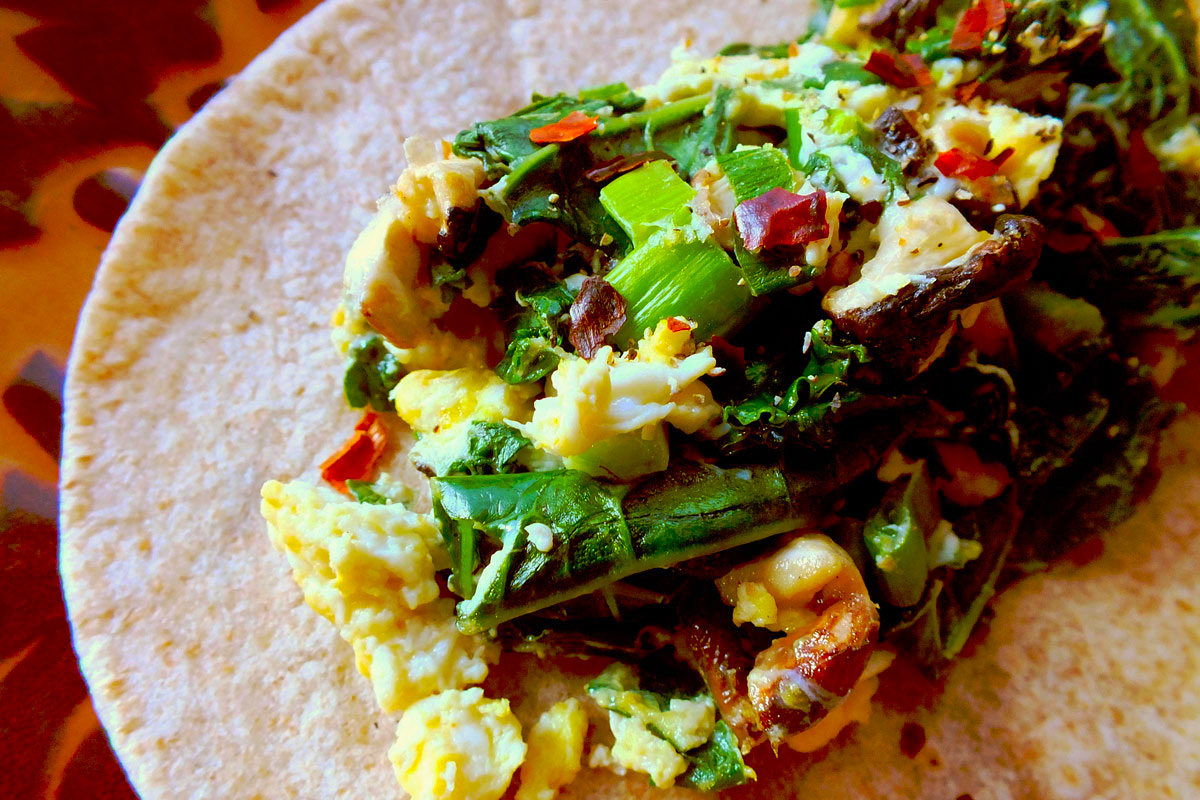 Breakfast Egg Burritos
You've heard that breakfast is the most important meal of the day, but let's face it: Given the choice between rising early to make a nutritious meal or getting an extra half-hour of shut-eye, sleep often wins.
And when you do finally roll out of bed, you're often left with the option of soggy cereal, fast food or – gasp – no breakfast at all.
To help you get up and go in the a.m., Teresa Quintero, Wilcox Memorial Hospital clinical registered dietitian, shares her recipe for Breakfast Egg Burritos.
"This is one of my favorite quick egg burritos to bring to work with me," says Quintero.
Many store-bought breakfast burritos can contain high amounts of fat, salt and preservatives. Instead, Quintero fills her whole-wheat tortillas with vegetables that are high in vitamins C and A, as well as flavor.
A combination of whole eggs and egg whites is the secret to powering through the morning.
"Eggs provide a great source of protein," Quintero says. "They are high in iron and potassium to help you get those muscles going in the morning! It will keep you satisfied without having to snack in between meals."
Turmeric provides a bit of spice to the dish, along with a vibrant yellowish-orange shade reminiscent of the morning sun.
For an extra bit of healthy heat, Quintero suggests adding a sprinkling of red pepper flakes.
"I personally love them on these (burritos) and find it enhances the flavor!" Quintero says.
Breakfast Egg Burritos
Serves 4
Ingredients:
1/2 cup reduced-sodium vegetable broth
6 Bella mini or cremini mushrooms, chopped to bite-size pieces (may substitute white button mushrooms)
2 green onions, chopped
2 leaves Russian kale, deveined and chopped (may substitute spinach, chard or any other type of kale you have on hand)
2 whole eggs, plus one additional egg white
1/4 teaspoon turmeric
Pepper, to taste
2 tablespoons grated Parmesan cheese
Hot pepper flakes, if desired
4 snack-size whole-wheat tortillas, warmed up in a flat pan or grill for 30-45 seconds per side prior to serving
Directions:
1. In a pan, sauté chopped mushrooms for 3-4 minutes at medium-high heat in the broth.
2. Add the chopped onions and kale and sauté for another 2-3 minutes.
3. Crack the eggs into the sautéed veggies and mix well until almost fully cooked, making sure not to overcook so it won't dry out.
4. Season with turmeric and pepper, to taste.
5. Turn off heat and sprinkle with Parmesan cheese. Add hot pepper flakes, if desired.
6. Evenly distribute the egg scramble into a warmed-up, soft tortilla and roll into a burrito.
7. Serve warm and enjoy!
Nutritional information per burrito:
Calories: 165; Protein: 16g; Carbohydrate: 20g; Total Fat: 5g; Dietary Fiber: 2g; Sodium: 237mg
Published on: April 21, 2015