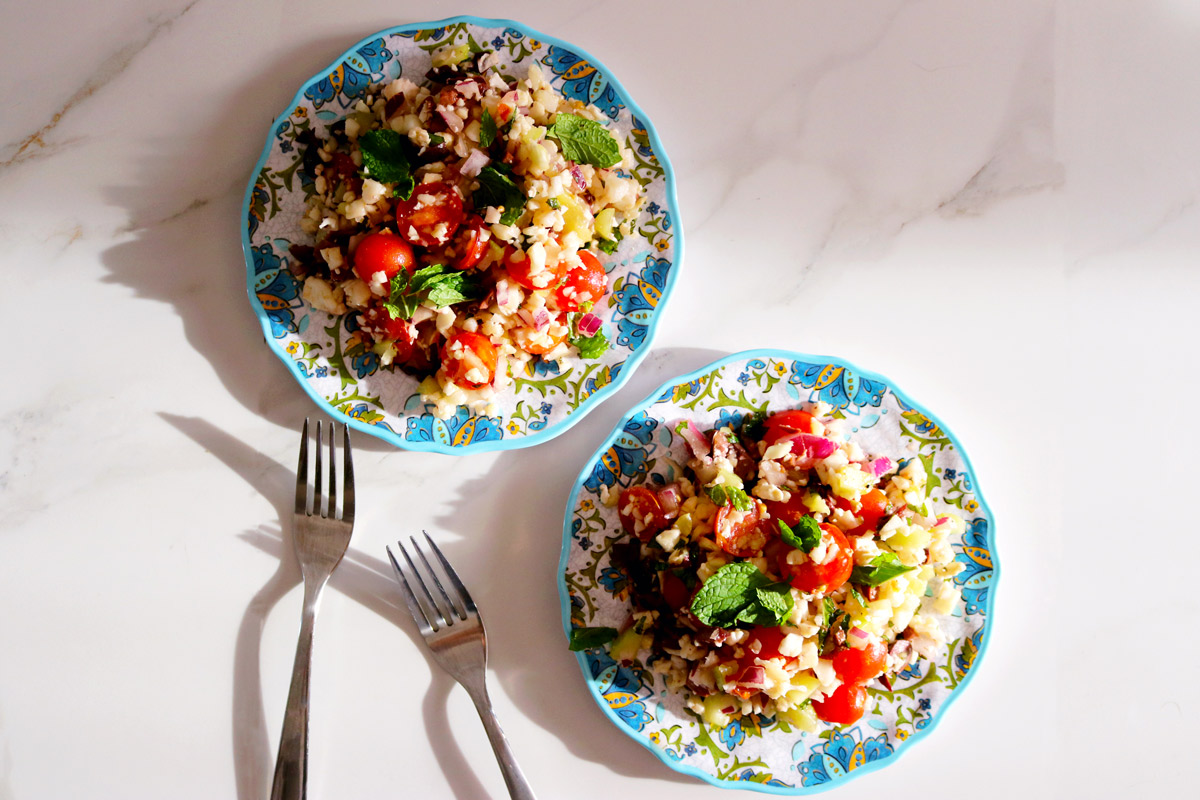 Summer Tabbouleh with Tomatoes, Cucumber & Mint
The beauty of tabbouleh is its simplicity.
Assembly requires nothing more than pouring a medley of freshly chopped vegetables and herbs into a bowl before tossing with a light, lemony vinaigrette.
The end result is just as much a feast for the eyes as for the stomach – bright green mint and parsley intermingle with red tomatoes, cucumber of the palest green, purple onions and flecks of black pepper.
Traditional recipes call for the inclusion of bulgur, but our recipe uses riced cauliflower as a low-carb substitute.
Enjoy this refreshing salad solo or as an accompaniment to your main meal.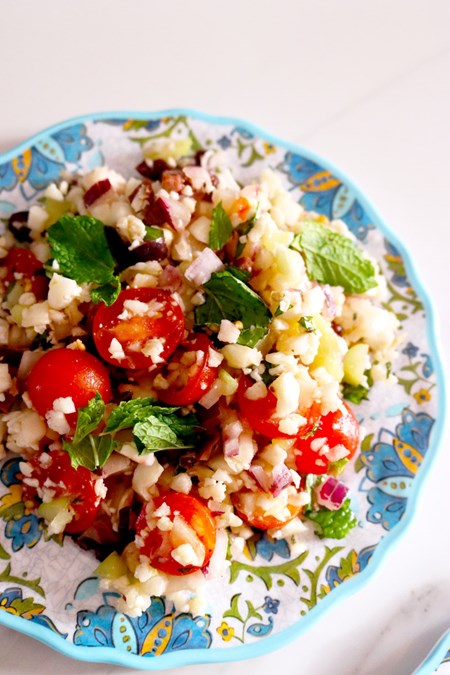 Summer Tabbouleh with Tomatoes, Cucumber & Mint
Serves 4
Ingredients:
1 cup cauliflower, riced
1 cup grape tomatoes, halved
1/2 cup red onion, small diced
1 cup English cucumber, peeled and small diced
1/2 cup fresh mint leaves, coarsely chopped
1 cup fresh flat-leaf parsley, coarsely chopped
1/4 cup Kalamata olives, small diced
1 tablespoon extra-virgin olive oil
2 tablespoons fresh lemon juice
1/2 cup feta, crumbled
Freshly ground black pepper, to taste
Directions:
1. Combine cauliflower, tomatoes, red onion and cucumber in a large salad bowl. Mix until combined.
2. Add mint leaves and olives, stirring gently until just incorporated.
3. In a small bowl, whisk together olive oil and lemon juice until combined. Drizzle over salad. Add black pepper and mix.
4. Top with crumbled feta and more black pepper, as desired.
Nutritional information per serving:
Calories: 123; Carbohydrates: 8.3g; Protein: 4.6g; Total Fat: 8.8g; Saturated Fat: 3.5g; Cholesterol: 17mg; Dietary Fiber: 2.9g; Sodium: 302mg
Published on: August 13, 2019