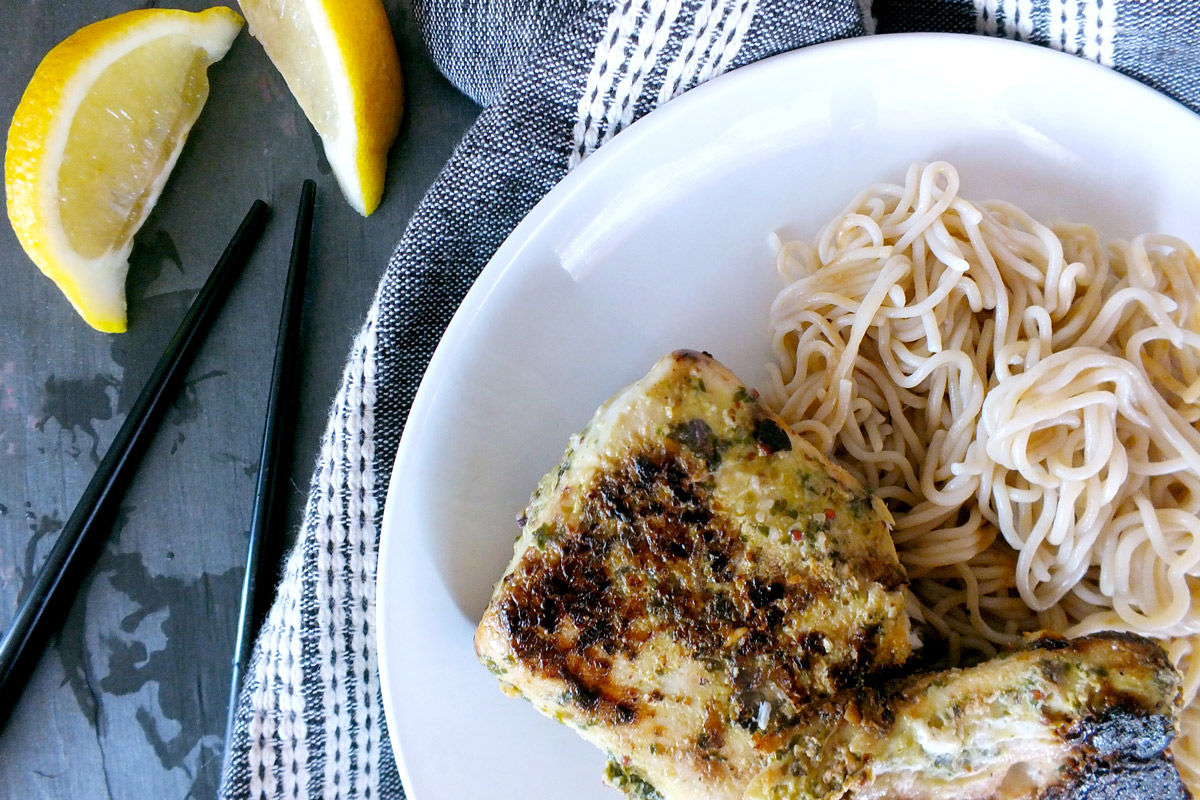 Shiso Pesto-Marinated Opakapaka
Take a hands-off approach to cooking with this original recipe for Shiso Pesto-Marinated Opakapaka from A Dash of Aloha Cookbook by Kapiolani Community College. 
Marinating foods serves a dual purpose:
The acidic base of the marinade (from citrus juice, vinegars or even wine and beer) actually tenderizes meats and veggies as they soak.
A combination of heart-healthy oils and seasonings infuse your food with rich, complex flavors. This is why it's important to give your food enough time to sop up all that tasty goodness! 
In this recipe, earthy pine nuts and spinach balance out the tartness of ume (pickled plum) and Dijon mustard. 
Lemon zest and shiso leaves add a refreshing brightness that prevents the dish from getting too heavy. 
Not a fan of fish? This marinade would work wonderfully with chicken and pork. 
For a vegetarian-friendly barbecue option, alternate zucchini, bell peppers, red onions and eggplant on skewers, let the kebabs marinate in the mixture for half an hour, and grill 3-5 minutes.
Shiso Pesto-Marinated Opakapaka
Recipe courtesy Hawaii Foods
Serves 4
 
Ingredients:
10 shiso leaves, minced
1 shallot, minced (approximately 2 tablespoons)
1 tablespoon pine nuts, toasted and minced
2 teaspoons shoyu (soy sauce)
2 tablespoons lemon juice
1/4 teaspoon lemon zest
1 teaspoon ume (Asian plum) paste
1 ounce spinach, minced (approximately 2 tablespoons)
1 teaspoon Dijon mustard
3 tablespoons extra-virgin olive oil
1 pound mild, firm-fleshed fish (opakapaka or opah)
 
Directions:
1. Combine first 10 ingredients in a food processor and pulse until combined. Let pesto rest approximately 1 hour in the refrigerator before using.
2. Divide fish into 4-ounce portions and coat with 1 teaspoon pesto each. Marinate for about 10 minutes.
3. In a hot skillet, cook fish until browned and cooked through, about 6-7 minutes.
4. Serve fish on a bed of rice noodles topped with an additional 2 teaspoon pesto. 
Nutritional information per serving (1 piece of fish):
Calories: 147; Carbohydrates: 1g; Protein: 25g; Total Fat: 4g; Saturated Fat: 1g; Cholesterol: 43mg; Dietary Fiber: 0g; Sodium: 125mg
Published on: June 1, 2017