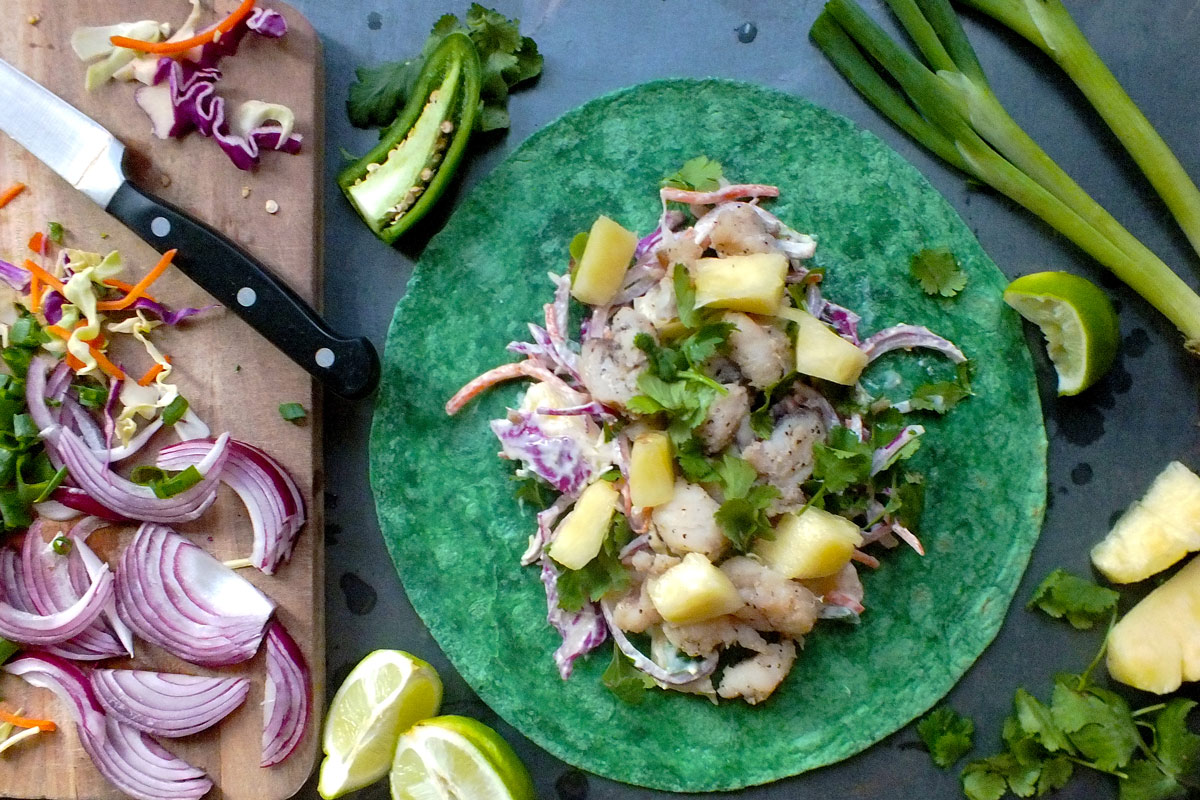 Island Opah Rainbow Wraps
Put a wrap on hunger pangs with this recipe for Island Opah Rainbow Wraps, courtesy of Registered Dietitian Sally Belles. 
"This wrap is bright, refreshing and bursting with flavor – try it as a quick, tasty and healthy meal," Belles says. 
While the fresh vegetables and pineapple provide a crisp, crunchy texture and eye-catching color, the main star of this dish is opah. 
Also known as moonfish, opah is a firm fish that is rich in taste and texture. Hawaii moonfish is a good source of protein, niacin, vitamins B6 and B12, phosphorus and selenium, along with good-for-you omega-3 fatty acids. 
"One 4-ounce serving of opah provides 1,800 milligrams of heart-healthy omega-3 fatty acids in the form of DHA and EPA," says Belles. 
Not only are omega-3 fatty acids known to be anti-inflammatory, they may help lower levels of triglycerides in the bloodstream. 
"The combination of healthy fats, dietary fiber and protein helps maintain optimal blood sugar levels, while the 31-gram carbohydrate count fits nicely into any diabetes meal plan," Belles says. 
Island Opah Rainbow Wraps
Serves 8-10
Ingredients: 
For the fish wraps:
1 pound fresh opah, cut into bite-size cubes
Hawaiian sea salt
Black pepper, freshly ground
Canola or peanut oil for cooking
8-10 large spinach tortilla wraps
For the coleslaw:
1/2 small head green cabbage, shredded or chopped thin
1/2 small head purple cabbage, shredded or chopped thin
2 large carrots, sliced with a peeler or grated
1 large red onion, thinly sliced
2 green onions, chopped
1 red or green jalapeno chile, diced
1 cup fresh pineapple chunks (may substitute canned pineapple chunks in its own juice), reserve 1/3 cup for garnish
For the dressing:
1 1/2 cups mayonnaise
1/4 cup Creole or brown country mustard
1 tablespoon apple cider vinegar
1 large lemon, juice only
1 teaspoon organic honey
Seasoning and Garnish:
1/2 teaspoon celery seed
Kosher salt, to taste
Black pepper, freshly ground, to taste
A few dashes of hot sauce or Sriracha (optional)
Fresh cilantro (optional)
Fresh limes (optional) 
Directions:
1. To make the coleslaw, combine cabbages, carrots, red onion, green onion, jalapeno and pineapple in a large bowl. In a smaller bowl, combine mayonnaise, mustard, vinegar, lemon and honey.  Mix well using a small whisk or fork. Pour the dressing mixture over the coleslaw and toss lightly, taking time to incorporate all ingredients. Season with celery seed, salt, pepper and hot sauce, if desired. Chill for 2 hours in the refrigerator before serving as part of the wrap.
2. For the opah, heat a sauté pan over medium heat until hot; add in the oil. Meanwhile, season all sides of the cubed fish with sea salt and pepper. Sear fish cubes on all sides until golden brown with opaque edges and a slightly pink interior. Remove fish from the pan and set aside.
3. To make the wrap, lay a single spinach tortilla over a flat surface. Layer ingredients, starting with the coleslaw, then the fish, and finally garnish with fresh pineapple and cilantro. Additional chile or Sriracha may be added for more of a kick. A fresh lime squeeze brightens up the dish with citrus flavor.
Tips:
To fold the spinach tortilla, begin by folding over the end of the tortilla closest to the layered ingredients. Next, fold in the opposite sides of the tortilla to form squared edges. Continue to fold over or roll the tortilla tightly until the wrap is formed. Slice the wrap in half crosswise and serve.
Chilling the coleslaw mixture in the refrigerator for at least 2 hours will allow the flavors to blend and intensify.
Layer the ingredients to one side or just off-center of the spinach tortilla for easier folding. 
Nutritional information per serving (one wrap):
Calories: 398; Carbohydrates: 31g; Protein: 20g; Total Fat: 21g; Saturated Fat: 3.3g; Omega-3 Fat (DHA and EPA):  900mg; Cholesterol: 48mg; Dietary Fiber: 7g; Sodium: 392mg; Potassium: 308mg
Published on: April 26, 2016