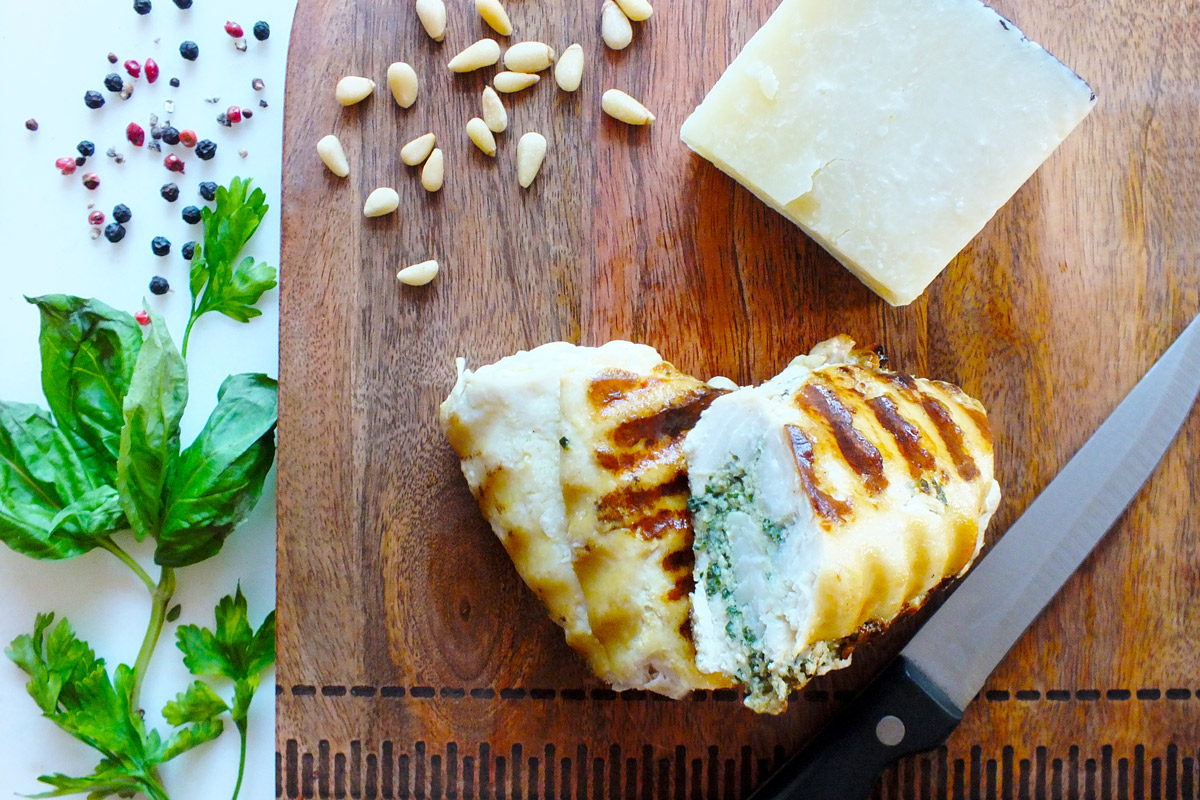 Fish Roll-Ups with Triple-Herb Pesto
While some people would say fish and cheese don't mix, Sally Belles' recipe for Fish Roll-Ups with Triple-Herb Pesto proves it can be done – and done deliciously!
"Who says you can't combine fish and cheese? This fresh take on fish will inspire your creativity and nourish your body," says Belles, a registered dietitian with Hawaii Pacific Health.
In order to let the ingredients in the pesto come through – think bright basil, savory garlic and tangy Parmigiano-Reggiano – Belles opts for a fish that doesn't have a strong "fishy" flavor, such as halibut.
"Halibut is a good source of healthy omega-3 fatty acids and important B vitamins, including folic acid, B6 and B12," says Belles, adding that this fish is also a good source of phosphorus and selenium.
"Selenium functions as an antioxidant to protect the body's cells from oxidative damage and plays a role in thyroid function," Belles explains.
The American Heart Association recommends eating a serving of fish, especially fatty or oily fish, at least two times per week.
Fish Roll-Ups with Triple-Herb Pesto
Serves 6
 
Ingredients:
1 cup fresh basil leaves
1 cup fresh Italian parsley
2 tablespoons fresh oregano or tarragon leaves
1 clove garlic, finely chopped
1/3 cup Parmigiano-Reggiano, grated
3 tablespoons pine nuts (may substitute raw almonds)
Zest of one small to medium lemon
1 tablespoon fresh-squeezed lemon juice
Pinch of sea salt
Pinch of ground green peppercorns
1 tablespoon extra-virgin olive oil
3 large fillets of halibut, orange roughy or pollock, each filet cut in half to form a 3- to 4-ounce portion
Skewers or toothpicks
 
Directions:
1. Preheat grill to 400 degrees.
2. Combine basil, parsley, oregano or tarragon, garlic, Parmigiano-Reggiano, pine nuts, lemon zest, lemon juice and a good pinch each of sea salt and green peppercorns in a food processor. Slowly add the olive oil and pulse until the mixture turns into a paste, about 1 minute. Set aside.
3. Using a separate work space, place each fillet on a flat surface. A thicker piece of fillet may be sliced in half lengthwise for easier rolling. Evenly spread a 1-2 tablespoon portion of the pesto over each fillet.
4. Starting with widest part of the fillet, roll the fish as tightly as possible. Secure each fillet with a skewer or toothpick. Rub the outside of each fillet with just enough olive oil to prevent sticking to the grill.
5. Place each fillet on the preheated grill. Turn over each fillet once, about 4-7 minutes per side or until light grill marks are achieved and the flesh of the fish turns opaque. Avoid overcooking the fish.
6. Remove the fillets from the grill and rest for 5-7 minutes before serving. 
Nutritional information per 3.5-ounce serving (1 roll-up):
Calories: 240; Carbohydrates: 3g; Protein: 25g; Total Fat: 12g; Saturated Fat: 3g; Cholesterol: 36mg; Sodium: 220mg
Published on: June 5, 2017