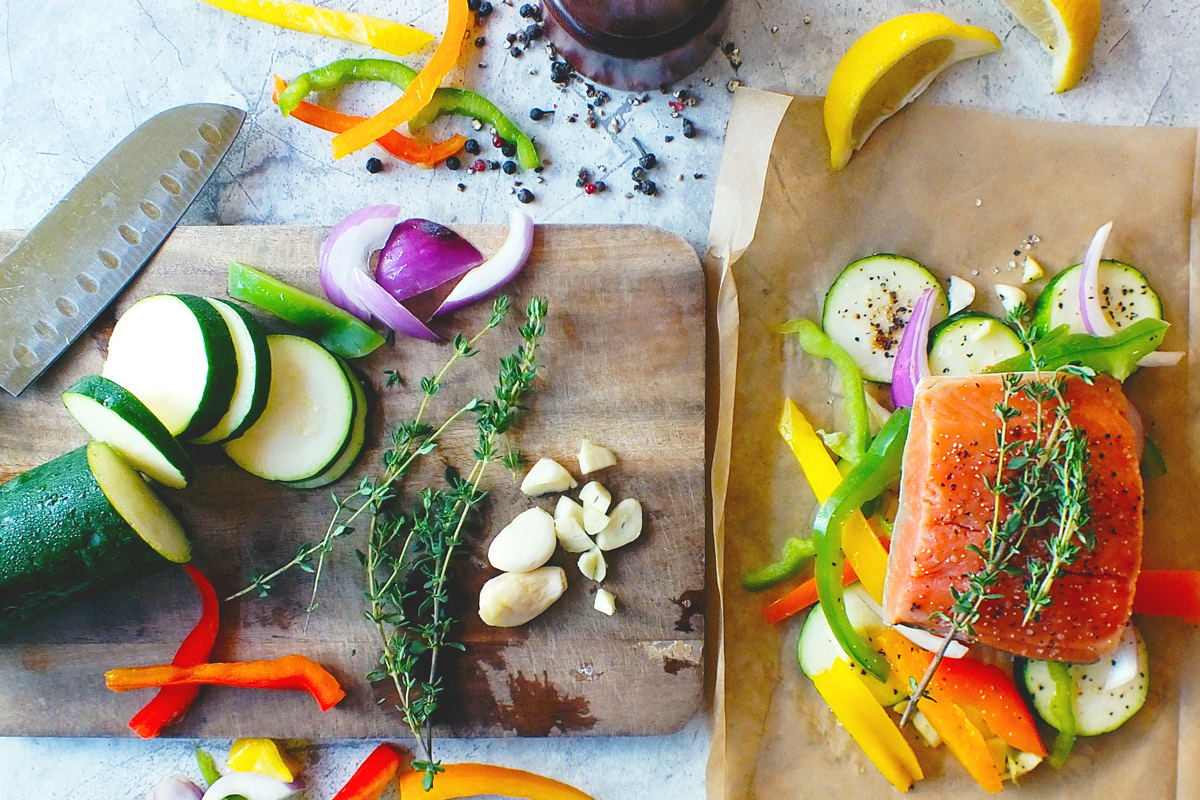 Baked Fish en Papillote with Summer Vegetables
If you're a fan of one-pot meals, you're sure to love baking en papillote. 
French for "in parchment" (or al cartoccio in Italian), this cooking method requires little more than a few squares of parchment paper or foil, an oven and a bit of creativity to whip up a delicious meal. 
Sealing ingredients in a pouch allows their flavors to mix, mingle and intensify as the contents cook in a steam bath of their own juices. 
Unwrapping the packages is just plain fun! 
This recipe for Baked Fish en Papillote with Summer Vegetables works for a fantastically light summertime supper, but feel free to sub in different fish, vegetables and herbs as the seasons change. 
For example, a blend of root veggies (parsnips, carrots, beets) with cod makes a hearty meal during winter, while salmon paired with asparagus, grape tomatoes and capers works well for spring. 
Serve with a side of brown rice, quinoa or toasted whole-wheat pita bread to round out the dish.
Baked Fish en Papillote with Summer Vegetables
Recipe adapted from Whole Foods
Serves 4
 
Ingredients:
4 4-ounce fillets of fish (cod, halibut, salmon, snapper, sea bass, etc.)
1 1/2 cups summer squash, sliced
2 cups green, red and yellow bell peppers, sliced
1/2 red onion, sliced
3 cloves garlic, finely chopped
4 tablespoons extra-virgin olive oil
1/4 teaspoon fine sea salt
4 sprigs fresh herbs, such as oregano, thyme, rosemary or basil
Juice of 1 lemon
1/4 teaspoon ground black pepper
 
Directions:
1. Preheat oven to 400 degrees. Cut parchment paper or foil into four 12-inch squares and arrange them on a work surface. Fold each piece in half to form a crease down the middle.
2. Divide squash between the squares, arranging it just to the right of each crease. Top squash with bell peppers, onion and garlic, then drizzle with olive oil and sprinkle with salt and pepper.
3. Arrange one fish fillet on top of each pile of vegetables, then season fillets with salt and pepper. Top each fillet with an herb sprig and drizzle with lemon juice. Wrap up each square of paper or foil to form a sealed pouch.
4. Transfer pouches to a baking sheet and bake until the fish is cooked through, about 20 minutes. Set aside to let cool for 3-4 minutes, then cut pouches open and serve immediately.
Nutritional information per serving (1 pouch):
Calories: 380; Carbohydrates: 28g; Protein: 14g; Total Fat: 24g; Saturated Fat: 4.5g; Cholesterol: 35mg; Dietary Fiber: 4g; Sodium: 760mg
Published on: June 7, 2017