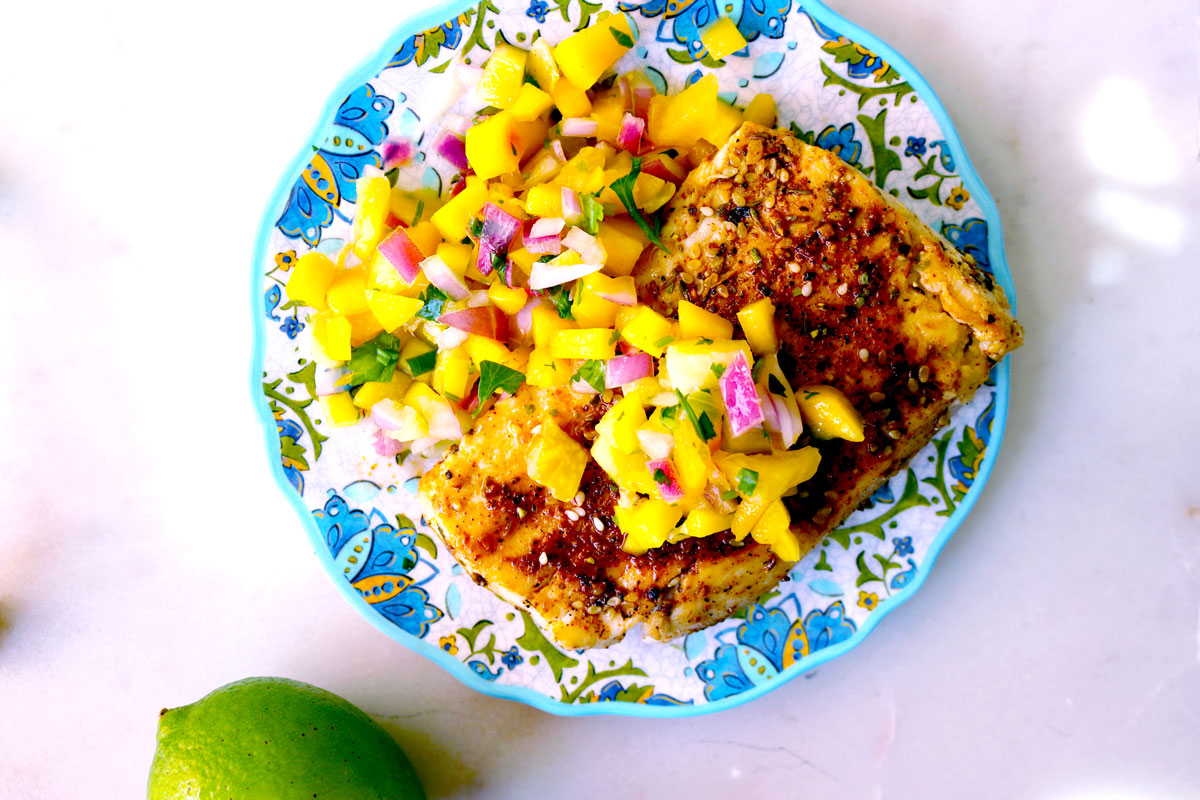 Cajun-Spiced Mahimahi with Mango Pineapple Salsa
Here in Hawaii, summer is the perfect opportunity to take advantage of local produce like sweet pineapple, juicy mango  and fresh-from-the-Pacific fish – all of which come together perfectly in this recipe for Cajun-Spiced Mahimahi with Mango Pineapple Salsa! 
A blend of Cajun spices gives an unexpected kick to mild mahimahi, while an easy salsa made with pineapples, mangoes and cilantro provide a refreshing contrast that rounds out the dish. 
While this recipe is for the stovetop, mahimahi's firm texture makes it a good choice for the grill, as the fish's flesh can hold up to a higher heat point. 
You also could quickly "kiss" the pineapple, mango and red onion on the grill before dicing. 
If the Cajun spice is a bit too bold for your taste buds, consider adding a few slices of avocado to help temper the heat (and sneak in an extra bit of heart-healthy fat). 
A generous squeeze of fresh lime juice adds a hint of acidity and another layer of flavor to the meal. 
Cajun-Spiced Mahimahi with Mango Pineapple Salsa
Recipe adapted from Joyful Healthy Eats
Serves 6
Ingredients:
1 1/2 pounds fresh mahimahi filets
1 tablespoon Cajun spice seasoning
1/2 tablespoon garlic powder
2 tablespoons avocado oil
 
For the Mango Pineapple Salsa:
1 cup fresh pineapple, finely diced
1 cup fresh mango, finely diced
1/4 cup red onion, finely diced
1/4 cup fresh cilantro, chopped
Juice of one lime (about 1-2 tablespoons)
Salt, to taste
Directions:
1. In a small bowl, mix together the pineapple, mango, red onion, cilantro, lime juice and salt to taste. Set aside.
2. In another small bowl, blend together the Cajun spice seasoning and garlic powder.
3. Pat mahimahi filets dry and season both sides with the spice mix.
4. Heat a large skillet to medium-high heat. Add avocado oil and allow to get warm.
5. Gently place mahimahi into the hot skillet and sear for 2-3 minutes per side. Remove and let sit for 1 minute to cool.
6. Serve mahimahi topped with Mango Pineapple Salsa.
Nutritional information per serving (1 filet and 1/2 cup salsa):
Calories: 213; Carbohydrates: 15.4g; Protein: 32.6g; Total Fat: 2.6g; Saturated Fat: 0.2g; Cholesterol: 120mg; Dietary Fiber: 1.9g; Sodium: 181mg
Published on: June 19, 2018