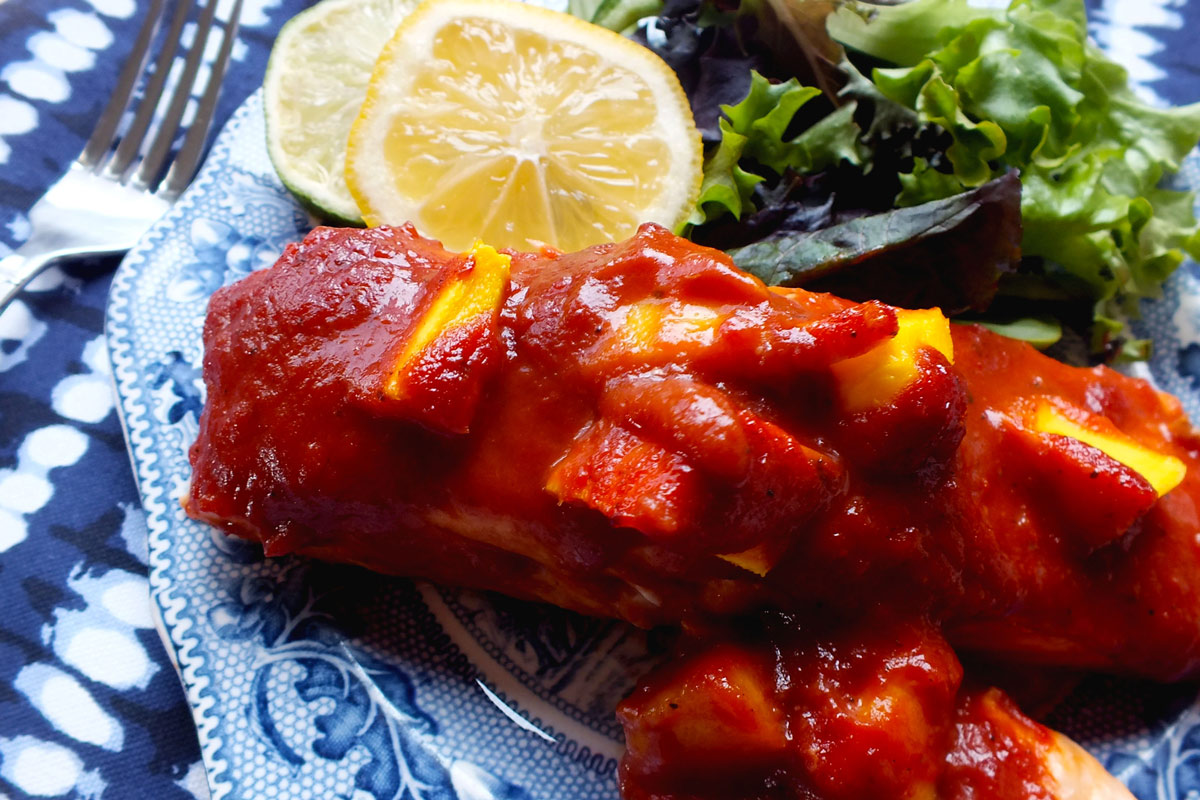 Mango Barbecue Salmon
The incidence of food allergies and intolerances is on the rise. 
Luckily for patients at Hawaii Pacific Health's network of hospitals, each cafeteria features something for everyone's taste. 
"Food allergies are becoming more common, and some reactions can be severe and even life-threatening," says Allison Tomomitsu, a registered dietitian and clinical nutrition manager at Straub Medical Center. 
An allergy getting a lot of attention in recent years is celiac disease – an autoimmune disorder in which people cannot digest gluten, a protein found in wheat, rye and barley. 
When a person with celiac disease eats gluten-containing foods, the body prompts an immune system response to attack the small intestine, in the process damaging the small fingerlike projections called villi that promote nutrient absorption. 
This malabsorption of nutrients can lead to:
Anemia.


Vitamin and mineral deficiencies.


Pancreatic insufficiency.


Intestinal lymphomas and other GI cancers.


Gallbladder malfunction.


Early onset osteoporosis or osteopenia.


Infertility and miscarriage.


Neurological disorders, such as ataxia, epileptic seizures, dementia, migraines, neuropathy, myopathy and multifocal leukoencephalopathy.
 
"With any allergy, it is important to have clear ingredient lists and avoid cross contamination to prevent allergic reactions," Tomomitsu states. "We feature a gluten-free recipe daily in our café, and other allergy-friendly options are available upon request." 
Here, Straub Food and Nutritional Services Executive Chef Daniel Kahalioumi shares his recipe for Barbecue Mango Salmon. 
Salmon is often hailed as a "superfood" due to its high content of quality protein, omega-3 fatty acids, essential amino acids and vitamins A, D, B6 and E. 
Smothered in a homemade barbecue sauce made with mango, jalapeno, garlic and apple cider vinegar, this fish dish is a natural choice for summertime cook-outs. 
Mango Barbecue Salmon
Serves 1
Ingredients:
3/4 tablespoon canola oil
1 tablespoon yellow onion, minced
1 1/2 teaspoons garlic, minced
1 1/2 teaspoons jalapeno, minced
1 1/2 teaspoons red pepper flakes
3/4 tablespoon apple cider vinegar
1/4 cup ketchup
1/4 cup barbecue sauce
1/2 tablespoon water
1 1/2 tablespoon mango, chopped
1 1/2 teaspoons lemon rind
1 1/2 teaspoons lime rind
1 3-ounce salmon fillet
Directions:
1. For the barbecue sauce, combine all ingredients except salmon fillet in a pan and heat until warm. 
2. Coat salmon with barbecue sauce and place on baking sheet. 
3. Place in pre-heated oven at 350 degrees for 11 minutes and bake until brown or until the salmon reaches an internal temperature of 145 degrees. 
4. Remove and garnish with lemon and lime wheels. Serve hot with a side of grilled vegetables or freshly made salad, just like Chef Dan. 
Nutritional information per serving:
Calories: 240; Carbohydrates: 6g; Protein: 19g; Total Fat: 15g; Cholesterol: 50mg; Sugar: 5g; Dietary Fiber: <1g; Sodium: 125mg
For more allergy-friendly options, check out:
Kapiolani Medical Center for Women & Children's Traditional Garlic Hummus
Pali Momi Medical Center's O'Brian Potatoes
Wilcox Medical Center's Spinach Artichoke Casserole
Published on: May 21, 2015