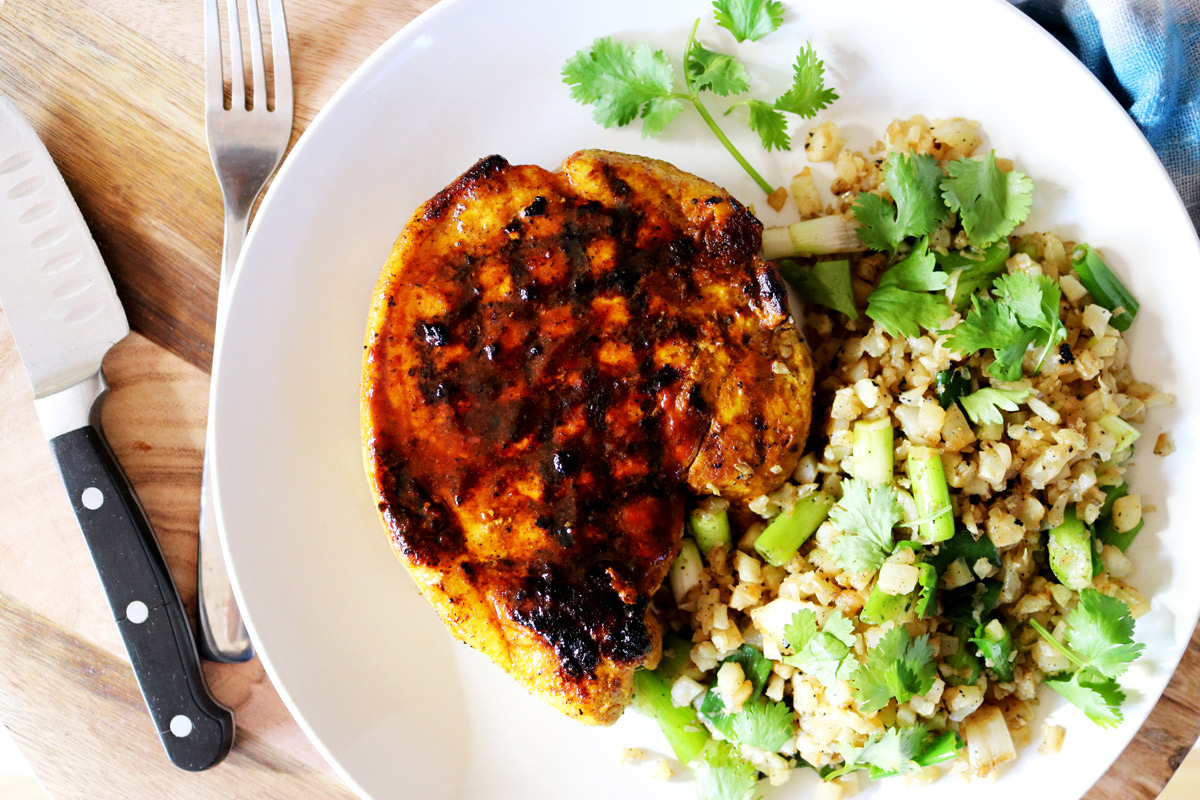 Grilled Turmeric Pork Chops with Green Onion Cauli-Rice
Fire up the grill this cookout season and tempt your taste buds to this tantalizing recipe for Grilled Turmeric Pork Chops with Green Onion Cauli-Rice.
Pork is a high-protein meat that often gets a bad rap for being high in fat.
Though a serving of pork can range from 10-16% fat content, this variety of fat is richer in monounsaturated fats than what is found in ruminant animals like beef and lamb.
Pork also is rich in B vitamins, including vitamin B12, and iron – both of which are important for blood formation, brain function and preventing anemia.
Paired with turmeric – a bright-yellow spice lauded for its anti-inflammatory properties – this pork dish not only takes on a summery deep-golden hue, it also provides a bit of a brain boost thanks to curcumin, the active ingredient in turmeric linked to improved memory and increased brain health.
Serve with a quick, low-carb green onion cauli-rice that absorbs the same flavors of the pork, and you've got a pulled-together meal that's a no-brainer any day of the week.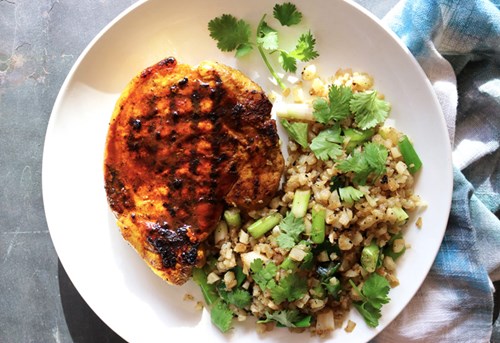 Grilled Turmeric Pork Chops with Green Onion Cauli-Rice
Recipe adapted from CookingLight
Serves 4

Ingredients:
4 (6 ounces) bone-in pork chops
1 large garlic clove, halved
1/2 teaspoon ground turmeric
1/2 teaspoon sea salt, divided
1/2 teaspoon freshly ground black pepper, divided
1 tablespoon olive oil
1 tablespoon avocado oil
2 tablespoons coconut aminos
1 teaspoon tomato paste
1 bunch green onions, washed, bulbs removed
2 packages pre-riced cauliflower (or approximately 4 cups homemade cauliflower rice)
1/4 cup fresh cilantro leaves, roughly torn

Directions:
1. Heat a grill pan over medium-high heat. Rub pork chops with cut sides of garlic; discard garlic. Sprinkle both sides of pork with turmeric, 1/4 teaspoon salt and 1/4 teaspoon pepper. Let pork rest.
2. In a small bowl, combine olive and avocado oils, coconut aminos and tomato paste. Cover both sides of the pork with a generous coat of the oil mixture. Add pork to the hot pan and grill 4-5 minutes on each side, or until desired degree of doneness. (For pork, 145-150 degrees is medium-rare, 150-155 is medium, 155-160 is medium-well, 160-165 is well.) Allow to rest for 3 minutes; keep warm.
3. Add onions to the grill pan and grill for 2 minutes. Remove to a plate and coarsely chop onions.
4. Add ghee to the grill pan; melt. Add cauli-rice, chopped green onions, salt and pepper to the pan and heat 1-2 minutes, making sure to stir frequently so cauli-rice doesn't burn.
5. Serve rice mixture with pork and sprinkle with cilantro.
Nutritional information per serving (1 pork chop and about 1 cup of rice):
Calories: 226; Carbohydrates: 7.8g; Protein: 19.1g; Total Fat: 12.8g; Saturated Fat: 4.5g; Cholesterol: 52mg; Dietary Fiber: 2.2g; Sodium: 338mg
Published on: May 30, 2019