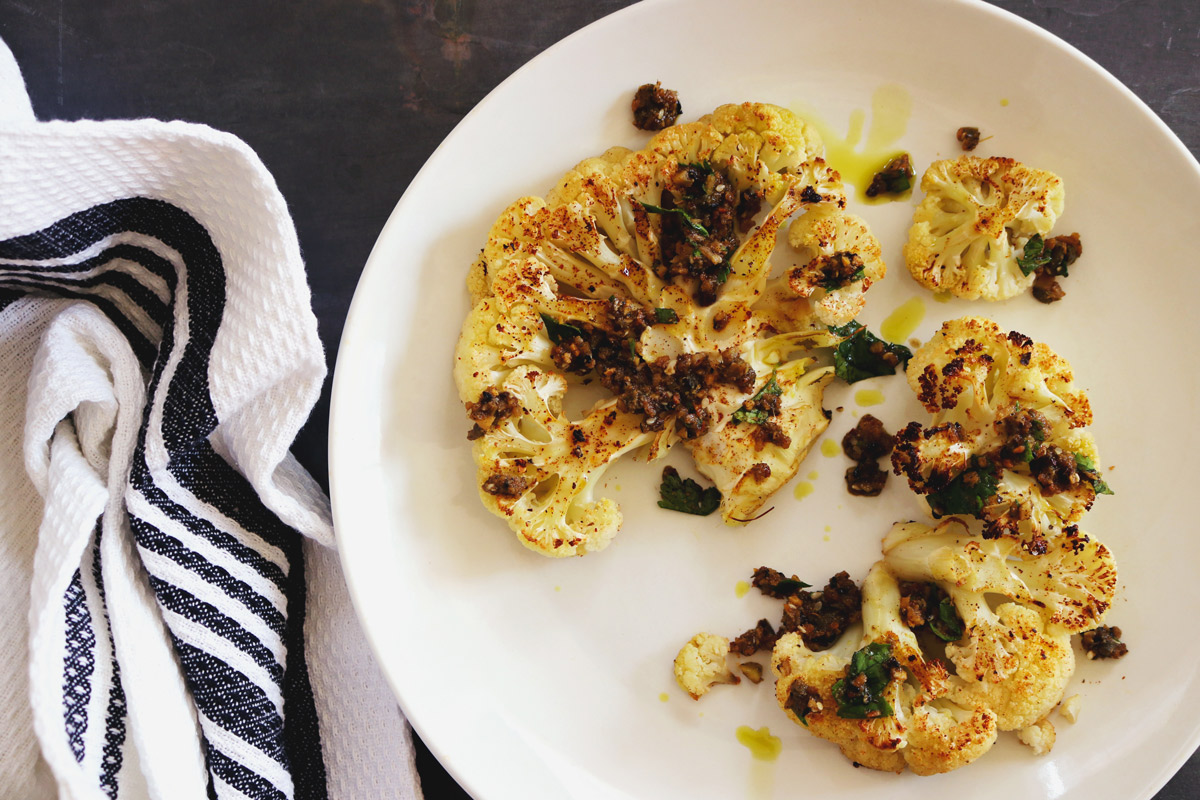 Cauliflower Steaks with Spicy Chimichurri Sauce
These healthy "steaks" are a stunningly easy way to work more veggies into your diet.
Serve with a generous drizzle of homemade chimichurri sauce to take this meal to the next level.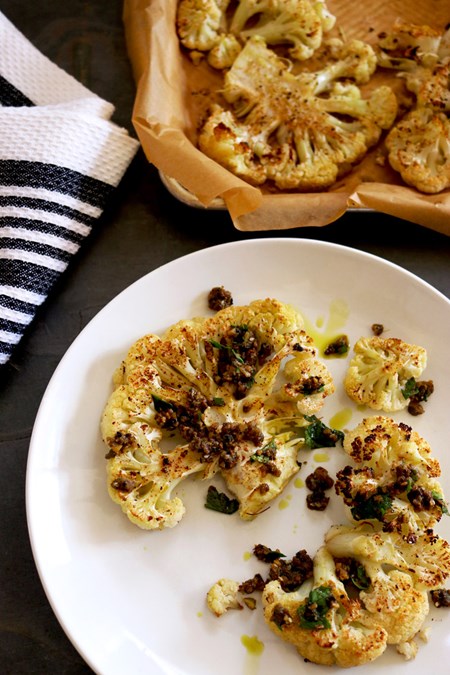 Cauliflower Steaks with Spicy Chimichurri Sauce
Recipe adapted from EatingWell
Serves 4

Ingredients:
2 tablespoons avocado oil
2 cloves garlic, minced
1 tablespoon nopales (pickled cactus), minced
3/4 tablespoon sea salt, divided
2 tablespoons fresh oregano, finely chopped
2 tablespoons fresh thyme, finely chopped
1 teaspoon ground cumin
2 tablespoons water
2 teaspoons red wine vinegar
1/2 teaspoon paprika
1 large head of cauliflower
2 teaspoons Harissa seasoning
Freshly ground black pepper, to taste
3 tablespoons cilantro, finely chopped

Directions:
1. Combine oil, garlic, nopales and 1/4 teaspoon salt in a small saucepan or skillet. Cook over medium heat until the garlic starts to sizzle, about 2-4 minutes. Remove from heat and stir in oregano, thyme, cumin, water, vinegar and paprika. Cover and set aside.
2. Preheat oven to 425 degrees. Line a baking sheet with parchment paper.
3. Trim the cauliflower to remove any outer leaves, but leave the stem intact. Place cauliflower on a cutting board, stem-side down. Using a large chef's knife, cut cauliflower into 1/2-inch-thick slices. (The center slices should remain intact, but the outer slices will crumble into smaller pieces. Cut any of these pieces into 1/2-inch-thick flat shapes, as the flat surfaces will roast the best.)
4. Place flat slices on the baking sheet with the cut surfaces touching the pan; sprinkle small pieces in any empty spots.
5. Drizzle the cauliflower with avocado oil and season with the remaining salt, pepper and Harissa seasoning. Roast the cauliflower, gently turning once halfway through, until browned and the stems feel tender when pierced with a knife, about 30-40 minutes.
6. Remove from oven and portion onto plates. Stir parsley into the reserved herb sauce and season with pepper. Spoon the sauce over the cauliflower steaks to serve.
Nutritional information per serving (1 cauliflower steak and 2 tablespoons sauce):
Calories: 97; Carbohydrates: 6.8g; Protein: 2.1g; Total Fat: 7.7g; Saturated Fat: 1.1g; Cholesterol: 0mg; Dietary Fiber: 3.2g; Sodium: 1,086mg
Published on: March 12, 2019