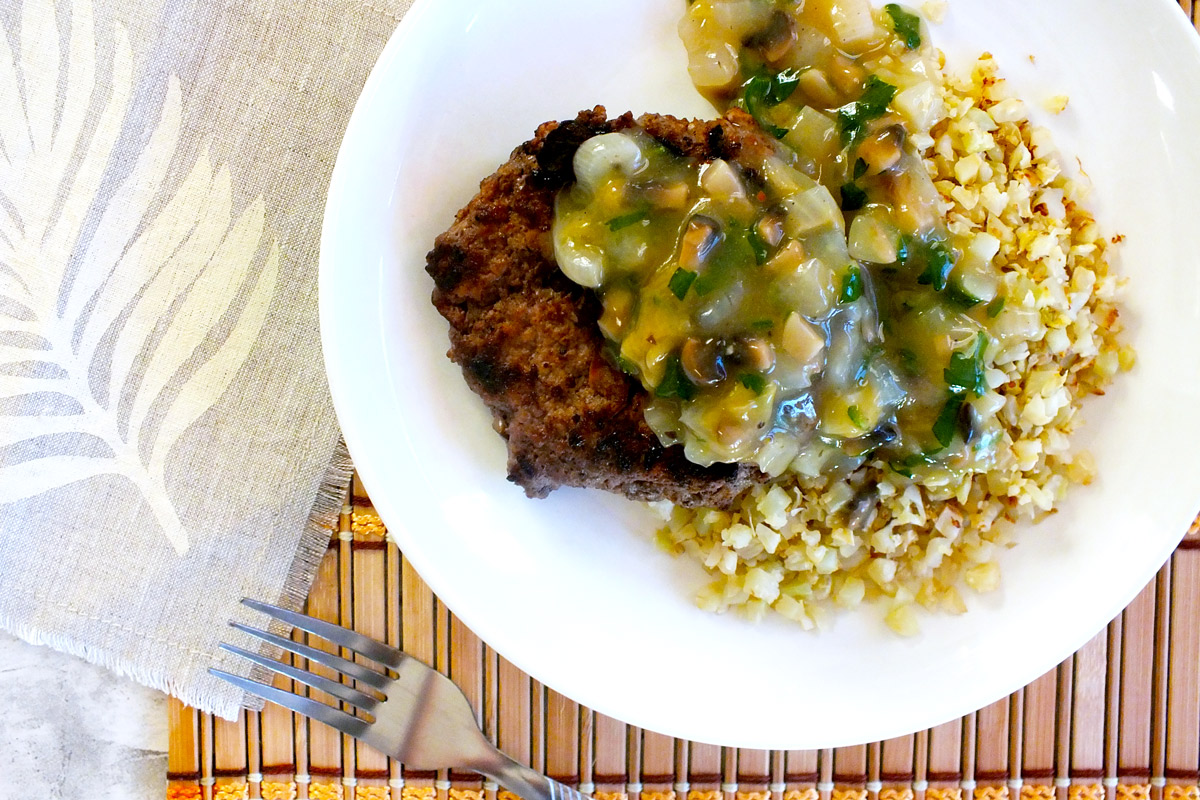 A Healthier Loco Moco
Swapping out just a few ingredients in your traditional loco moco can turn this local comfort food into a healthy, well-balanced meal. 
Lean ground sirloin has less fat than regular hamburger meat, which can go a long way in reducing the total calories of this dish without sacrificing key nutrients like protein, iron and B-vitamins. 
Cauliflower "rice" is an amazing low-carbohydrate alternative – not only is it packed with nutrients, but per cup, it provides only 27 calories and 3 net carbohydrates, compared to the 242 calories and 53 grams of carbohydrate found in white rice. 
Lastly, smothering a dish with gravy can instantly make it an unhealthy choice high in added sugar, fat and sodium. Lighten up this condiment by making your own from scratch. Onions and mushrooms, when cooked down, provide a rich and satisfying flavor, while low-sodium chicken broth adds extra richness while keeping the carbohydrates, fats and total calories balanced. 
The full ingredients list and directions for this Healthier Loco Moco are below. To assemble, scoop 1/2 cup of cauliflower rice onto a plate. Top with one umami burger and 1/4 cup gravy. 
A Healthier Loco Moco
Serves 4
 
For the umami burger:
Serves 4
1 pound 90 percent lean ground sirloin
1 cup water
1/2 cup dried Shitake mushrooms
1 tablespoon fish sauce
2 cloves garlic, finely minced
1/2 teaspoon salt
1/2 teaspoon pepper
 
Directions:
1. Pour water into a medium pot and bring to a boil. Place Shitake mushrooms in water and cover. Remove from heat and let mushrooms sit, about 30 minutes.
2. Once mushrooms are rehydrated, remove from water, reserving about 2 tablespoons liquid. Finely chop mushrooms and place in a bowl with the remaining soaking liquid, fish sauce, garlic, salt and pepper.
3. Add the sirloin to the bowl and combine until all the ingredients are mixed together. Cover the bowl and refrigerate for at least 30 minutes, allowing the beef to marinate in the umami goodness.
4. Preheat a skillet to medium-high heat. Form meat into four patties and cook on skillet, 3 minutes per side.
Nutritional information per serving (1 burger):
Calories: 214; Carbohydrates: 3.3g; Protein: 23.6g; Total Fat: 10.1g; Saturated Fat: 4.5g; Cholesterol: 75mg; Dietary Fiber: 0.5g; Sodium: 759mg
 
For the cauliflower rice
Ingredients:
1 large head of cauliflower
Salt and pepper, to taste
 
Directions:
1. Preheat oven to 425 degrees.
2. Inspect the cauliflower for brown or black spots, removing any with a paring knife. Rip the leaves off of the bottom and discard.
3. Cut the cauliflower in half and cut the florets off from core until you are left with just the core. Discard the core and break up the florets into evenly sized pieces.
4. Place florets in the bowl of a food processor, breaking them up into batches if necessary. Process the cauliflower until it is evenly chopped and resembles rice.
5. Spread out cauliflower rice in a single layer on one or more baking sheets, making sure not to crowd the pan. Bake for 15 minutes, flipping the "rice" at least one time.
6. Remove from oven and season with salt and pepper, to taste.
Nutritional information per 1/2-cup serving:
Calories: 53; Carbohydrates: 11.1g; Protein: 4.2g; Total Fat: 0.2g; Saturated Fat: 0g; Cholesterol: 0mg; Dietary Fiber: 5.3g; Sodium: 63mg
For the gravy
Recipe adapted from Taste of Home
Serves 8
Ingredients:
1⁄2 cup onion, finely chopped
1⁄2 cup mushrooms, finely chopped
2 tablespoons fresh parsley, finely chopped
2 cups reduced-sodium, fat-free chicken broth, divided
2 tablespoons cornstarch
Salt and pepper, to taste
 
Directions:
1. In a saucepan over medium heat, sauté onion, mushroom and parsley in 1/4 cup of broth until vegetables are tender.
2. In a small bowl, whisk together cornstarch, salt, pepper and 1/2 cup broth until smooth. Add the slurry to the saucepan along with remaining broth. Bring to a boil, stirring occasionally.
3. Boil for 2 minutes, then remove from heat. Gravy will continue to thicken as it cools.
Nutritional information per 1/4-cup serving:
Calories: 22.7; Carbohydrates: 3.2g; Protein: 1.5g; Total Fat: 0.4g; Saturated Fat: 0.1g; Cholesterol: 0mg; Dietary Fiber: 0.3g; Sodium: 188mg
Published on: September 27, 2017