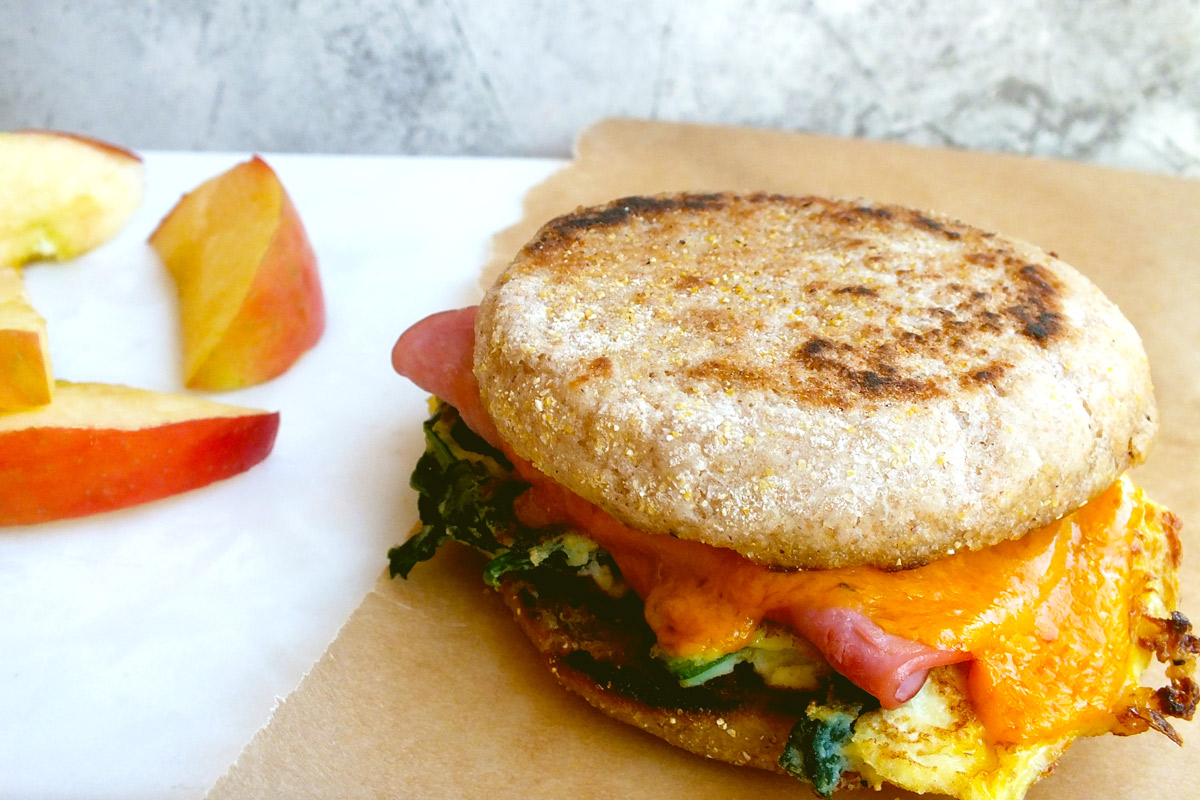 Green Eggs, Ham & Cheese Breakfast Sandwiches
Take the guesswork out of breakfast with these Green Eggs, Ham & Cheese Breakfast Sandwiches. 
These easy-to-assemble breakfast bites are the perfect a.m. meal during the workweek for several reasons, starting with they're nutritional benefits. 
"These breakfast sandwiches are an excellent combination of protein, carbohydrates and healthy fats, which when paired together give you ample fuel to power through the morning crunch," says Rebecca Izawa, a registered dietitian with Kapiolani Medical Center for Women & Children. 
"The protein from the egg, ham and cheese help you feel full until lunchtime, while the carbohydrates in the whole-wheat muffin provide energy for the day ahead," Izawa says. "Also, sandwiches are a good way to sneak in vegetables, like spinach. Many people don't get enough veggies in their diet, so incorporating a green vegetable first thing at breakfast puts you off to a great start!" 
Izawa makes a version of these sandwiches for her children during the week. 
To make your mornings even easier, prepare the omelet the night before and store in a container with the ham and cheese. 
"In the morning, simply toast muffins open face in a toaster oven, then add the ham, egg and cheese and toast for a few seconds more to warm before serving," Izawa recommends. "I would serve this with apples or oranges on the side, which can be prepped the night before as well." 
Green Eggs, Ham & Cheese Breakfast Sandwiches
Serves 2
 
Ingredients:
1 egg
2 tablespoons nonfat plain Greek yogurt
1/4 teaspoon fine sea salt
1/4 teaspoon freshly ground black pepper
1/2 cup spinach
2 slices low-fat, reduced-sodium ham
1/4 cup sharp cheddar cheese, shredded
1 tablespoon avocado oil
2 whole-wheat English muffins
 
Directions:
1. In a medium bowl, beat together egg, Greek yogurt, salt and pepper. Mix well.
2. Add spinach in a medium pan heated to medium-high. Cook spinach until wilted but still green, about 2 minutes.
3. Pour egg mixture over spinach and cook until bottom is set, about 2 minutes. Flip and cook an additional minute, until omelet is set. Remove from heat and set aside.
4. In a small frying pan, heat oil over medium heat. Toast English muffin halves, cut-side down, 2 minutes or until they begin to brown. Flip onto the other side and toast another 1-2 minutes. Remove from heat.
5. To assemble the sandwiches, top one English muffin half each with half of the omelet, followed by one slice of ham and 1/8 cup shredded cheddar cheese.
6. Heat oven to broil. Place sandwich halves on a baking sheet and broil under high heat for 1 minute, until cheese is melted. Remove from oven and top with remaining English muffin halves.
Nutritional information per serving (1 sandwich):
Calories: 268; Carbohydrates: 28g; Protein: 18g; Total Fat: 9.3g; Saturated Fat: 4.3g; Cholesterol: 112mg; Dietary Fiber: 2.6g; Sodium: 826mg
Published on: September 11, 2017