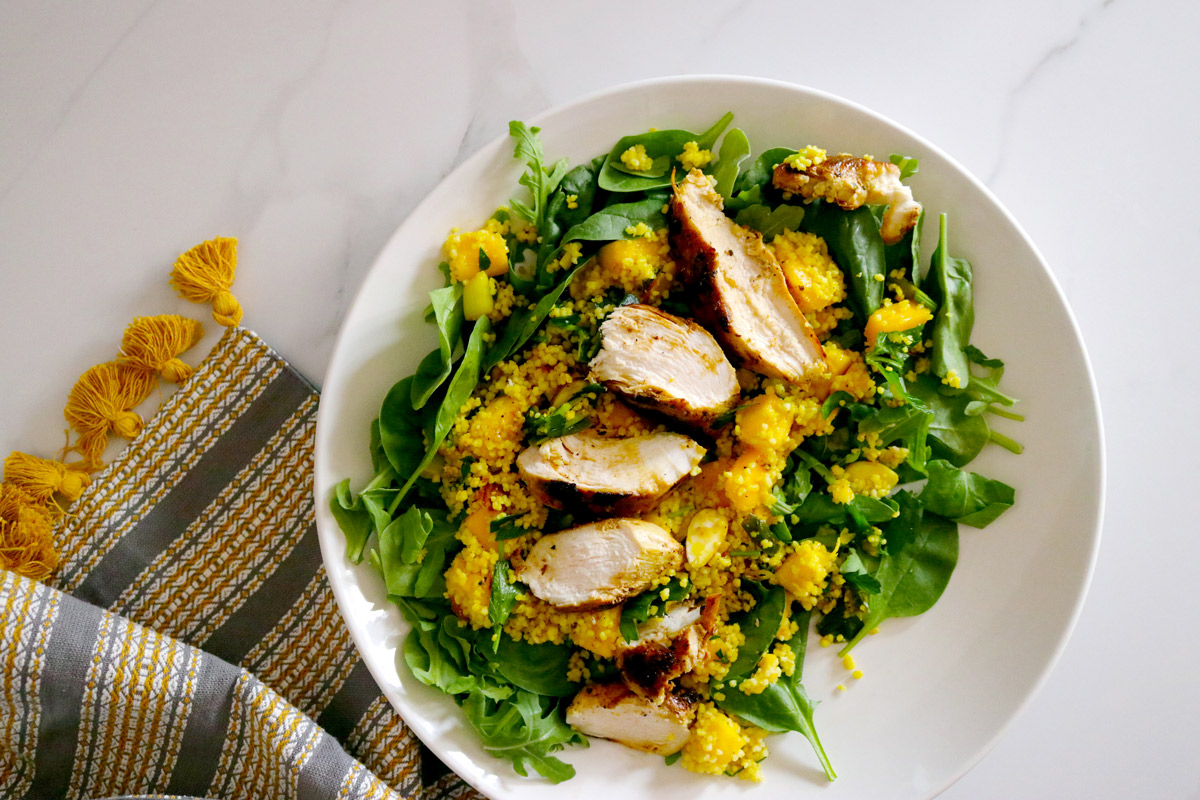 Curried Chicken Mango Couscous Salad
It's all about balance when it comes to this Curried Chicken Mango Couscous Salad.
Exotic spices like curry and cumin create a beautiful bright-yellow hue in the chicken and couscous, which pop against a backdrop of dark leafy greens.
Fresh mango adds a hint of sweetness, and toasted almonds lend a welcome crunch to the couscous mixture.
Spinach helps cool the bite from peppery arugula and dandelion greens.
Together, the ingredients just work, and the finished dish of deliciousness speaks for itself.
Serve as a flavorful side dish or light lunch option during the hot summer months.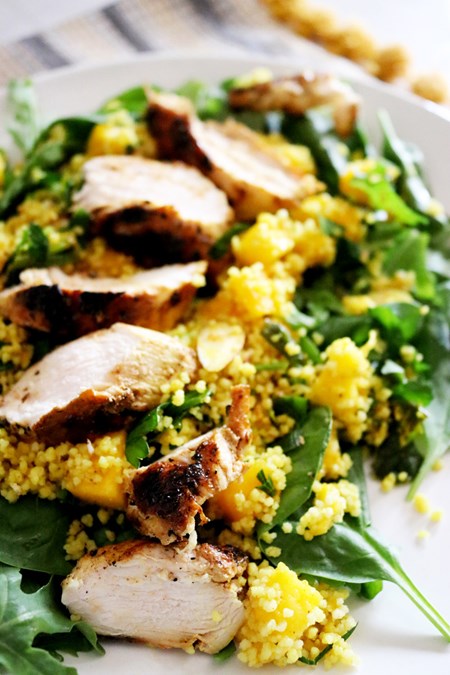 Curried Chicken Mango Couscous Salad
Serves 4
Ingredients:
2 tablespoons extra-virgin olive oil, divided
1 bunch green onions, washed, bulbs removed, diced
1 1/2 teaspoons curry powder
1/4 teaspoon ground cumin
2 tablespoons coconut aminos
Salt and white pepper, to taste
1/4 teaspoon freshly ground black pepper
1 pound boneless skinless chicken breasts
1 cup whole-wheat couscous
1 cup low-sodium chicken broth
1/4 cup sliced almonds, toasted
1 small mango, peeled and diced
1/4 cup parsley, chopped
2 cups baby spinach leaves, loosely packed
2 cups arugula, loosely packed
2 cups dandelion greens, loosely packed
Lemon juice, to taste
Directions:
1. Heat 1 tablespoon olive oil in a large skillet over medium heat. Add the green onions and cook, stirring consistently, until slightly wilted, about 2 minutes. Add curry powder and cumin, and cook until fragrant, about another 15 seconds. Stir in the coconut aminos and white pepper; remove from heat. Season to taste with salt and white pepper.
2. Heat a grill pan over medium-high heat. Coat chicken with remaining 1 tablespoon of oil and season with 1/4 salt and black pepper. Grill the chicken until cooked through and well-marked, about 5-6 minutes per side. Remove from heat and transfer to a plate to rest.
3. Place almonds in a small skillet and toast on medium heat until lightly browned and fragrant, about 2-3 minutes. Remove from heat.
4. Prepare couscous according to package directions, using chicken broth in place of water.
5. While couscous is still warm, combine with green onion mixture, mango, almonds and parsley.
6. In a large bowl, toss together the spinach, arugula and dandelion greens with the couscous mixture. Slice the chicken and place on top of salad. Serve with a fresh squeeze of lemon.
Nutritional information per serving:
Calories: 479; Carbohydrates: 55.2g; Protein: 34.1g; Total Fat: 13.9g; Saturated Fat: 1.5g; Cholesterol: 73mg; Dietary Fiber: 6.8g; Sodium: 131mg
Published on: August 13, 2019