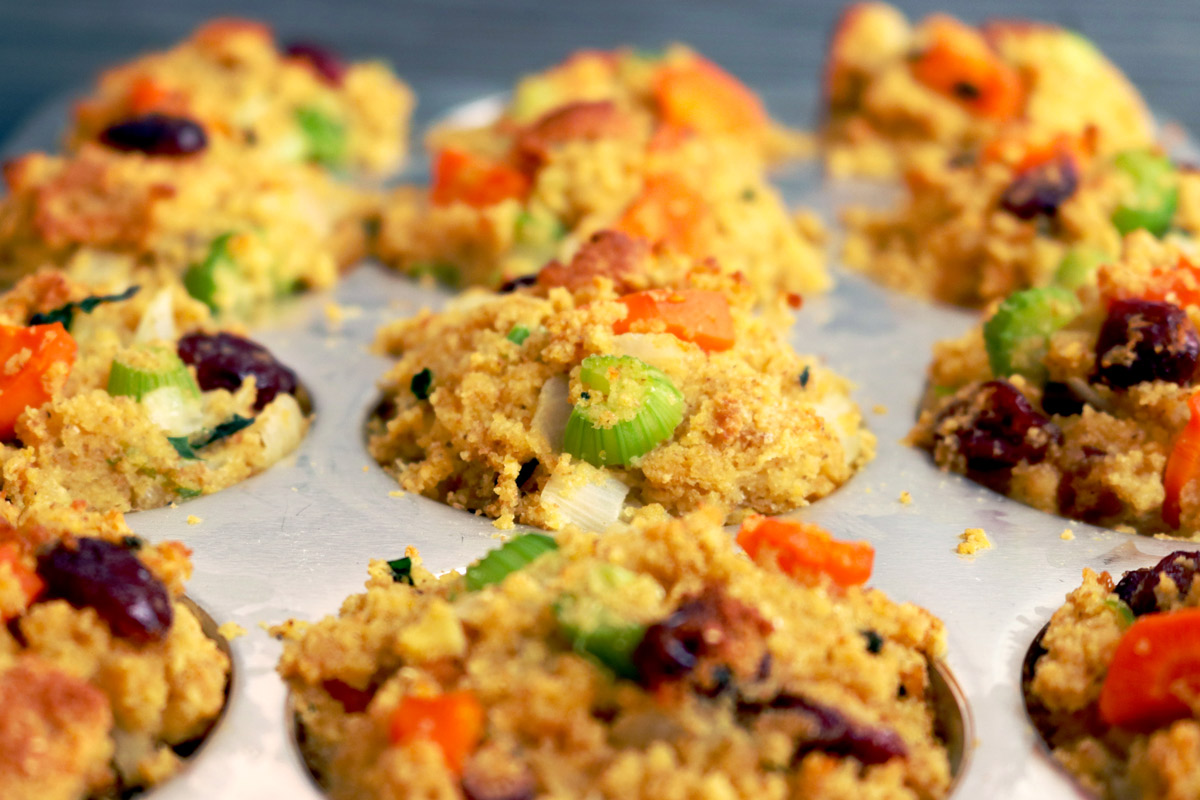 Cornbread Stuffin' Muffins
Are your Thanksgiving sides feeling a bit stale? Put a fresh spin on traditional stuffing with this quick, easy recipe!
Homemade cornbread sets the base for a stuffing that's rich in the festive flavors we remember from childhood, but with a fraction of the calories and fat found in many traditional recipes.
The mixture remains moist thanks to protein-rich bone broth and eggs, which help bind the bread to the mirepoix (a classic combination of onion, celery and carrot).
Fresh parsley and sage infuse each bite with the tastes of the season, while dried cranberries introduce the slightest hint of sweetness to an otherwise savory dish.
Baking the stuffing in a muffin tin makes portion control simple and eliminates the temptation to go back for seconds.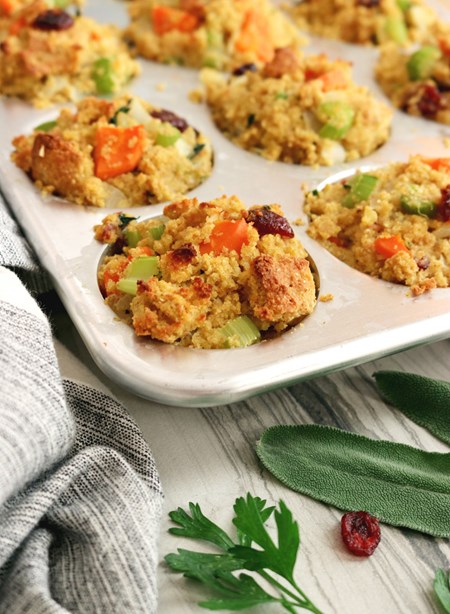 Cornbread Stuffin' Muffins
Serves 12
Ingredients:
1 Homemade Cornbread recipe, roughly cut or broken up into 3/4-inch cubes (or 1 12-ounce loaf whole-grain bread)
2 tablespoons avocado oil
2 cups yellow onion, chopped
1 cup celery, chopped
1 cup carrots, chopped
1 tablespoon garlic, minced
2 tablespoons fresh flat-leaf parsley, chopped
2 tablespoons fresh sage, chopped
1/4 cup dried cranberries
Salt and freshly ground black pepper, to taste
2 1/2 cups unsalted chicken bone broth or stock
1 tablespoon butter, melted
2 large eggs
Directions:
1. Preheat oven to 400 degrees. Line a baking sheet with parchment paper and arrange cornbread cubes in an even layer. Bake for 10-15 minutes, rotating pan once halfway through, to allow the bread to become slightly crispy. Remove from oven and set aside.
2. Reduce oven to 350 degrees.
3. Heat a large skillet over medium-high. Add oil and swirl pan to coat. Add the onion, celery, carrots and garlic; sauté for 10 minutes, or until vegetables are tender.
4. Remove pan from heat; stir in parsley, sage and dried cranberries. Add salt and pepper to taste.
5. Add cornbread to the onion mixture and mix well.
6. In a large bowl, whisk together bone broth, butter and eggs. Pour over bread mixture and stir to combine.
7. Spoon into a 12-cup muffin tin, filling each cup with a heaping mound of stuffing mixture. Bake for 25-30 minutes, until tops are browned.
8. Remove muffin tin from oven and allow to cool for 10 minutes. Use a rubber spatula to loosen the edges of the muffins before serving.
Nutritional information per serving (1 muffin):
Calories: 184; Carbohydrates: 21.5g; Protein: 8g; Total Fat: 8g; Saturated Fat: 2.1g; Cholesterol: 51mg; Dietary Fiber: 2.1g; Sodium: 375mg
Published on: November 8, 2019