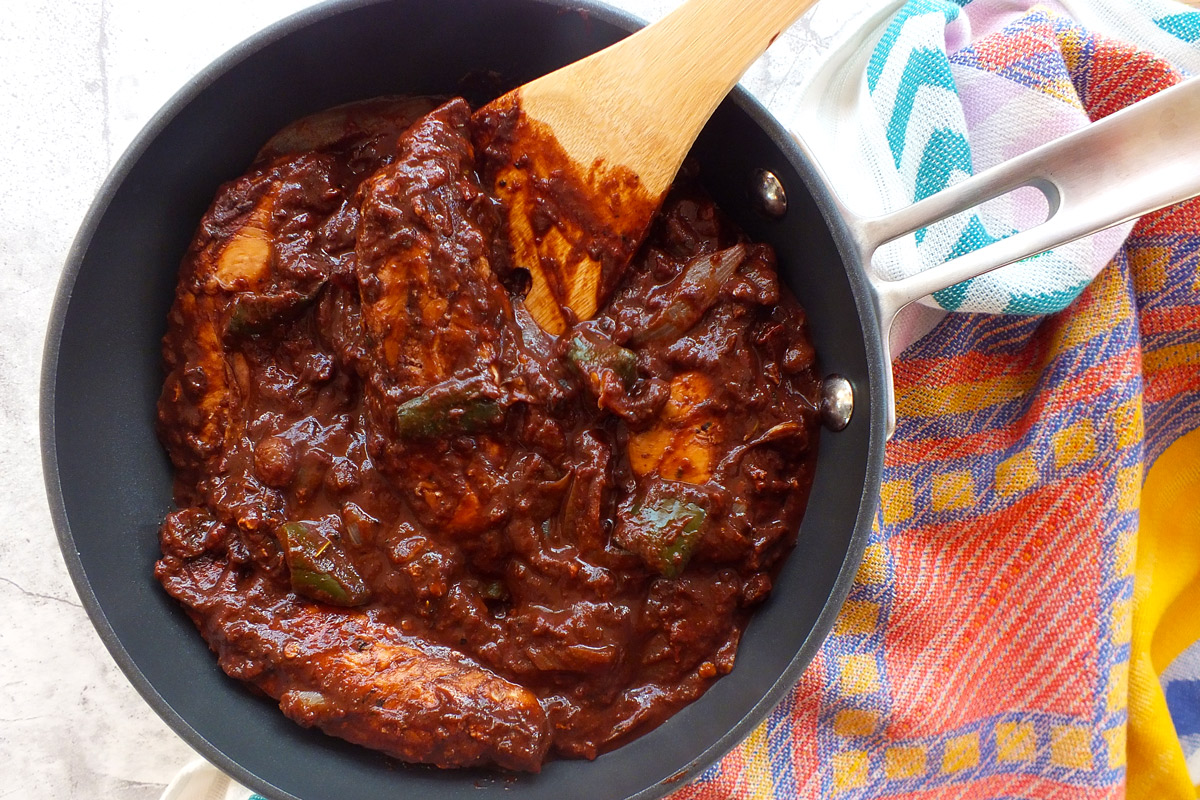 Chicken Mole
Variety is the spice of life, and this flavorful Chicken Mole is serving it up in spades. 
Pronounced "mole-lay," this thick, rich sauce is a popular condiment used in Mexican cuisine. An assortment of chiles provide a smoky, subtle heat, while honey and dark chocolate provide a welcome relief from the heat. 
Serve this chicken dish warm with spinach tortillas, fluffed brown rice or with your favorite assortment of simple roasted vegetables. 
Chicken Mole
Serves 4
 
Ingredients:
1 tablespoon extra-virgin olive oil
1 pound skinless, boneless chicken breasts, cut into 4 pieces
1/2 of a large yellow onion, thinly sliced
4 cloves garlic, finely chopped
1 teaspoon cumin seeds
1 teaspoon coriander seeds
1 fresh pasilla chile, stemmed, seeded, rough chopped into 1-inch pieces, rinsed
1 ounce dried chipotle chiles, stemmed, seeded, torn into 1-inch pieces, rinsed
1 (14-ounce) can crushed tomatoes
1/2 cup low-sodium chicken broth
2 teaspoons honey
2 teaspoons apple cider vinegar
1/4 cup raisins
1 1/2 teaspoons dried oregano
1/2 teaspoon ground cinnamon
1/4 teaspoon ancho chile powder
1 ounce dark chocolate (at least 80 percent cocoa or higher)
Salt and pepper, to taste
 
Directions:
1. In a large skillet, heat oil over medium heat. Add chicken and cook for 2 minutes per side, until golden brown. Remove to a plate.
2. Add onions, garlic, cumin and coriander to the skillet and cook for 3 to 4 minutes, stirring frequently, until onions are golden brown. Reduce heat to medium. Add chiles and stir until they begin to soften, about 2 minutes.
3. Add tomatoes, chicken broth, honey, vinegar, raisins, oregano, cinnamon and chile powder. Bring mixture to a boil. Return chicken to the skillet and season with salt and pepper, to taste. Reduce heat to a simmer, cover and cook about 15 minutes.
4. Uncover and add the chocolate. Cook 3 to 5 minutes more, stirring occasionally, until chicken is completely cooked through and the chocolate is melted. Transfer chicken and its sauce to plates and serve. 
Nutritional information per serving:
Calories: 220 calories; Carbohydrates: 14g; Protein: 25g; Total Fat: 7g; Saturated Fat: 1.5g; Cholesterol: 65mg; Dietary Fiber: 3g; Sodium: 360mg sodium
Published on: February 6, 2017