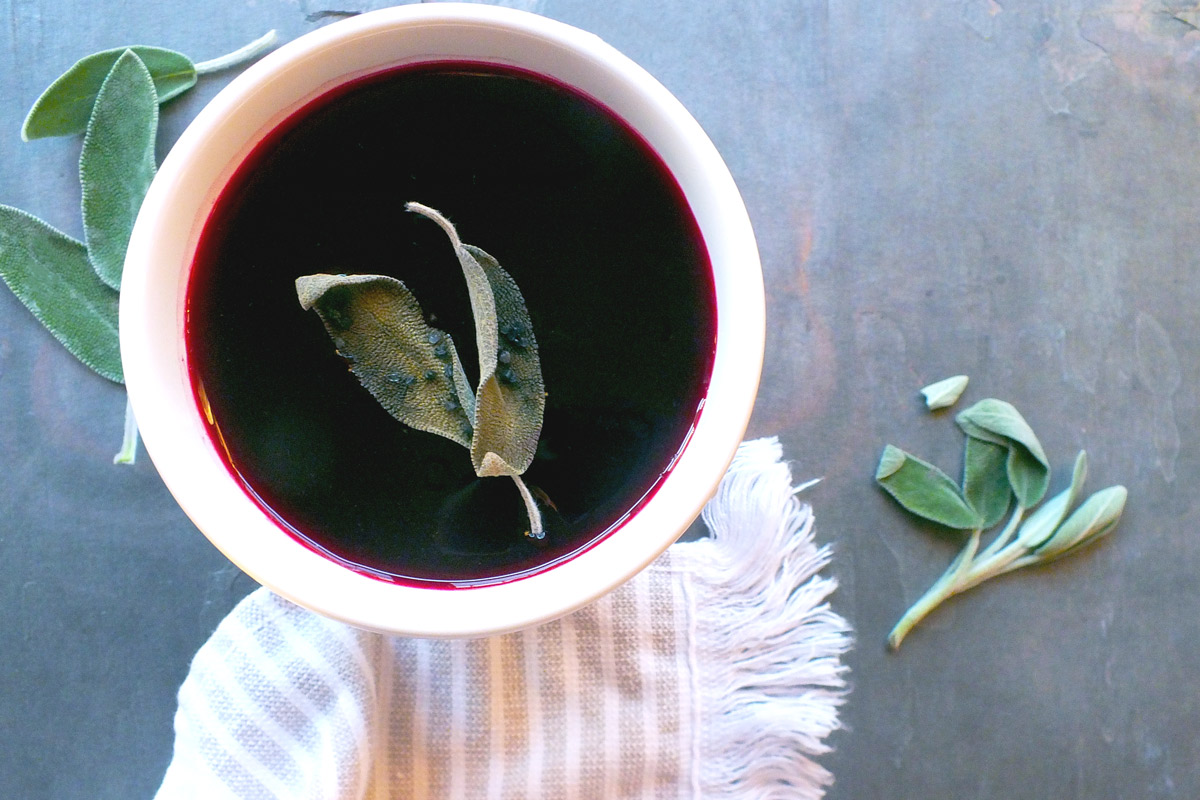 Beet & Fennel Soup with Crispy Sage
Get into the rhythm of creating fresh, healthy meals with this Beet & Fennel Soup with Crispy Sage. 
Beets are beneficial for many, many reasons, the first of which is that they are loaded with immune-boosting vitamin C. Beets also contain high amounts of nutrients like potassium, manganese and folate, which helps reduce the risk of birth defects. 
Have you ever noticed that a fennel bulb looks like a heart? It's no coincidence that fennel also is great for heart health, thanks to its rich content of dietary fiber, potassium, folate and vitamin C. Fennel also is widely used to help aid indigestion and increase satiety. 
Top this savory blend of beets and fennel with a few leaves of crispy sage – an herb praised for its anti-inflammatory and antioxidant properties – for a harmonious side dish or starter course. 
Beet & Fennel Soup with Crispy Sage
Serves 8
 
Ingredients:
1 teaspoon olive oil
1 fennel bulb, thinly sliced, white part only
4 cups low-sodium chicken broth
2 cups water
1/2 teaspoon salt
1/4 teaspoon freshly ground black pepper
3 medium beets, peeled and halved
1 medium potato, peeled and halved crosswise
1 bay leaf
1 teaspoon lemon juice
1 teaspoon olive oil
16 fresh sage leaves
Salt and pepper, to taste
 
Directions:
1. Heat oil in a Dutch oven over medium-high heat. Add fennel; sauté 5 minutes or until tender. Add broth and next six ingredients (through bay leaf). Bring to a boil; reduce heat and simmer, uncovered, for 20 minutes or until beets and potato are tender. Discard bay leaf.
2. Place one-third broth mixture in blender or food processor; process until smooth. Place puréed mixture in a large bowl. Repeat procedure twice with remaining broth mixture.
3. Return pureed mixture to Dutch oven. Warm soup over low heat for 5 minutes or until thoroughly heated. Remove from heat, and stir in lemon juice.
4. Pre-heat oven to 350 degrees. On a foil-lined baking sheet, arrange sage leaves in a single layer; drizzle with olive oil and sprinkle with salt and pepper. Bake for 10 minutes, or until the leaves are crisp and slightly burnt on the edges.
5. Pour warm soup into eight bowls and top with two crispy sage leaves. Enjoy!
Nutritional information per 3/4-cup serving:
Calories: 74; Carbohydrates: 12.3g; Protein: 3.3g; Total Fat: 1.3g; Saturated Fat: 0.5g; Cholesterol: 3mg; Dietary Fiber: 2.2g; Sodium: 343mg
Published on: January 16, 2017