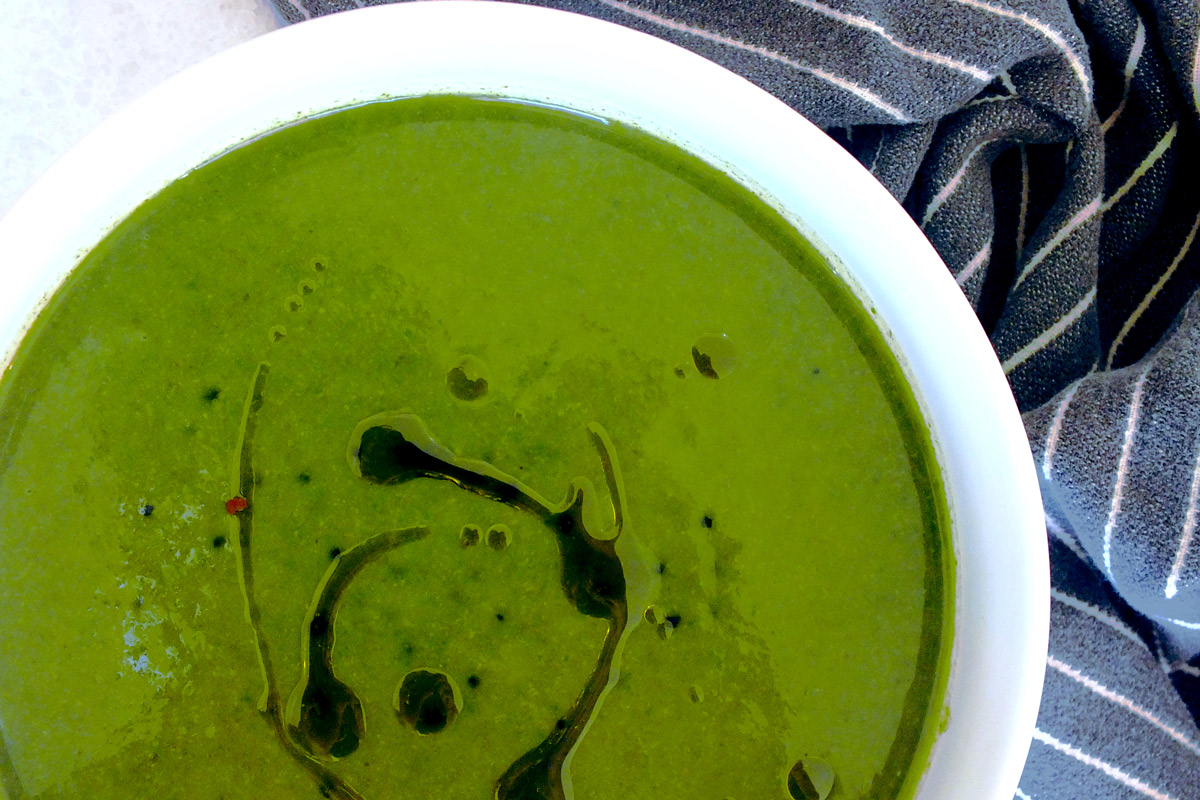 Basic Green Soup
Don't let its name fool you – there's nothing basic about this Basic Green Soup. 
Green chard and spinach are teaming with vitamins (particularly vitamins A, C and K), minerals and antioxidants, all of which have been shown in multiple studies to combat many cancers, boost eye health and slow the aging process.  
Mild in both taste and texture, these dark leafy greens allow more complex flavors – such as the caramelized onions and fresh lemon juice of this soup – to shine but not overpower. 
For extra depth, serve with a swirl of fruity, fragrant avocado oil and a sprinkling of black lava sea salt. 
Basic Green Soup
Recipe courtesy of EatingWell
Serves 8
 
Ingredients:
2 tablespoons avocado olive oil, plus more for garnish
2 large yellow onions, chopped
1 teaspoon salt, divided
2 tablespoons plus 3 cups water, divided
1/4 cup arborio rice
1 bunch green chard (about 1 pound)
14 cups gently packed spinach (about 12 ounces), any tough stems trimmed
4 cups vegetable broth, store-bought or homemade
Big pinch of cayenne pepper
1 tablespoon lemon juice, or more to taste
Black lava sea salt, to taste
 
Directions:
1. Heat oil in a large skillet over high heat. Add onions and 1/4 teaspoon salt. Cook, stirring frequently, until the onions begin to brown, about 5 minutes.
2. Reduce heat to low, add 2 tablespoons water and cover. Cook, stirring frequently, until the pan cools down, and then occasionally, always covering the pan again, until the onions are greatly reduced and have a deep caramel color, 25-30 minutes.
3. Meanwhile, combine the remaining 3 cups water and 3/4 teaspoon salt in a soup pot or Dutch oven; add rice. Bring to a boil. Reduce heat to maintain a simmer, cover and cook for 15 minutes.
4. Trim the white ribs out of the chard (save for another use, such as to add to a stir-fry or other soup). Coarsely chop the chard greens and spinach.
5. When the rice has cooked for 15 minutes, stir in the chard greens. Return to a simmer; cover and cook for 10 minutes. When the onions are caramelized, stir a little of the simmering liquid into them; add them to the rice along with the spinach, broth and cayenne.
6. Return to a simmer, cover and cook, stirring once, until the spinach is tender but still bright green, about 5 minutes more.
7. Puree the soup in the pot with an immersion blender until perfectly smooth or in a regular blender in batches (return it to the pot). Stir in 1 tablespoon lemon juice. Taste and add more lemon juice, if desired. Garnish each bowl of soup with a drizzle of olive oil.
Nutritional information per 1 1/4-cup serving:
Calories: 95; Carbohydrates: 13g; Protein: 3g; Total Fat: 4g; Saturated Fat: 1g; Cholesterol: 0mg; Dietary Fiber: 3g; Sodium: 759mg
Published on: January 9, 2017