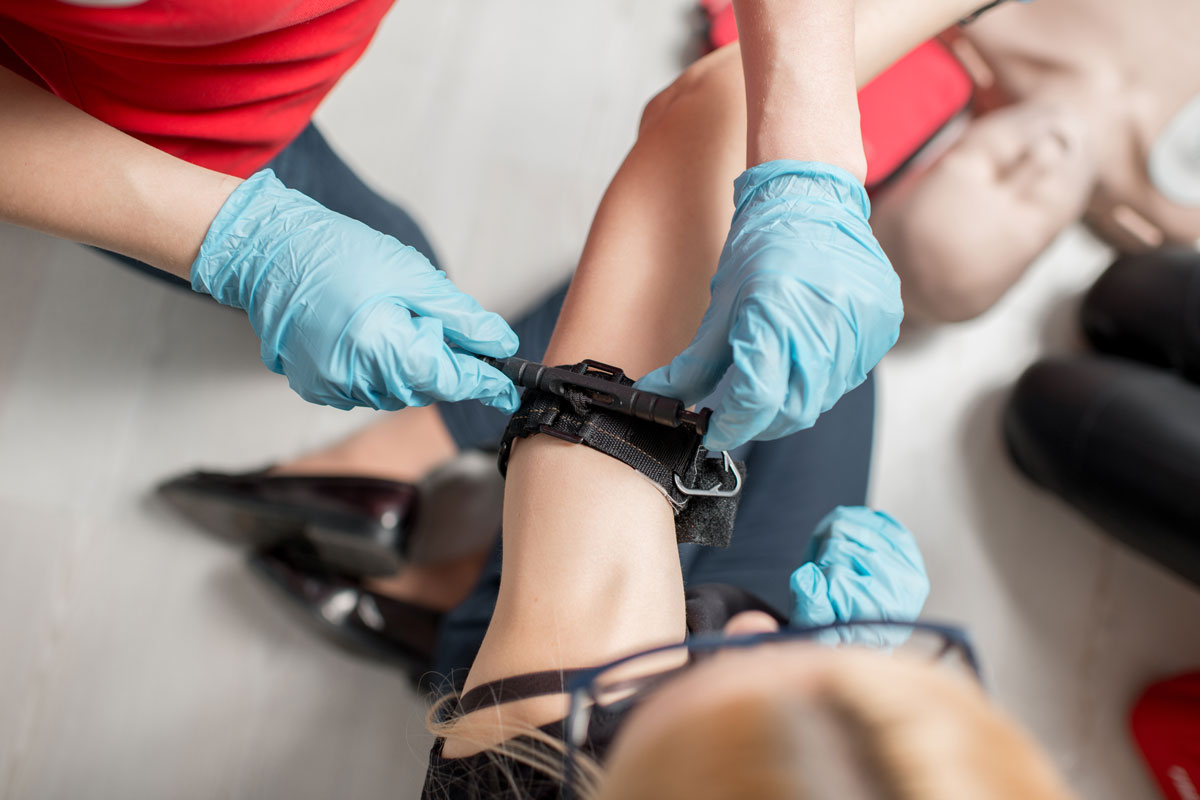 Learning to recognize uncontrolled bleeding and the proper technique to stop it could save a life.
Wilcox Trauma Department Shares a Lesson in Lifesaving Skills
Wilcox Medical Center has joined a national initiative that trains the public to go from bystander to empowered during an emergency situation. 
Stop the Bleed is a national awareness campaign created to equip bystanders with the knowledge and training necessary to provide lifesaving assistance in a bleeding emergency before professional help can arrive to the scene. 
"Bleeding is the leading cause of death in all trauma, and the knowledge required to intervene is applicable to all traumatically injured patients. We want the public to know how to recognize life-threatening hemorrhage and have the skills to intervene to save a life," says Marty Collins, a registered nurse and manager of the trauma program at Wilcox. 
Wilcox responded to the call-to-action by offering an ongoing series of Stop the Bleed training courses at the Lihue medical center location. 
During each class, Collins and other facilitators from the Wilcox Trauma Center teach participants how to recognize life-threatening bleeding and how to stop it by using tourniquets or other available items (i.e., pressure, application of gauze, products that assist with blood clotting). 
"Proper placement of items and technique used to stop the bleeding are important," Collins explains. "Arterial bleeding can be difficult to manage. Going through the motions in the class simulations assists lay-providers in practicing these skills so that they can handle a difficult situation should it arise." 
Collins stresses that recognizing uncontrolled bleeding and intervening can save lives, and that it is applicable for traumatic injuries to which everyone is susceptible.
Injuries can include:
        

Fin accidents from surfboards.



        

Animal bites.



        

Motor vehicle accidents.



        

Penetrating injuries (from knives, glass, rebar or guns).
 
If someone witnesses an injury that requires aid, Collins advises first and foremost not to rush into an unsafe situation. 
"If you are injured, then you are unable to help anyone else," she says. 
If there is uncontrolled hemorrhaging, call 911 for assistance while simultaneously stopping the bleed by placing the injured person on a hard surface and applying firm, steady pressure to the injury site. 
If the bleeding doesn't stop, apply a tourniquet, if available, as high above the injury site as possible. 
"Everyone has the ability to learn this skill," Collins says. "Traumatic injuries affect us all at some point in time in our lives to varying degrees. Having the knowledge to intervene and impact a patient's outcome is empowering. We should all have basic education to assist our friends, families and neighbors in the time of need." 
Published on: July 12, 2018