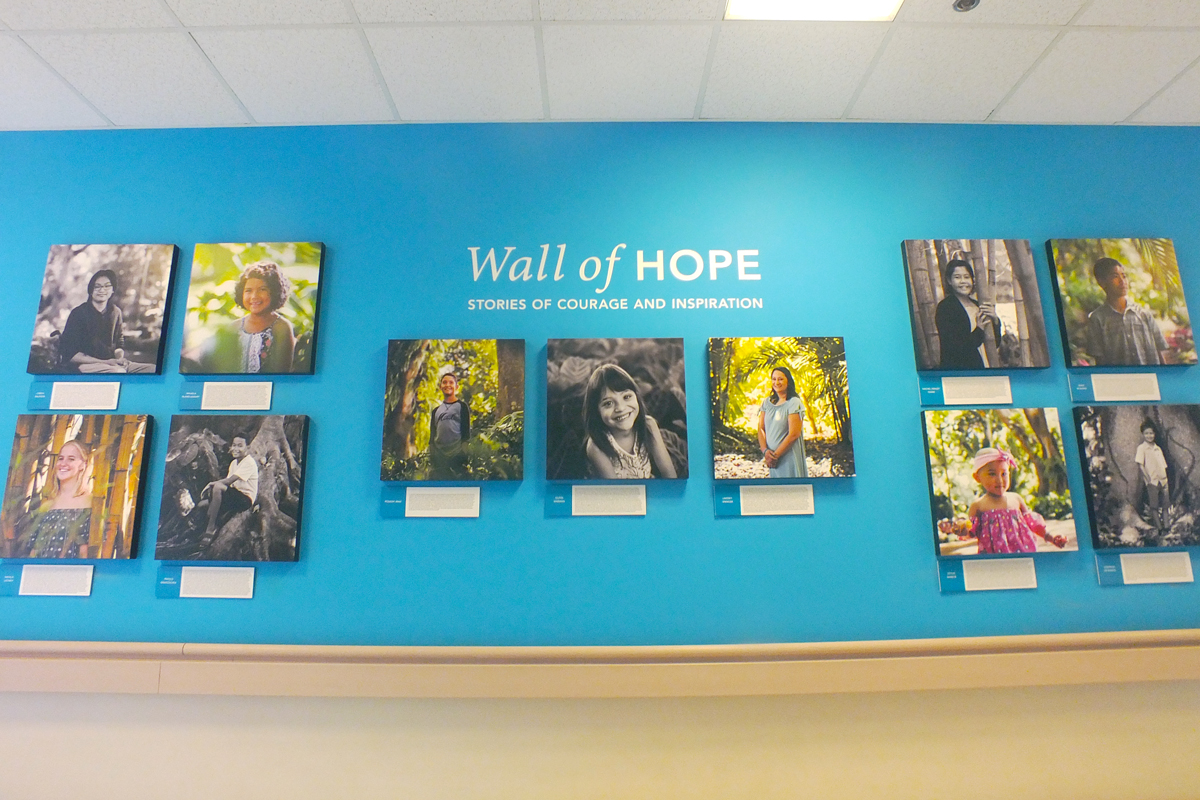 Kapiolani's Wall of Hope displays images and stories of former patients in the hopes to support and inspire current patients and their families as they brave their own medical journey.
Lindsey Spencer
Wall of Hope: Stories of Courage & Inspiration
"Promise me you'll always remember: You're braver than you believe, and stronger than you seem, and smarter than you think." – A.A. Milne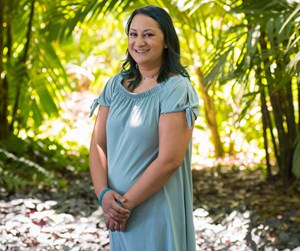 April 2014 was the start of a life-changing journey for Lindsey Spencer. 
The then-28-year-old was attending the University of Hawaii at Manoa trying to figure out what career path to take. One day, out of the blue, she began experiencing extreme bloating. At first Lindsey assumed it was a bad case of constipation, but when her symptoms didn't go away for several weeks, she decided to see a doctor. 
Lindsey saw several physicians and even went to the emergency department, but each time was told there was nothing wrong. 
On the morning of May 11, she awoke to a sharp pain in the left side of her stomach. She went to the emergency department at Kapiolani Medical Center for Women & Children where test results revealed the cause of her symptoms was a large tumor on one of her ovaries. Lindsey would need emergency surgery to remove it. 
"Because the tumor had ruptured, they had to remove the tumor, the ovary that had been damaged by the tumor, and all of the fluid that had accumulated in my body," Lindsey says. 
Four days later, Lindsey was waiting to be discharged when she received a call from her OB-GYN. 
"She told me the pathologists had determined that the tumor was cancerous, and that I would have to undergo chemotherapy treatment to get rid of any cancer cells that might have still been there post-surgery," Lindsey remembers. "It didn't really hit me until I hung up the phone, and thought to myself, 'Chemotherapy? Is this for real?!' Then I just burst into tears and pushed my lunch aside because any appetite that I once had was now completely gone." 
Lindsey received the official diagnosis of stage 1C ovarian cancer upon her first visit to the Kapiolani Women's Cancer Center.
Due to the cancer's aggressive nature, Lindsey would need to undergo four cycles of intense chemotherapy over the course of two-and-a-half months. However, her immune system took a huge hit and she would need additional treatment for another month post-chemo. 
"The care that I received from the doctors, nurses and staff at the Kapiolani Women's Cancer Center helped turn such a negative event into a positive experience," Lindsey says. "Everyone there always has a positive attitude, and they really make an effort to get to know you and your story. After spending so much time there, it was almost as if they had become a part of my family, my cancer family." 
Lindsey has been cancer-free since September 2014. In July 2015, she discovered that she was pregnant and in March 2016, she and her boyfriend welcomed a healthy baby boy, Sebastian. 
"He truly is our miracle baby, since we were not sure if I was going to be able to have children after losing one ovary to cancer," says Lindsey, who today is a stay-at-home mom. 
Lindsey says her experience has helped put a lot of aspects into perspective. She hopes to return to school someday soon so that she can accomplish her goal of getting a graduate degree and starting a career. 
She also realized how important it is to be your own best advocate. 
"Believing in yourself is the best medicine that you can get," Lindsey says. "Get educated about your condition, diagnosis and any symptoms you may have. The more you know, the better prepared you will be, and the more awareness that you will be able to share."
Published on: October 31, 2017