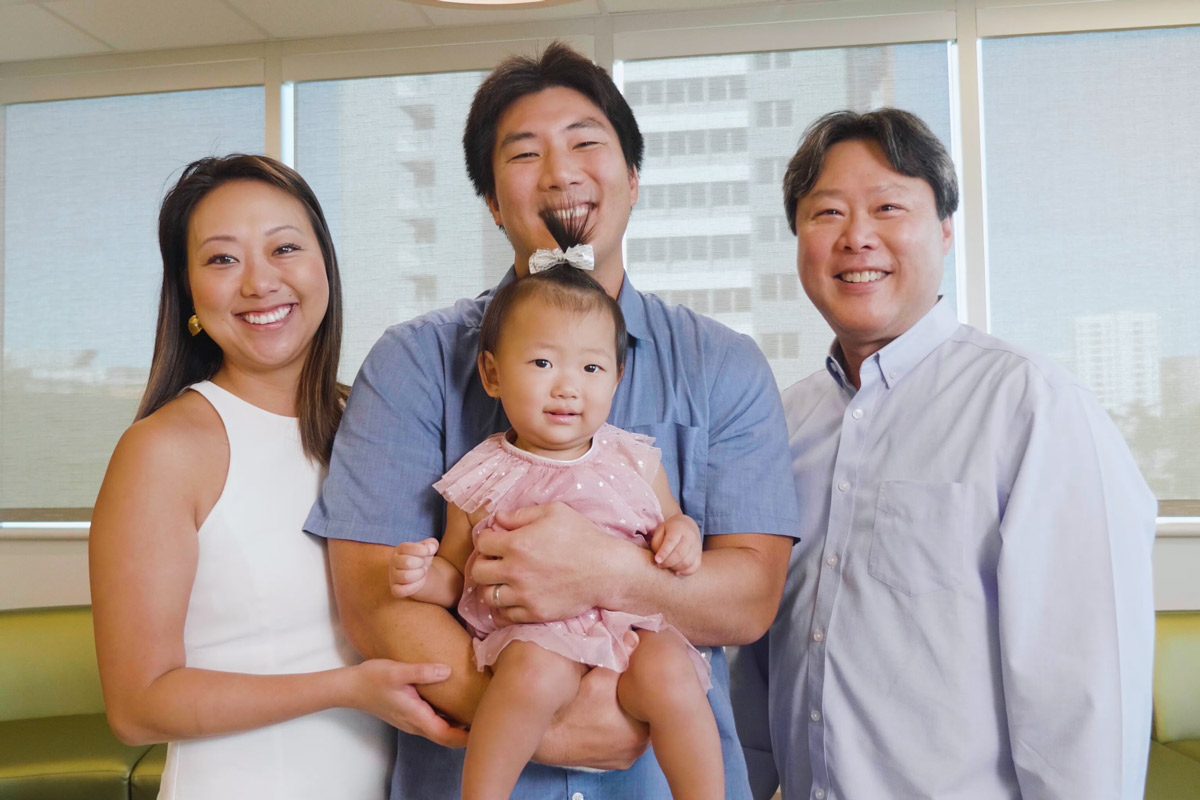 Kaila Wada – seen with (from left) mom Karen, dad Randy and grandpa Dr. Randy Wada – is today a happy and healthy toddler, thanks to the care she received as a newborn at Kapiolani Medical Center.
Kaila Wada
The Reason 2019
Karen and Robert Wada had enjoyed a healthy pregnancy. But when Karen was ready to give birth at Kapiolani Medical Center for Women & Children, her baby was in distress and needed to be delivered via emergency C-section.
That was only the beginning of little Kaila's long health journey.
After she was born, Kaila looked pale and wasn't doing well.
At first, she was diagnosed with meconium aspiration syndrome, a condition that occurs when fecal material enters the baby's lungs due to stress upon or before delivery.
Then, doctors gave Karen and Robert the news that Kaila had experienced a type of brain damage called hypoxic ischemic encephalopathy, which meant Kaila's brain wasn't receiving enough oxygen and blood.
Kapiolani could treat Kaila's condition and save her life with a machine called extracorporeal membrane oxygenation (ECMO).
Although there were some risks involved, and the treatment would be a long process, this was their only hope. Robert's dad, Kapiolani Pediatric Oncologist-Hematologist Dr. Randal Wada, convinced them to place Kaila on the ECMO machine and trust the Kapiolani team of specialists.
Karen and Robert were involved in the ECMO treatment rounds each day and understood the magnitude of their daughter's critical status. Kaila's progress was slow but steady.
Within five weeks, Kaila completed her ECMO treatment and slowly was weaned off the respiratory system and morphine.
After multiple follow-up visits with therapists and neurologists, Kaila is a happy, healthy and normal toddler.
She will be celebrating her second birthday this year.


Watch Kaila's full story unfold in the video below.


Published on: March 15, 2019