Grace Sakamoto
Wall of Hope: Stories of Courage & Inspiration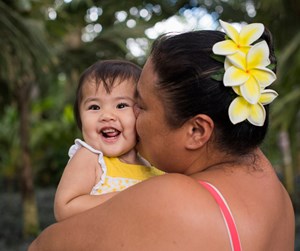 Lei Ann Sakamoto had experienced a perfect pregnancy and delivered her daughter Grace almost to the day of her due date, on Jan. 6, 2017.
There were no indications anything was wrong, until a few short seconds after the umbilical cord was cut.
"It was like a scene from a movie. Suddenly, there were tons of nurses and doctors flooding into our room," Lei Ann remembers.
Doctors informed Lei Ann and her husband, Francis, that Grace's heart had become weak and that her lungs had a hemorrhage.
Grace needed ECMO, a treatment used for patients with life-threatening heart and lung problems.
"If the ECMO did not work, our precious newborn would not survive. I went through so many stages of grief within a matter of minutes," Lei Ann recounts.
Grace survived the emergency procedure but continued to experience complications, including a brain bleed and kidney failure.
After another week, Grace had a second brain bleed, which required she be taken off ECMO.
"Doctors were not sure if she would survive, but also said it was riskier to not try," Lei Ann says.
Grace's heart miraculously normalized on its own, but her lungs and kidneys still struggled to function.
A meeting with the medical team delivered more devastating news.
"The doctors presented two paths – take Grace home in a hospice manner or continue keeping her body alive," Lei Ann says. "If we chose to keep Grace alive, she would more than likely not be able to walk, talk, hear, see or do anything on her own. We also would eventually have to decide whether Grace should endure brain surgery."
Her parents chose to give their little girl time to continue to fight and get better on her own.
A few weeks later, Grace began urinating on her own.
Then, doctors announced Grace would not need brain surgery just yet.
On March 27, Grace was discharged home.
Although she needed a g-tube to help her eat and eventually underwent surgery to have a shunt placed in her brain, today Grace is flourishing and continues to surpass expectations.
"She is a happy child and loves to smile, wave and especially eat," Lei Ann says, reporting that her g-tube was removed in July 2018.
"She is doing all the things doctors said she would not be able to," Lei Ann says. "Grace is our fighter, which she was from day one."
Published on: October 19, 2018