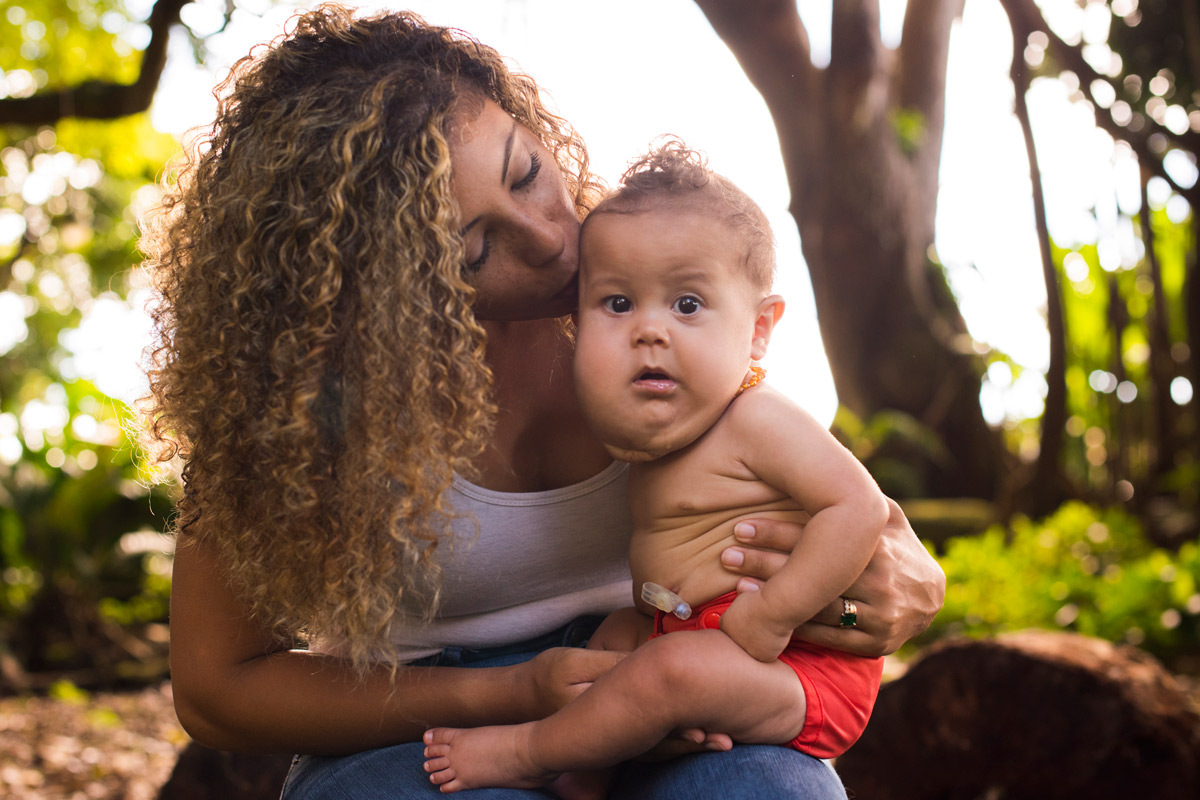 Piercen Groom
Wall of Hope: Stories of Courage & Inspiration
When Allesha Groom was 17 weeks pregnant with her third child, a routine ultrasound found a growth on the baby's neck.
"It was an assumed tumor, and we were immediately offered the option to terminate the pregnancy," Allesha says. "I felt an overwhelming feeling of fear and sadness. I was terrified that the baby would not survive the pregnancy, but my husband and I were not willing to give up hope."
After refusing termination, the Grooms were referred to Pediatric Surgeon Dr. Sidney Johnson at Kapiolani Medical Center for Women & Children for specialized treatment.
At approximately 25 weeks, doctors conducted an MRI and confirmed that the mass was not a tumor, but rather a cyst. It was then that Piercen was diagnosed with a cystic hygroma, a disorder in which one or more fluid-filled sacs develop on a baby's neck or head.
"After I accepted the diagnosis, determination was added to my mixed emotions – I was determined for the baby to survive, and we immediately began planning for the birth and the anticipated complications," she remembers.
Piercen was born via cesarean section in February 2018 and immediately intubated.
At 4 days old, he had his first round of debulking and schlertherapy. Piercen would be in the Neonatal Intensive Care Unit (NICU) for nine weeks, during which he received a g-tube, another debulking and intubation, along with several more rounds of schlerotherapy, an MRI and several X-rays.
He also worked with occupational and speech therapy, healing touch and audiology.
Now home with his mom, dad and two older siblings, Piercen is making strides in his recovery.
"He has learned how to eat from a bottle and his airway, which had several microcysts, is currently clear. Other than the mass on his face and under his tongue, he is a normal 5-month-old," Allesha says.
Though Piercen's treatment continues, and will continue with the Kapiolani Pediatric Anomalies Clinic, Allesha remains optimistic for her son's future.
"I would hope that another family would read our story and know that Piercen's diagnosis was only the beginning of his journey, and that our children are so much stronger than we may realize."
Published on: October 16, 2018