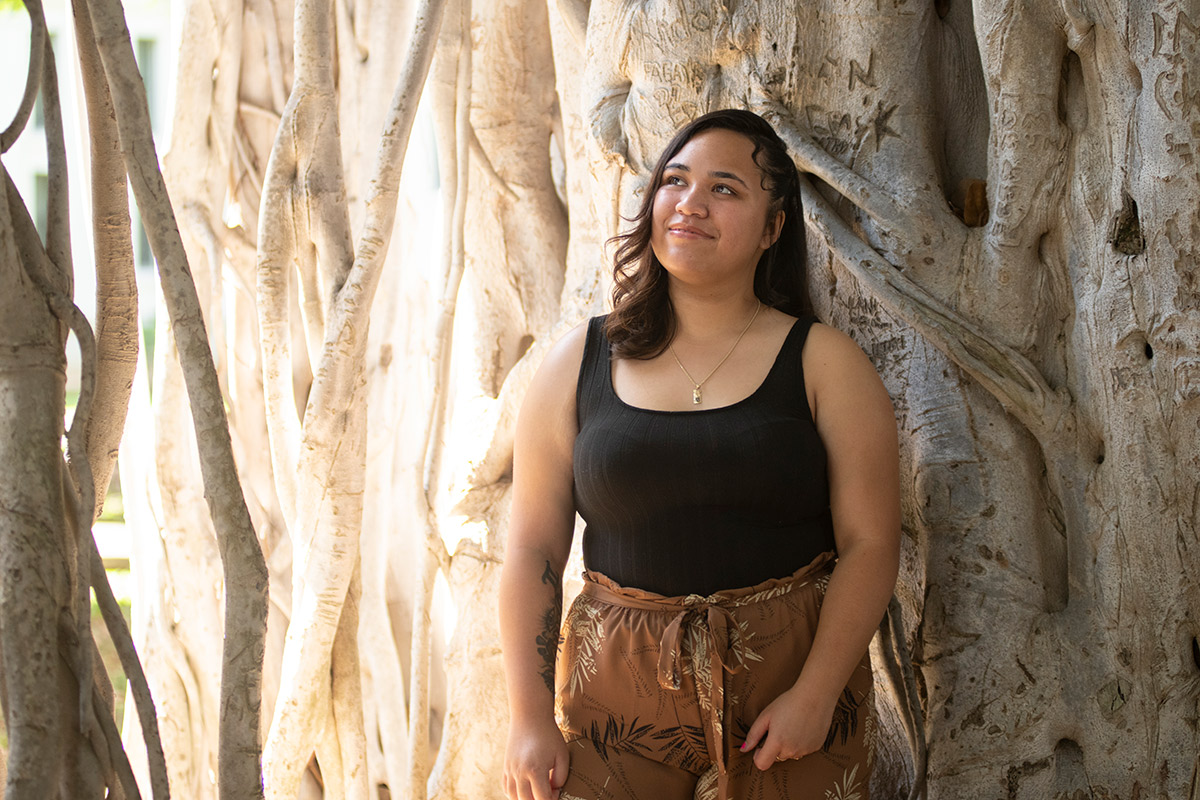 Jazdan Yahiku-Young
Wall of Hope: Stories of Courage & Inspiration
One day while at her aunt's home, 15-year-old Jazdan Yahuki-Young felt something wasn't right. She told her aunt, Lana, that she couldn't see out of her eye.
Worried, Lana called Jazdan's mom, Jasmine, who told her to schedule an eye appointment.
The next day while at the appointment, the optometrist saw something alarming and sent Jazdan to Kapiolani Medical Center for Women & Children for an MRI.
There, doctors found a 5-inch mass on Jazdan's left frontal lobe and diagnosed her with cerebral meningioma, a noncancerous tumor that arises from the membranes surrounding the brain and spinal cord.
Jazdan was admitted to the medical center that same day to prepare for brain surgery that would take 12.5 hours.
During the procedure, Jazdan suffered an acute ischemic left middle cerebral artery (MCA) stroke that impacted her ability to wake up and respond. A couple of days later, the surgeon explained to Jazdan's parents that she would likely remain in a vegetative state.
"When we found out, we felt a mixture of emotions – scared, sad, hopeless, weak, mad. But as a family, we knew we needed to stay strong for Jazdan and her parents," says Lana. "This was an entire family situation that took the whole family to carry us all through."
Forty-eight hours after being told Jazdan would never be the same, her family noticed her trying to move her hands and feet. Less than a month later, Jazdan opened her eyes and began talking. She was even able to walk around the medical center.
Jazdan stayed at Kapiolani for three months, receiving physical, speech and holistic care therapy. Her surgeon would stop by as often as he could to check on Jazdan, amazed by her recovery.
"All the doctors, nurses and staff at Kapiolani were so supportive. They greatly impacted not only Jazdan's life, but the entire family," Lana says. "We felt like we gained an extended family."
Today, Jazdan is 17 and doing well. She attends Kapolei High School where she enjoys her classes. Lana shares the following message for families who may be facing similar situations:
"Have hope and faith. Everything is a mindset. It is important to be surrounded by positivity, seek God and, most importantly, believe!"
Portions of the 2023 Wall of Hope photography exhibition were photographed on the grounds of Iolani Palace. Built by King David Kalakaua, Iolani Palace is where his wife, Queen Kapiolani, first envisioned a maternity hospital to provide proper quality care for Hawaiian women and their newborns. Here, she hosted magnificent galas and luau to raise funds for the creation of the Kapiolani Maternity Home, which would eventually become Kapiolani Medical Center for Women & Children. Now, more than a century later, to see these Kapiolani patients – all of whom have overcome some medical adversity – happy and healthy on these very same grounds is, indeed, Queen Kapiolani's dream come full circle.
Published on: April 17, 2023