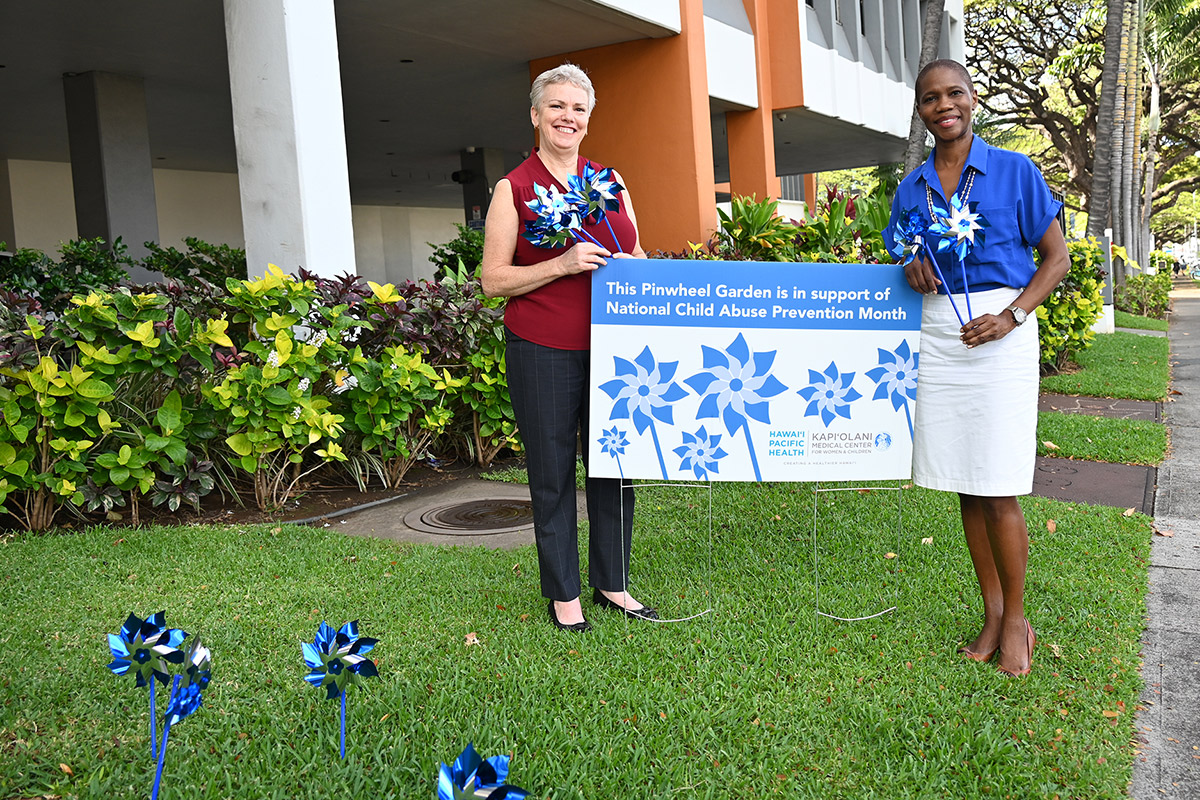 Dr. Pat Morgan (right) and Lisa Dau, RN, injury prevention coordinator at Kapiolani Medical Center, stand in the Pinwheels for Prevention garden planted outside of the medical center in recognition of Child Abuse Prevention Month.
Educating the Public About Child Abuse
April is National Child Abuse Prevention Month, and Dr. Pat Morgan, medical director for Kapiolani Medical Center for Women & Children's Children Advocacy and Protection Center, seeks to emphasize the importance of this topic.
Morgan has experience leading child protection teams, and currently serves on the American Academy of Pediatrics Executive Committee for the Council on Child Abuse and Neglect.
She has also written a book titled "The Doctor Says: Let's Talk About Body Safety" to help parents teach their young children about body safety. For more information, visit TheDoctorSays.info.
Morgan delves deeper into the subject in this article.
What do you do with the Child Advocacy and Protection Center?
I primarily provide medical consultations and evaluations for infants and children who are admitted to the medical center who may have been physical abused or neglected. Other responsibilities include working with investigative agencies such as Child Welfare Services (CWS) and/or law enforcement, providing expert testimony in court in child protection cases, and educating the medical and nonmedical communities about child maltreatment.
There are also opportunities for the development of child abuse prevention efforts through the medical center and community.
What do you find many people do not know about child abuse and neglect?
In general, I think many people don't want to believe that child abuse happens. They want to think that adults would not harm children physically or sexually, which then makes them reluctant to intervene.
I think many folks also think that they have to be able to prove that there is abuse or neglect before they call Child Welfare Services. All the agency needs is someone with a concern that a child is being harmed or is at risk of harm.
In Hawaii, threatened harm or risk of harm is the most common reason people call CWS.
What should people look for when they suspect some type of maltreatment?
There are different signs one should look for, depending on the type of child maltreatment. A parent's or caregiver's failure to provide for a child's most basic needs such as food, clothing, housing, medical care, educational and psychological support or supervision is neglect.
In physical abuse cases, an infant or child may have injuries to the head or brain, bruises, burns or broken bones that were not caused by an accident.
In instances of child sexual abuse, a child may have advanced knowledge of sexual situations or report that there has been some type of sexual contact or sexual involvement. This can include touching a child on the parts that are under their bathing suit, sex trafficking of a child or even no-contact abuse, including exposure to pornography and attempting to look at a child's body.
Emotional abuse includes name calling, rejecting or threatening a child, or exposing a child to domestic violence. This form of abuse may not have any visible signs but can cause long-lasting harm to a child.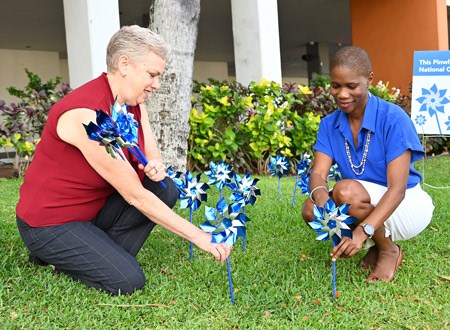 Who should they contact?
For concerns of child abuse and neglect, contact CWS any time or day of the week. On Oahu, the number is 808-832-5300 or toll-free 888-380-3088. Neighbor islands can also call 888-380-3088.
If you suspect child trafficking, call 808-832-1999 on Oahu or 888-398-1188 on neighbor islands.
Child Welfare Services may involve law enforcement in some cases as well.
What is your advice to parents to help them prevent maltreatment?
I think it is important for parents to avoid any physical discipline. Also, it helps to be aware of what can trigger abuse. Crying is the most common reason babies are shaken, so it is key to have other caregivers who can help handle a baby or child if they are sick or crying a lot.
It is always OK to ask for help when you need it for your family or to help care for your child. If there are any concerns, parents should always talk to their child's primary care physician.
Why did you decide to write the book "The Doctor Says: Let's Talk About Body Safety?"
More than 23 years ago, I decided to go to work to prevent child abuse and neglect. One important way to prevent sex abuse is to talk about body safety with children. By the time a child is seeing me because there are concerns he or she has been abused, there have often been missed opportunities to talk to that child and family about prevention. This book is to help guide parents through discussing this important and sensitive topic in a child-appropriate and memorable way.
What are the book's key messages for parents and caregivers?
The key messages teach empowerment to a child if they are in an unsafe situation. Many times, parents might tell children to let them know if anyone touches them or does something that makes them uncomfortable. However, it is important to also teach our keiki how to keep their bodies safe by saying "No," or "Don't do that."
Another important message is that we should teach our keiki to use the proper names for the parts under their bathing suits as well.
Besides the current girl and boy character versions that are available, I am pleased to announce that there is a version coming out next with a Native Hawaiian girl character. This book will be offered in both English and olelo Hawaii. 
---
This article was first featured in the April 26, 2023, issue of MidWeek as a part of the "Dr. in the House" series. See the full publication here.
Published on: April 26, 2023