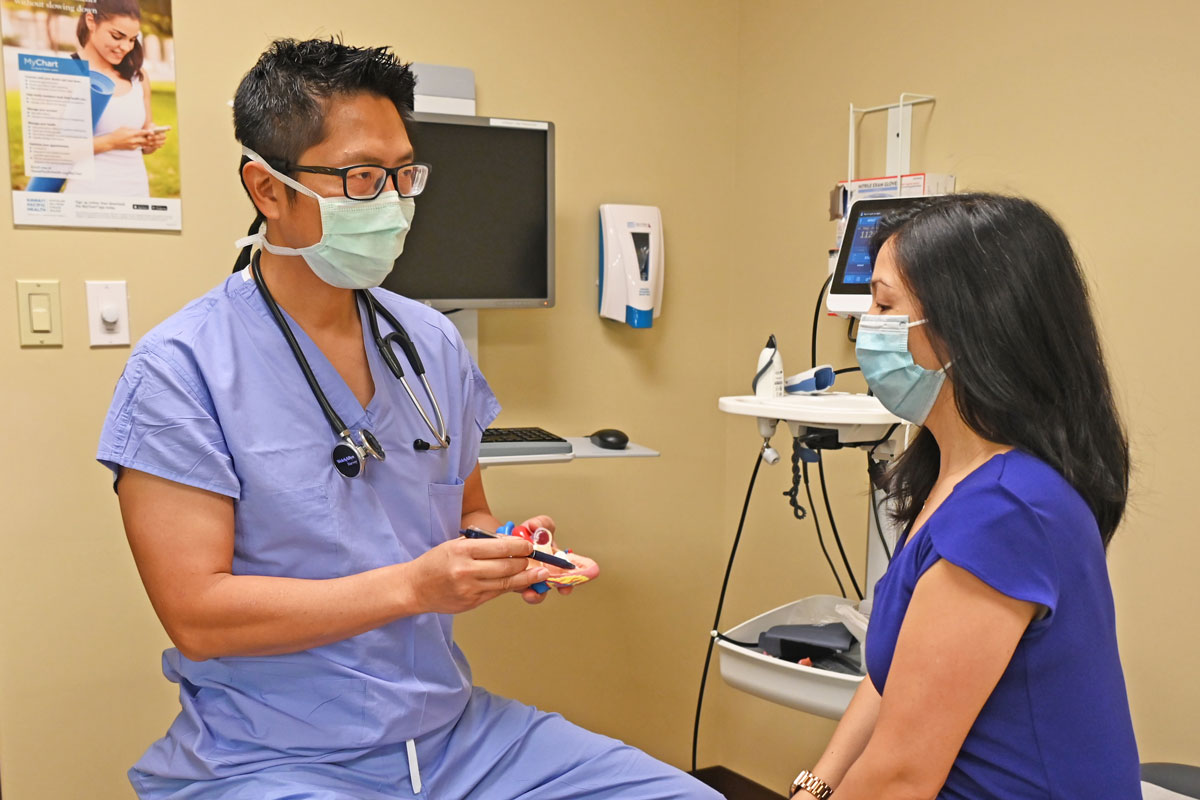 Dr. Hiroshi Ashikaga, cardiac electrophysiologist at Pali Momi Medical Center, speaks with a patient.
All About the "Heart" of the Matter
Dr. Hiroshi Ashikaga decided to enter the medical field after he lost his grandfather suddenly when he was 10.
"Since I was raised by my mother, who was a single parent, my maternal grandfather was a father figure. It was devastating to my family. That's when I decided to become a physician specializing in sudden cardiac death," shares Ashikaga, who is a cardiac electrophysiologist at Pali Momi Medical Center.
He earned his medical degree at University of Tokyo. Ashikaga completed his residency at Mount Sinai Beth Israel in New York, then fellowships at University of California San Diego in La Jolla, the National Institutes of Health in Bethesda and The Johns Hopkins University School of Medicine.
He served as an assistant professor, and then associate professor, at Johns Hopkins for 10 years. Ashikaga came to Hawaii from there and is an expert in correcting irregular heartbeats – arrhythmia and tachycardia. He is among the first physicians in the state to offer new technologies for treating these conditions.
In this article, Ashikaga illuminates further on these medical advancements.
What do you do as a cardiac electrophysiologist?
I take care of patients with a wide variety of heart rhythm disorders. Although cardiac electrophysiology is a subspecialty within cardiology, our work style is very similar to that of surgeons, so we often do procedures. 
What types of conditions do you typically see and what are the standard treatments?
For patients with very slow heart rates, we usually implant pacemakers. For patients with rapid heart rates, regular or irregular, I perform minimally invasive procedures called catheter ablation, which fixes abnormal electrical circuits of the heart. For patients with a high risk of sudden death or someone who resuscitated from sudden death, defibrillators can be placed in the chest to regulate the heart.
Explain how the fairly new technology of ethanol infusions work and how it can be used to further stabilize irregular heartbeats.
Catheter ablation either burns or freezes heart tissue in a controlled fashion to change the electrophysiology of the heart. Infusion of highly concentrated ethanol – about 97 to 99% – is a relatively new way of catheter ablation to alter the properties of the heart tissue chemically.
Recent studies found that ethanol infusion is an effective way to treat some of the very complex heart rhythm disorders, which were otherwise difficult to treat.
Currently, Pali Momi is one of the first medical centers in Hawaii to provide this type of treatment.
I have been teaching the procedure to my peer electrophysiologists across the country. My goal is to now share my specialized knowledge in Hawaii and expand the electrophysiology program at Hawaii Pacific Health to benefit more patients.
Pacemakers can also be used. Are there any innovative treatments using the devices?
I am one of the few physicians in Hawaii who performs left bundle area pacing for pacemakers and defibrillators. This new technique provides a more natural heart contraction and can prevent some of the issues from long-term artificial heart pacing.
Is there work in Hawaii to expand treatment of arrhythmia at all ages?
There is a plan to formalize an ongoing collaboration between Pali Momi and Kapiolani medical centers. Currently, Kapiolani pediatric cardiologist Dr. Andras Bratincsak and I are working together on creating a smooth transition and continuity of care for pediatric patients with arrhythmia and adult patients with congenital heart disease who underwent corrective surgery at a young age.
What keeps you inspired?
Adventures into the unknown world keep me inspired. I love traveling, learning new topics and having direct experiences.
---
This article was first featured in the Feb. 22, 2023, issue of MidWeek as a part of the "Dr. in the House" series. See the full publication here.
Published on: February 22, 2023