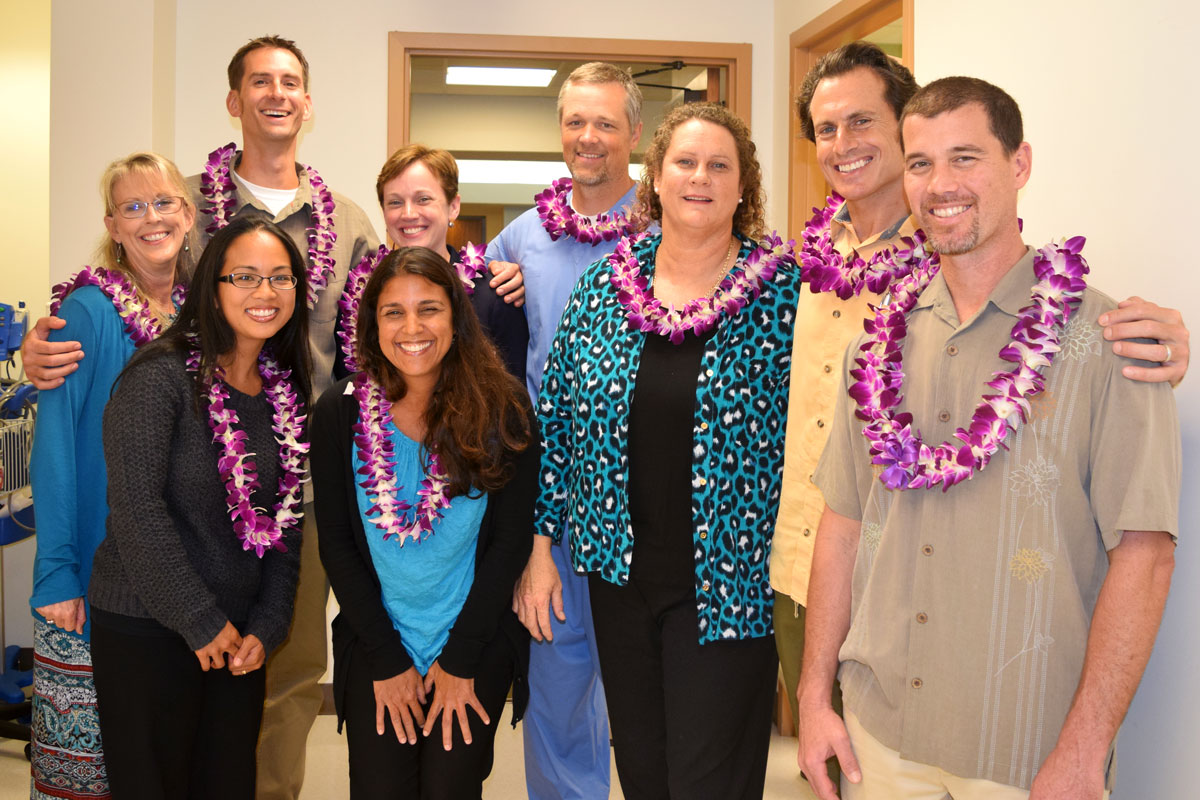 Members of the Bone & Joint team include not only the doctors, nurses and therapists – the team also includes you and your ohana.
Wilcox Medical Center is a Cut Above in Orthopedic Surgery
Did you know that Wilcox Medical Center has one of the most-modern operating suites in the state? Or that Hawaii Pacific Health and the Wilcox Health Foundation recently built a new Surgery Department at the medical center?
"Many people on Kauai don't realize all the advances and improvements that have happened here at Wilcox Medical Center," says Dr. David Rovinsky, an orthopedic surgeon at Kauai Medical Clinic. 
"Patients travel to Kauai from the Big Island, Maui, Oahu and the mainland to get total hip and total knee surgery at Wilcox," Rovinsky says. "We also are a Visiting Surgeon Center, and surgeons from around the world come to Wilcox to observe total joint replacement surgery and learn our surgical techniques." 
Rovinsky himself came to the Garden Isle in 2000 with the desire to provide service to a community that needed orthopedic care. 
"For a number of years, I was the only full-time orthopedic surgeon here on Kauai," says Rovinsky, who today is joined by fellow orthopedic surgeons Drs. Derek Johnson, Daniel Judd and Alyssa Schaffer at the Wilcox Bone & Joint Center, along with Physiatrist Dr. Heather Hopkins and Podiatrist Dr. Dr. Tyler Chihara. 
"At Wilcox, we were the first in the state to introduce MRI-based patient-specific instrumentation for total knee replacement, and we were the first to use digital imaging integrated with computer templating and a fluoroscopic grid to ensure precision in total hip replacement," says Rovinsky, who traveled to UCLA in 2007 to learn the direct anterior approach to total hip replacement and helped introduce this technique to the state of Hawaii. 
Prior to attending medical school, Rovinsky worked in the computer software industry but was interested in the integration of computers and robotics in orthopedics to enable more precise, less invasive surgery. 
Today, Rovinsky maintains an active practice on Kauai and also makes time to teach at the University of Hawaii John A. Burns School of Medicine and abroad. 
"What keeps me here is the tremendous support I've received from our local community and Wilcox Medical Center, which enables us to perform cutting-edge orthopedic surgery right here on Kauai," Rovinsky shares. "I get a thrill when I see patients after surgery and they tell me about how they are now able to do things that they love to do – things that they never thought they would do again. It's hard to imagine doing anything as fun and rewarding as orthopedic surgery." 
Click here to learn more about the Wilcox Bone & Joint Center.
Published on: August 1, 2016